GT-6000 Slipform Paver
High-Production Slipform Paver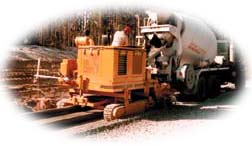 Two models of the GT-6000 are available with built-in versatility for handling a variety of slipform paving jobs. Excellent job-to-job mobility by means of a standard trailer and a pickup. Simultaneous trim/pour concept assures 100 percent concrete yield in a single pass operation with operating speeds up to 45 fpm (13.7 mpm).
The model GT-6000-78 has a trimming width of 78 in. (1,981 mm) with paving widths up to 4 ft. (1.22 m) and the model GT-6000-90 has a trimming width of 90 in. (2,286 mm) width with paving widths up to 5 ft. (1.52 m). It is capable of trimming and pouring 25 ft. (7.62 m) cul-de-sacs and radii of 15 ft. (4.57 m).
It comes equipped with two crawler tracks to provide durability and high performance.
An internal trimmerhead drive minimizes size clearance and permits trimming to within 3 in. (76 mm) of obstacles to a tolerance within 0.125 in. (3 mm) to grade.
The GT-6000 has an automated single-point electronic sensoring system that controls grade, steering and cross slope.
It is capable of accommodating a side-mounted mold for specific job conditions. All molds are quickly interchangeable.
The GT-6000 slipforms:
Curb and Gutter
Sidewalks
Small Irrigation Canals
For More Information
---