GOMACO's New GT-3200 Zero-Clearance Sidewalk Paver
Specifically for Rehabilitation Projects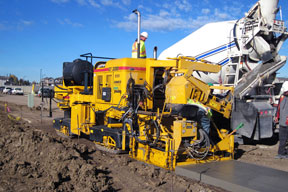 GOMACO's new GT-3200 zero-clearance sidewalk paver slipforms a new five foot (1.5 m) wide sidewalk on rehabilitation project in Edmonton, Alberta, Canada.

Ida Grove, Iowa – When contractors approach GOMACO with new ideas, the company listens, and a creative partnership begins to build the ultimate machine. GOMACO introduced the GT-3200 sidewalk paver with an adjustable aggregate base mold on the front and a sidewalk paving mold on the rear at World of Concrete 2013. It's a three-track paver designed specifically for zero-clearance sidewalk rehabilitation projects, fulfilling a contractor's unique request.

The GOMACO GT-3200 can be equipped with a front-mounted adjustable aggregate base mold to spread the base aggregate for the sidewalk. During the first pass, rock is placed on grade and an auger spreads the material, while three pan vibrators mounted to the mold start the compaction process. The base mold is equipped with two heavy-duty hydraulic cylinders that provide 14 inches (356 mm) of hydraulic lift for setting the grade depth below the track line and raising the mold for the paving pass.

During the second paving pass, the sidewalk is slipformed with a unique, minimum-clearance trailing mold. The GT-3200 sidewalk paver has a 20 inch (508 mm) wide, 14 foot (4.3 m) long folding conveyor. The conveyor allows ready-mix trucks to discharge from the street instead of driving over existing curb to reach the paver. The hydraulic pivoting conveyor has also been designed to rotate 180 degrees to allow for easy loading of concrete into the hopper from either side of the machine and to avoid obstacles associated with zero-clearance paving. The GOMACO-proven sidewalk mold features hydraulic adjustable sideplates to form the GOMACO edge, while a trailing stainless pan provides the superior finish. The sidewalk mold can also be equipped with a bar inserter for placing transverse bars into the slab, if required by project specifications.

The GT-3200 sidewalk paver also features all-track steering, which saves time getting on and off stringline, allows better job-site mobility, and ease in loading and unloading for transport. It can be transported without removing either the front-mounted adjustable aggregate base mold or the rear-mounted sidewalk paving mold. Simply fold the conveyor and drive the GT-3200 onto the trailer for transport. It features the latest in GOMACO machine control with the exclusive G+ system with a new full color screen. G+® is a powerful controller for paving accuracy and electronic monitoring of steering and grade. G+, combined with the GT-3200's C4.4T Caterpillar engine with 91 hp (67.9 kW), provides plenty of power for sidewalk paving.

GOMACO Corporation (www.gomaco.com) is the worldwide leader in concrete construction equipment with headquarters in Ida Grove, Iowa, USA. GOMACO equipment will slipform concrete streets and highways, airport runways, curb and gutter, sidewalks and recreational trails, safety barrier, bridge parapet, and irrigation canals. Support equipment includes grade trimmers, concrete placers, concrete placer/spreaders, and texturing and curing machines. The company also offers equipment to finish flat slabs, bridges, and slopes. GOMACO will consult on unique concrete paving applications and equipment needs. Products are offered through a worldwide distributor network for local sales, parts and service expertise.

GOMACO and G+ are registered trademarks of GOMACO Corporation.
---