Aeroporto Falcone e Borsellino or simply Palermo Airport is located in Palermo, on the Italian island of Sicily. Nearly five million passengers travel through its gates on an annual basis making it one of the busiest airports in Italy. Since December 2010, the airport has been at work replacing aprons and upgrading their facilities.
The work at the airport is being carried out by the joint venture, Trinacria, and is composed of partner companies Intercantieri Vitadello SpA, Impresa Bruno Costruzioni SpA, and Pavimental SpA.
Nordpavi srl is a subcontractor on the project. They are using their GOMACO four-track Commander III to slipform both the subgrade and the new concrete apron. To date, they have slipformed 36,000 cubic meters (47,086 yd3) of 200 millimeter (7.9 in) thick cement-treated base and 34,200 cubic meters (44,732 yd3) of 380 millimeter (15 in) thick concrete apron. The Commander III's paving pass for both applications is six meters (19.7 ft) wide.
"The Commander III is a good machine for Nordpavi," Christian and Luca Da Canal, CEOs and Managers for Nordpavi, explained. "It allows us the versatility to pave both applications easily, while giving us the production results necessary. Interference with airport operations is also minimized because of it."

-- Select Any Photo To Enlarge --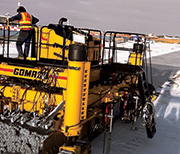 Nordpavi srl uses their four-track Commander III to slipform both the cement-treated base and new concrete apron at the Palermo Airport in Palermo, Sicily, Italy.