Commander
II
GOMACO Versatility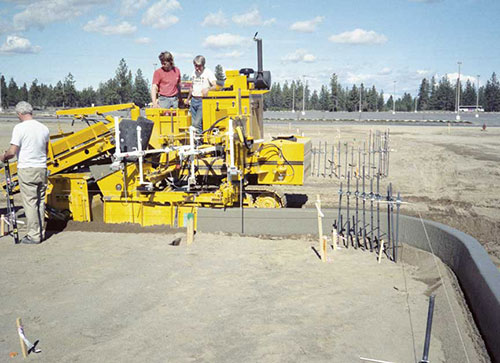 Commander II versatility is achieved with GOMACO engineering and design. The two-track design has built-in versatility for handling multi-application slipform paving projects. The GOMACO Commander II has been called upon for applications such as
Curb and gutter
Barrier
Bridge parapet
Irrigation canal
Sidewalk
Bicycle path
Shoulders
And more!
GOMACO Production
The Commander II utilizes the patented simultaneous trim/pour concept, which is designed for maximum versatility and high production. This design provides a more accurate concrete yield and high single-pass production.
The Commander II is designed to simultaneously trim and pour up to 36 in. (914 mm) wide and will pour up to 60 in. (1,524 mm) wide.
The internal trimmerhead drive on the Commander II minimizes side clearance requirements. The sectionalized trimmerhead has sideshifting capabilities up to 48 in. (1,219 mm). The Commander II is powered by a 92 hp (68.6 kW) diesel engine that provides ample power while assuring an efficient operation.
GOMACO Mobility
A major consideration in design is to allow for quick and easy job to job mobility. The Commander II will transport at legal width, only 8 ft. 5.6 in. (2.58 m), by simple removal of the mold.
The Commander II has excellent operational mobility with simultaneous trimming and pouring at operating speeds up to 30.8 fpm (9.4 mpm). The Commander II has a travel speed of 54.7 fpm (16.7 mpm).
For More Information
GOMACO World Stories
---