GOMACO World Index ---GOMACO World 28.2 - August 2000
Gary L. Godbersen Named Entrepreneur Of The Year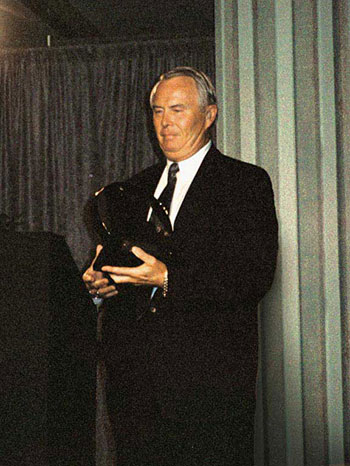 GOMACO's president and CEO Gary Godbersen takes a moment to gather his thoughts before giving his acceptance speech for being named the Ernst and Young Entrepreneur of the Year for Iowa and Nebraska.
GOMACO's president and CEO, Gary L. Godbersen was named Entrepreneur of the Year for Iowa and Nebraska by the Ernst & Young Entrepreneur of the Year committee. He received the honor at an awards ceremony on June 27 in Des Moines, Iowa.
The Ernst and Young Entrepreneur of the Year award is a showcase for some of the finest thinkers in business today, providing recognition, honor and inspiration to the economy's business leaders.
Finalists are selected from the thousands of founders and owners of entrepreneurial ventures in America. All award recipients are inducted into the Entrepreneur of the Year Institute Hall of Fame located at the University of North Carolina in Chapel Hill.
Each finalist went through an extensive nomination and interview process.
Judges for the contest recognized Godbersen for ingenuity, hard work and innovations which have created successful and growing businesses. GOMACO's "Top 100" awards for the GT-3600 curb and gutter machine in 1992, the GHP-2800 paver in 1993, the GP-2600 paver in 1995, the GT-3200 curb and gutter machine in 1996, the In-The-Pan Dowel Bar Inserter (IDBI) in 1997, and the new generation Commander III in 1999 only begin to highlight the many innovations and advancements the company has brought to the construction industry. Judges also recognized Godbersen's involvement and leadership roles in national and international organizations.
The growth and success of GOMACO Corporation, GOMACO International Ltd., GOMACO International, Gomaco Trolley Company, Godbersen-Smith Construction Company and Bobalee was also recognized by the judges.
"This award is not only a recognition for myself, but also is a reflection upon the management team and employees found throughout the companies," Godbersen said.
Godbersen will progress to the international awards conference this year in November in Palm Springs, California.
Subscribe to Receive GOMACO World Magazine