GOMACO World Index --- GOMACO World 28.2 - August 2000
First Yards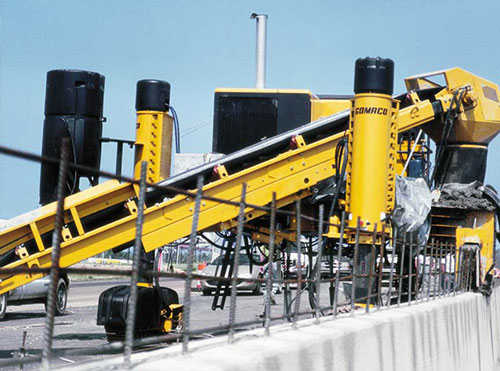 I-55 running south out of Memphis, Tennessee, underwent a modernization project that included building new lanes and reworking all of the roadway's bridges.
Harper Construction, of Shelbyville, Tennessee, and their partner company, W.M.C. Contracting Company, were responsible for slipforming the barrier wall and glare screen.
"It was just your standard median barrier wall, what you'd call variable slope," Carl Wyatt, president of W.M.C. Contracting, said. "The high side of the wall was around 70 inches (1778 mm) and the glare screen cap was another 20 inches (508 mm). The whole wall was somewhere around 90 inches (2286 mm) high."
Approximately 1400 feet (427 m) of the combination wall and glare screen was slipformed on the project. A Class-D mix with a 6.6 bag cement content was used to slipform the wall. Retarder was added to the mix to help control cracking caused by the hot temperatures.
Slump averaged between 1.25 to 1.5 inches (32 to 38 mm).
"This was the start-up for Harper's new generation Commander III. These were the first yards that ever went through it and it worked well," Wyatt said. "I'd say when everybody thinks of slipform pavers, they think of GOMACO as a rule. I know we've had good success with them."
Subscribe to Receive GOMACO World Magazine