GOMACO World Index --- GOMACO World 28.2 - August 2000
Slump, Slump, Slump...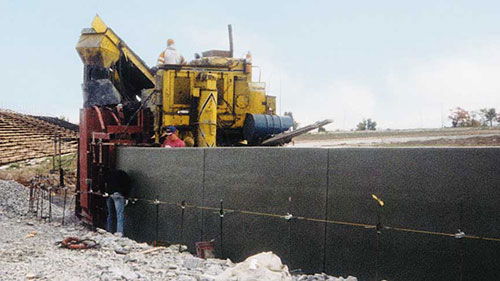 Syrstone, Inc., has owned GOMACO curb and gutter machines since the late 1970s. One of the many applications they specialize in is barrier wall and they have traveled all over the northeastern United States slipforming challenging projects with their Commander IIIs.
"We've run Commander IIIs since 1979. The machines are very good, all-around slipform pavers," David Leith, concrete superintendent for Syrstone, said. "They're heavy enough to carry a nice clean line but small enough to load on a low-boy to take it across state lines without special permits. That's our biggest thing. We cover the whole northeast and we need something that travels."
Syrstone's projects range from six inch (152 mm) curb and gutter to six foot (1.83 m) race track barrier. The race track barrier had a top width of 12 inches (305 mm) while the bottom was 18 inches (457 mm). The barrier was slipformed at the Evans Mills Speedway in Evans Mills, New York.
"The height of the barrier made it our most difficult project. It was six feet (1.83 m) high without reinforcing cage," Leith said. "It was just difficult keeping the concrete standing up that high."
The barrier was poured with a New York State Class-J mix with fiber mesh added to control small random cracking. Slump averaged between .5 to .75 inches (13 to 19 mm).
"We added another four vibrators to our Commander III for a total of eight," Leith said. "The extra vibrators helped us consolidate the mix at that low slump and allowed us to hold up that six feet (1.83 m) of free-standing concrete wall."
On Route 9 in Ossining, New York, Syrstone slipformed, in one pass, double median barrier with a two inch (51 mm) open joint. The barriers were 34 inches (864 mm) high by 44 inches (1118 mm) wide.
"We couldn't access the west side of that double wall so, necessity being the mother of invention, we slipformed them both at the same time," Leith said. "We took a mold that we already had and put a 1.5 inch (38 mm) sandwich right down the middle of it. It was quite simple and it went very well."
Approximately 450 feet (137 m) of the double median barrier was slipformed in four hours.
In addition to barrier work, Syrstone also slipforms bridge parapet. They poured approximately 6000 feet (1829 m) of 34 inch (864 mm) tall by 21 inch (533 mm) wide parapet on the Walt Whitman Bridge in Philadelphia, Pennsylvania.
"That bridge had the most vibration we have ever slipformed parapet on," Leith said. "We had no problems with cracking or settling or anything of that sort with the parapet."
The vibration was created by an extremely heavy traffic load on the bridge. A temporary lane closure for the ready-mix trucks was created next to Syrstone's working area to ensure timely delivery of the concrete.
"Having a steady flow of ready-mix material causes us the greatest deal of anxiety on a project like the Walt Whitman," Leith said. "A delay of 15 to 20 minutes in mid-summer when the temperature is 90 degrees F (32 degrees C) can be disastrous. We start using a set-retarding admixture in our mix when the temperature gets over 70 degrees F (21 degrees C) to give it a little more longevity."
The Hudson River Bridge Authority in Newburgh, New York, had Syrstone slipform a truck barrier for them next to the Newburgh/Beacon Bridge. They were having trouble with trucks coming off a curve by the bridge too fast and running into a pedestrian walkway.
A truck barrier to protect the pedestrians was slipformed five feet (1.52 m) high with a width of 32 inches (813 mm). The slump averaged .75 inches (19 mm) and a New York State Class-J mix was used.
"It was an exciting project," Leith said. "The reinforcing cover on that was about 2.5 inches (64 mm) which made it a nicer looking job. The Bridge Authority was very impressed."
Typically, four finishers are used behind the Commander III, two on each side of the wall. Contraction joints were cut in every 10 feet (3.05 m) to alleviate random cracking. The wall is then broom finished and spray cured.
"Slump, slump, slump. The slump is everything," Leith said. "Two good things make great barrier: a good piece of slipform equipment, which in my estimation is a GOMACO, and you need good quality ready-mix concrete at the proper slump. For people starting out, a quarter inch (6 mm) one way or the other can be disastrous.
"Early on we used a competitive slipformer," Leith added. "It was not heavy enough, built well enough, or powerful enough to do the diverse amount of slipforming that we have gotten ourselves into over the years."
Syrstone has an inventory of three Commander IIIs, a GT-3300, and 40 different molds ranging from six inches (152 mm) to six feet (1.83 m).
"The Commander III is a very good all-around slipform paver," Leith said. "It's very versatile and set-up time is minimal. We can show up on a job, whether it's barrier or curb and gutter, and within two to three hours we can be pouring concrete."
Subscribe to Receive GOMACO World Magazine