GOMACO World Index --- GOMACO World 30.2 - April 2002
Tight Conditions Rebuilding Two Of Pennsylvania's Highways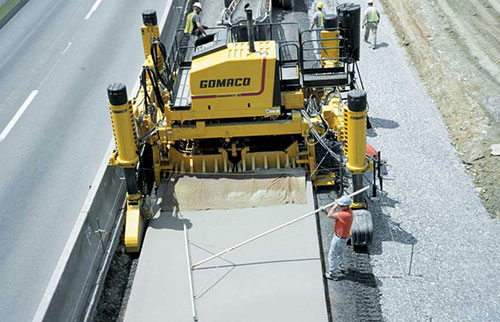 Hi-Way Paving, Inc., based out of Hilliard, Ohio, put their first new generation Commander III with high-drive tracks to work on two projects in Pennsylvania last summer. Their projects included the rehabilitation of Route 30 near Lancaster and work was started on the 181 & 83 Interchange in Harrisburg.
The Route 30 project includes the reconstruction of approximately five miles (8 km) of four-lane interstate. Hi-Way Paving is responsible for all of the concrete work on the project. It's all phase work and includes the construction of new interchanges and ramps.
Hi-Way Paving is utilizing both the Commander III they had and their new generation Commander III to complete the work on both projects.
"Our longest pour on this job was only 2000 feet (610 m)," Kevin Stephen, Hi-Way Paving's superintendent, said. "We'd move the paver and pour two, three, four different places every day during the summer hours."
The project can't be completed in the typical fashion because of the project sequencing. Most of the time, the ramps are completed before the mainline.
"It's just like a big puzzle," Stephen explained. "We complete a phase, it's opened back up to traffic and then the next section is torn out."
The interchange in Harrisburg has its challenges also. It's a four-year project to rebuild approximately nine miles (14.48 km) of six-lane highway. Tight clearances created an extra challenge that had to be dealt with.
The projects are further complicated with the fact that the paving requires three different widths. The paving passes range from 12 feet (3.66 m) wide for a single lane or shoulder, 16 feet (4.88 m) to include a 12 foot (3.66 m) lane with a four foot (1.22 m) shoulder, or a 10 foot (3.05 m) wide shoulder.
The different widths are simplified with the presence of two pavers. Each is set to a different width with the occasional change.
"We try to keep each paver set up for a different width, but we've had times when we've needed them both so we'll take a two foot (0.61 m) section out or put a four foot (1.22 m) section in," Stephen explained. "It's no big deal for our mechanic to switch from 10 to 12 foot (3.05 to 3.66 m) or vice versa."
The thickness of the concrete also differs. In Harrisburg, both the mainline paving and the ramps are 15 inches (381 mm). The mainline is 13 inches (330 mm) with the ramps varying between nine and 10 inches (229 and 254 mm) thick in Lancaster.
Both the Commander IIIs are equipped with sidemounted bar inserters to shoot bars into the side of the new slab. The new generation Commander III is also equipped with a front-mounted bar inserter when Hi-Way Paving is slipping the 12 foot (3.66 m) with four-foot (1.22 m) shoulder.
"It's kind of weird looking because the inserter is offset on the four-foot (1.22 m) shoulder side, but it works real good," Stephen said. "It puts the bar right where we need it to be and it saves us a lot of time."
It's an all-around time savings too, being able to slipform the shoulder with the lane.

"We run our machine off the stringline and control the four-foot (1.22 m) shoulder with the inverted crowning device," Stephen explained. "We can change the outer edge slope from four to two percent or bring it up to pave at grade."
Workers then go back and saw a four-foot (1.22 m) joint in later.
A female keyway is slipformed into the side of slab. The Pennsylvania Department of Transportation requires keyway when another lane will be added.
Sidemounted bar inserters shoot L-bars into the side of the slab every 30 inches (762 mm).
"I like the keyway because it gives a place for the L-bars to lay," Stephen said. "I'd rather use straight bars instead of the bent ones, but there isn't enough room for them."
Hi-Way Paving had to deal with some very tight clearances on these projects.
"The tightest offset we're capable of with regular tracks is 32 inches (813 mm)," Stephen said. "That's about four inches (102 mm) too tight. We prefer 48 inches (1219 mm) minimum, because it gives the guy putting the bars in some room to move."
Clearances were as tight as 24 to 19 inches (610 to 483 mm) at one point on the project, too tight for standard tracks. Special high-drive tracks are being used on the left side of the new generation Commander III. The high-drive tracks are approximately 18 inches (457 mm) wide and allow Hi-Way Paving to clear the portable barrier wall with just an inch (25 mm) to spare.
Stringline also had to be set carefully to deal with the tight clearances. The stringline wands were cut down to a shorter size and mounted to the portable wall.
A 50188 concrete mix design with 501 cement and 88 fly ash content is used to pave the projects. The fly ash adds strength to the mix design but also requires a longer cure time. Slump averages 1.25 inches (32 mm).
Joints are cut in at a 20 foot (6.1 m) maximum with a 10 foot (3.05 m) minimum spacing. Stephens prefers to let the pavers do the finishing work, but it's a theory he has trouble selling the state inspectors on.
"We have a hard time convincing the inspectors, because they think we really need to work that edge. It just makes it worse," Stephen explained. "You can't rub the edge from end to end and then try to come back and match it with the next lane. We're finally convincing them to leave that edge alone and we're coming back in again, tying on the next lane, and we're getting a neater job.
"We just check the slab with a straight edge, run a mop over it to seal off any holes and check the edges for edge slump."
Production is dependent on the amount of concrete they have to place for the day. A typical average is approximately 600 yd3 (459 m3) on the Lancaster project. Harrisburg is slightly higher because of the concrete depths. Production there reaches approximately 1000 yd3 (765 m3).
All of the tie-in work and the challenging project sequencing demands some organizational skills.
"Ed Wessel, the project engineer, and I sit down daily and talk with our foremen and map out a two-week schedule and we try to stay with it," Stephen said. "We may not follow it to a 'T', but at the end of two weeks, the work is complete. There's a lot of coordination on these rehab jobs and you have to make sure you don't catch yourself with cure times and things like that."
The new generation Commander III is working out well on both of the projects. Hi-Way Paving is enjoying its versatility, easy setup with the smart cylinders, increased travel speed, and its transportability.
"It's a fast machine," Stephen said. "We're doing a lot of moving here and there's very few places where we have the opportunity to pave all day in one area. We're constantly moving the paver. The name of the game is putting concrete on the ground. You can't be putting it down when you're moving the machine."
Subscribe to Receive GOMACO World Magazine