GOMACO World Index --- GOMACO World 30.3 - November 2002
A Two-Day Instant Subdivision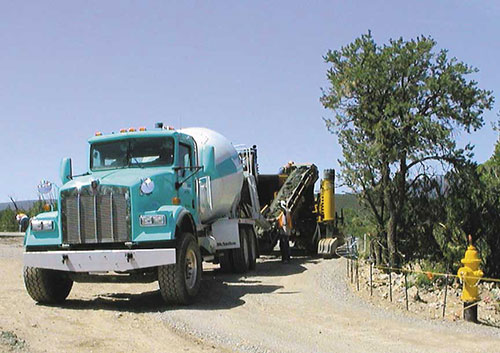 Franklin's Earthmoving has seen a dramatic increase in their daily curb and gutter production since purchasing a new generation Commander III. The company has been long-time slipformers, but the Commander III is their first GOMACO machine.
"It's been a great machine," Lloyd Sillas, concrete supervisor for Franklin's Earthmoving, said. "We started experimenting with 1500 feet (457 m). We kept increasing our daily totals until we hit 4000 feet (1219 m) and now that length of pour is very common for us."
Even with a new, higher production rate, Sillas wasn't content. He wanted production to go even higher. The opportunity arose in Paako, a little golf course community on the east slope of the Sandia Mountains, 20 miles (32 km) east of Albuquerque, New Mexico. The new subdivision consisted of approximately 19,000 feet (5791 m) of 20 inch (508 mm) mountable median curb.
A crew spent three days just setting up the stringline for the pour. Nothing in the subdivision was straight with the roads being built on curves and five 45 foot (13.7 m) cul-de-sacs to complicate the set up. Ready-mix trucks would have to travel 22 miles (35 km), one way from Albuquerque, just to get concrete to the site.
Even with the added challenges, Franklin's Earthmoving slipformed the project in just two days.
"It was kind of an instant subdivision," Sillas explained. "It was rather fun. I'm getting older and I thought I'd help set a couple of records so I can be one of the few that can tell their grandkids real concrete stories."
The first day, Sillas and his crew slipformed 8,000 feet (2438 m) of the curb in the Paako subdivision. A week later they returned, and with the stringline already set, slipformed 11,102 feet (3384 m) of the 20 inch (508 mm) curb in a 13 hour day.
For 13 hours straight, they averaged 854 feet (260 m) per hour or 14 feet (4.27 m) per minute.
"As far as I know, it's a state record for New Mexico," Sillas said. "I don't think anyone else is crazy enough to try it."
Waycor Materials Inc. supplied 37 of their ready-mix trucks to round trip the concrete from Albuquerque and keep the new generation Commander III with a steady concrete supply.
"Twenty-two miles (35 km) is a pretty good stretch to supply concrete," Sillas said. "Waycor did an excellent job getting us concrete. Our slumps were great, our air, everything just ran smooth."
The concrete design was a regular slipformable city mix with a 4000 psi (30 MPa) and average slump of 1.5 inches (38 mm).
A crew size of 10 people, including a chute man, operator and eight finishers, worked the 11,102 foot (3384 m) pour. The finishers had to work their way through 20 driveway cutouts, apply a float finish to the curb and cut control joints in every six feet (1.8 m) with expansion joints every 96 feet (29 m).
"It was a nice group effort and our guys did an exceptional job," Sillas said. "I just wanted to see if we could pull it off and, with the help of a great group of guys, we did."
Later that evening, with the curb in place, the stringline was torn down. When Franklin's slipforming crew left that night, everything was ready to be back filled, the final step in their instant subdivision.
"The Commander III is an awesome machine and we had quite an interesting day with it," Sillas said. "I think we all were a little bit sore and had blisters the next day, but it was worth it. It was an exceptional job."
Even before their blisters were healed, Franklin Earthmoving's crew were moving on to their next project. They specialize in curb and gutter for subdivisions and commercial projects in the Albuquerque area.
Subscribe to Receive GOMACO World Magazine