GOMACO World Index --- GOMACO World 34.1 - February 2006
Goodbye To Our Friend...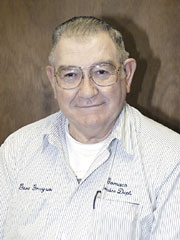 Gene Grayson, 67, a member of the GOMACO family for over 22 years, passed away December 27, 2005, from a massive stroke. Gene worked as a field service representative in the Service Department.
He traveled the world for GOMACO and helped set-up new equipment or troubleshoot on older equipment. He helped out in the shop sessions at GOMACO University each winter and was a seasoned show veteran helping set up many World of Concrete and CONEXPO-CON/AGG shows.
"I think with his death, Gene took a little bit of all of us with him. Gene's ability to work with people was his greatest asset," Dennis Ernst, Service Department Supervisor, said. "Gene would travel anywhere, anytime and do a job that made GOMACO proud, and the customer completely satisfied. Gene's reputation and ability to get the job done right, both overseas and domestically, spoke the loudest and will always be a tribute to him. Gene will be missed by everyone that ever met him and he will always be known as the 'Gentle Giant' to me."
Subscribe to Receive GOMACO World Magazine