GOMACO World Index --- GOMACO World 35.1 - February 2007
Trimming and Pouring Eight Feet (2.4 m) Wide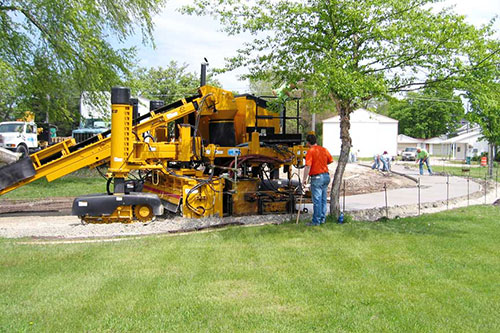 Tschiggfrie Excavating recently added a new three-track Commander III to their paving inventory to slipform sidewalk and trails.
Tschiggfrie Excavating in Dubuque, Iowa, has specialized in slipformed curb and gutter with GOMACO Commander IIIs for several years. They did some sidewalk and trail projects, but never enough to warrant a slipform paver. For the last couple of years, they have discussed adding a new three-track Commander III for sidewalk and trail work and finally in 2006, they purchased a new machine.
Their first project with their new Commander III was slipforming a recreational trail for the city of Independence, Iowa. A new 2000 foot (610 m) section of trail would connect the golf course to an inner part of the city by a large campground. The trail, when finished, will connect to the city's school.
The new portion of trail runs right along Highway 150 in Independence, and Tschiggfrie had a lot of preparation work involved with it. The trail also had to be tied into an existing bridge and involved moving the Commander III several times across the project.
"It wasn't a high-productivity job," David Kluesner, general superintendent for Tschiggfrie Excavating, explained. "There were several radii on the project because the trail had to stay within the city's easement. There were different things that we had to tie into and several driveways along the trail that we had to maintain traffic on."
The new trail was slipformed eight feet (2.4 m) wide and five inches (127 mm) thick. Tschiggfrie trimmed as they slipformed the project.
"We can trim wider with this Commander III, so we don't have to be fine tuning our grade before we pour," Kluesner said. "We don't have to fight the grade, we just trim it as we pour."
The concrete was a basic state of Iowa mix design with an average slump of 1.5 inch (38 mm). Finishing work was minimal and expansion joints were cut in every 30 feet (9.1 m).
After just a few sidewalk projects, Tschiggfrie is already seeing the benefits of having a Commander III with a sidewalk mold.
"As a company, we always did sidewalk and trails, but we did them by forming them up and hand-pouring them," Kluesner said. "We have a little niche on the market with our Commander III and we have a machine we can set up, slipform the sidewalk or trail, and be more competitive because of it.
"It also makes us more efficient. I would say we cut the time in half with the Commander III versus handforming."
Tschiggfrie Excavating is also experiencing other advantages with their Commander III and slipforming curb and gutter. They were involved on a project in Central City, Iowa, slipforming approximately 4800 feet (1463 m) of curb and gutter on Marion Street, which was old Highway 13 in town. Their work on the project, which included the 3.5 foot (1.1 m) wide, six inch (152 mm) thick stand-up curb, won them a 2006 Excellence in Concrete Award from the Iowa Ready Mixed Concrete Association. They won the "Street and Intersections (<5,000 square yards)" category.
Features on their new Commander III make it an ideal curb and gutter machine. The side-shifting mold and trimmerhead allows Tschiggfrie to pave right up to existing curb and gutter and stay on the stringline as they move by objects. Track pads keep the tracks from marring the pavement surface as the Commander III is driven from work site to work site.
"The side-shifting mold lets us slide it in or out when we get to an intake or something like it," Kluesner explained. "We don't have to pick up and move off-line around the obstacle. By staying on-line, we save a lot of time.
"Then we also have the pads on our tracks and those are a big plus. We'll go into a town and work on a 10-block area, but the work might not be all in the same area. We'll have to track the Commander III to the different areas, and with the track pads, we don't have to worry about the kind of street we're on or breaking or chipping up the street. It's a big plus."
Tschiggfrie Excavating is looking forward to more sidewalk and curb and gutter work for their Commander III... maybe even another paving award in 2007.
Editor's Note: Congratulations to Tschiggfrie Excavating and their 2006 Excellence in Concrete Award. The awards recognize Iowa contractors for constructing outstanding projects within the state.
Subscribe to Receive GOMACO World Magazine