GOMACO World Index --- GOMACO World 36.3 - December 2008
Machine Controls That Pay Their Way–
Contractors enthusiastically accept GPS systems.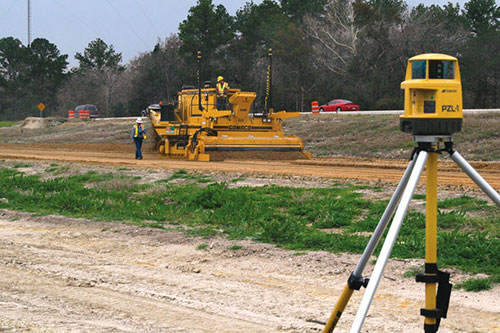 The 9500 with GPS system produced the same amount of finished grade as two motor graders working together did. And the 9500 produced a perfect grade in one pass, compared to the several needed for the motor graders.
... an excerpt from an article written by Daniel Brown, Contributing Editor for Better Roads magazine. The article originally appeared in the August 2008 edition.
Contractors nationwide are finding that Global Positioning Systems (GPS) pay for themselves in improved grading productivity. Put simply, GPS speeds up grading. No more stakes are needed, and the accuracy is on the money, so no material is wasted. Rework is a thing of the past because it's done right the first time.
Trimming in Texas –
To build a 6.5 mile (10.5 km) section of State Highway 45 near Austin, Texas, contractor T.J. Lambrecht Construction bought a trimmer and equipped it with a Topcon Millimeter GPS system. The GOMACO 9500 trimmer cutter is 16 feet, 8 inches (5.1 m) wide, and was being used to cut grade to within 0.25 inch (6 mm).
Was the GPS worth the money?
"The trimmer with GPS can produce the same amount of finished grade as two GPS motor graders working together," says Mike Wehling, Lambrecht's regional survey/GPS machine control manager. "The trimmer makes one pass and the grade is perfect, but with motor graders you have to make multiple passes."
Wehling says the company's first two trimmers were equipped with Topcon Millimeter GPS. The GPS is used to control steering, and the laser is used to control grade.
"At about 600 foot (183 m) intervals down the road, we set up the fan-beam laser on control points," Wehling explains. "The trimmer uses two of them, and we leapfrog them one after the other down the road. The laser transmits a fan-shaped beam to the two receivers on the trimmer, one on each side of the machine."
The Millimeter GPS system works much like a regular Topcon GPS system. Lambrecht loads three elements – a 3-D model of the design, a localization file, and a linework file – into the control box on the trimmer. The localization file fits the design to control points on the site, and the linework file controls horizontal positioning.
The GPS system cost Lambrecht about $100,000, Wehling said. However, he points out, consider that very little surveying and no stringline are necessary. If you compare the cost of a three-man survey crew and a four-man stringline crew, you would go through $100,000 in pretty quick order, he points out.
Subscribe to Receive GOMACO World Magazine