GOMACO World Index --- GOMACO World 39.2 - November 2011
RCC Success on an Ohio Industrial Loop Road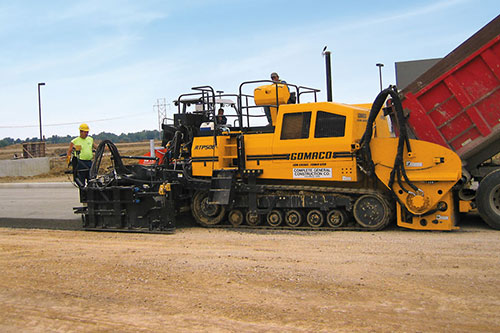 The GOMACO RTP-500 with RCC screed achieves density on a roller-compacted concrete project in New Albany, Ohio.
GOMACO's RTP-500 with RCC (roller-compacted concrete) screed recently completed a successful test project in New Albany, Ohio. Complete General Construction Company used the GOMACO RTP-500 with RCC screed to finish a two mile (3.2 km) long industrial loop road. The new road was finished in paving passes 15 feet (4.6 m) wide and eight inches (203 mm) thick.
"We've seen an increase in our RCC paving in the last few years," said Jeff Thompson, Vice President of Paving Operations at Complete General. "Private, city and county organizations are using it for their industrial roads, industrial parking lots, truck docks, and other projects. RCC is very cost competitive with asphalt and it lasts longer."
The strictest requirement on any RCC project is density and the ability to achieve the proper density with the paver. The project required a minimum density of 85 percent behind the paver. Anything under an 85 would cause the paver to be removed from the project site. GOMACO's RCC screed achieved densities between 85 and 89 percent. Then, after the RCC was roller compacted, it achieved densities between 99 and 102 percent.
"It's a nice machine," Thompson said. "Mostly, what we're looking for is the paver's ability to achieve density behind the screed, because that's the most important thing with these pavers."
GOMACO's RCC screed is also equipped with telescoping capabilities to slipform variable widths, from 10 to 19.3 feet (3.1 to 5.9 m).
"That's an important key to competing with asphalt... to be able to adjust that screed like an asphalt paver," Thompson said. "It gives you the ability to pave multiple widths, without any time consuming changes."
The RCC screed features independent 14 inch (356 mm) dual augers to spread the material. A high-compaction, dual tamper bar system with variable speed control provides the necessary initial compaction for uniform density and strength across the pavement. The variable control of vibration to the screed ensures proper compaction and finish to the surface. The screed is capable of paving variable slab depths with a hydraulic crown adjustment to meet the project's design specifications. Grade or elevation for the GOMACO RCC screed can be controlled through the tow point cylinder in several ways, including 3D stringless, laser, sonic, stringline or manual. The screed was also designed for serviceability. All of the RCC screed's wearable items were designed for fast replacement. For more information, please visit www.gomaco.com/rtp500.
Subscribe to Receive GOMACO World Magazine