GOMACO World Index --- GOMACO World 39.2 - November 2011
"Left" and "Right" Isn't About Politics with the New 4400 Working in Washington, D.C.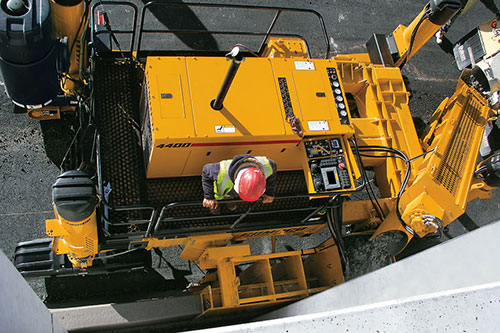 A view from above shows the 4400's unique design with a u-shaped operator's platform for easy visibility and an unobstructed view of the entire paving operation.
Tavares Concrete Company has been a Virginia barrier wall specialist since the early 1990s. Their work keeps them on the roadways close to Washington, D.C., slipforming various profiles of bridge parapet and safety barrier in the heavily-traveled areas surrounding the nation's capital. The large volume of traffic makes slipforming barrier wall challenging, from getting ready-mix concrete trucks on site, to worker safety, to tight clearance conditions created by working behind safety walls.
The introduction of the new GOMACO 4400 barrier machine earlier this year intrigued the owners of Tavares Concrete and they quickly decided they wanted one. They put the new 4400, serial number 913300-001, to work on I-495, the Capital Beltway, which is the 64 mile (103 km) long interstate highway surrounding Washington, D.C. They slipformed a single-faced barrier against an existing sound wall from the right side of the 4400.
"It was great, but that's what I expected from GOMACO," Eloi Lourenco, Vice President of Tavares Concrete, said. "The 4400 is very handy when you are working in close quarters in traffic. It's a compact machine and doesn't take a lot of room. And pouring from the right side makes things easier, especially with our ready-mix trucks, because we don't need as much room to get them positioned and turned around."
The barrier was 32 inches (813 mm) tall, nine inches (229 mm) wide at the top, with a 16 inch (406 mm) bottom width. It's just one of several different profiles Tavares has slipformed with the 4400, from both the right and the left side of the machine.
"The process to switch sides is pretty simple," Lourenco explained. "You just change the sensor cords to the side you're going to slip on, tell the G+ controller you're pouring on that side, change the slope and then the controller pretty much does the rest. We just have to sideshift the auger, slide it into place and it easily reaches either side."
The 4400 is equipped with the exclusive GOMACO G+ control system. The design of the G+ system incorporates everything learned and perfected in the GOMACO G21 and G22 controllers and offers even more... more versatility, more user-friendly, more diagnostics and more languages. G+ has been designed for the world marketplace and has the ability to operate in multiple languages. The controller features a display with deviation meters on the run screen. Design simplicity includes multi-colored bar graph meters to indicate machine deviation, and assist the operator in fine tuning both grade and steer performance. Troubleshooting is fast and efficient with advanced system diagnostics showing a full, detailed explanation of the fault and its location, along with emergency stop location identification when one is triggered at any location on the machine.
The control console's unique side-to-side sliding action allows it to be easily placed on the side of paving, or locked away in center position for storage or transport. The u-shaped operator's platform and sliding console provide a 360 degree view of the entire paving operation at all times during the slipforming process.
"It's a pretty simple machine to operate," Lourenco said. "The G+ is very comparable to the G21 system we're running on one of our Commander IIIs, so we were pretty comfortable with this new control system from the start."
Tavares has transported the 4400 around to several different projects within their work radius. They've slipformed different profiles of wall from both the right side and left side.
"We use a concrete mix design with low permeability and low slump, usually around one inch (25 mm)," Lourenco said. "Less water creates a stronger wall, but can also be more difficult to slip. The 4400 hasn't had any problems with it at all and we're getting a beautiful finish. We're ruining our finishers because they're just taking it easy back there behind the machine.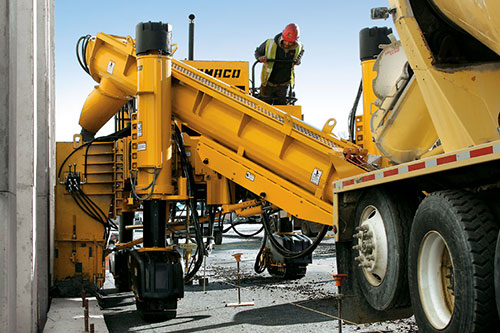 The right-side pour barrier wall is slipformed on top of a footer, right next to a new sound wall along the Capital Beltway.
"Production is pretty good, too. Our ready-mix trucks carry 10 cubic yard (7.6 m3) loads and we can empty that truck out in 20 to 30 minutes."
Tavares Concrete is currently at work on Interstate 66 with their 4400, slipforming over and resurfacing existing barrier wall.
"We're getting compliments from all over the place on the quality of our work on this job," Lourenco said. "It's all done at night because it's a very high traffic road. Everything has to be off the road by 5 a.m., so every day we disconnect our barrier mold from the machine and hook it back up again to slipform the wall. The Hook-and-Go barrier mounting system makes that easy for us. We can hook the mold up and go again in about five minutes.
"The GOMACO 4400 is a good machine for barrier and has been designed well for balance, stability, and sturdiness. I am very happy with it and I would recommend it to other barrier contractors."
Subscribe to Receive GOMACO World Magazine