GOMACO World Index --- GOMACO World 41.1 - October 2013
Does Your Paver Have G+
®

On-Board?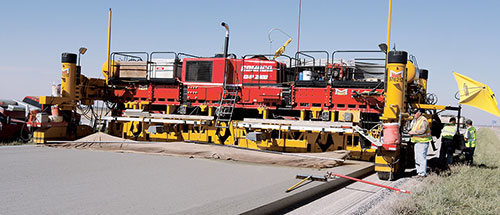 The GHP-2800 now features GOMACO's exclusive and proprietary G+ control system, which was built from the ground up by GOMACO's own control specialists.
G+® is GOMACO's proprietary control system that is both easy to learn and easy to operate. It's been proven throughout the world on the T/C-600 texture/cure machine, IDBI, GT-3200 curb and gutter and sidewalk machine, 4400 barrier machine, and since the first of the year, almost all the remaining line of GOMACO equipment now features G+ controls. It's no small wonder... once operators experience GOMACO's G+ controls, they're not satisfied operating anything else.
"We put together a controls team, tied in our 3D team, and developed the G+ with all of GOMACO's concrete paving expertise," Kent Godbersen, GOMACO's Vice President of Worldwide Sales and Marketing, said. "We are now able to harness the hardware and software of our digital age and control a concrete paver with simple sophistication to maximize performance and achieve excellent rideability. G+ truly separates us from our competition and is technology developed by GOMACO Corporation for our customers."
G+ Design: The G+ control system was designed in-house from the ground-up. All of the software for the G+ control system has been designed by GOMACO's control specialists from what we have learned from years of experience in the field and from our customers.
Tough New Hardware: The new hardware includes simple but durable dials and push buttons for machine control. It features a flat-panel 6.5 inch (165 mm) anti-glare display screen with sensor-controlled backlight levels for superior visibility in all operating conditions. Its rugged, shock resistant construction protects it against dust, moisture and rain.
International Appeal: G+ expresses itself in easy to understand international icons and full script explanations. It operates in all the major languages of the world and in either imperial or metric numbers. The operator can easily toggle between English and another language on the G+ screen while paving or troubleshooting.
Easy to Set Up: Machine set up is easier than ever before with single-person, push-button calibration for steering and grade. It allows the operator to fine tune and dial-in their GOMACO paver for maximum smooth paving results.
Easy to Operate: A "run" screen on the control panel illustrates the various aspects of the paver. It includes leg positioning, paving speed and percentage of drive, steering, travel information, grade information, deviation meters, and more. Newly designed icons and color graphics make it easy to understand and easy to identify the targeted functions.
G+ now features a detailed fault history with time stamp date and information to track when each fault occurred. The odometer can give the operator an indication of yield per concrete truck, lineal production, and feet/meters of production per minute. And, with G+ Connect™, it can be used to fire certain paver accessories.
G+ Connect is the new, proprietary CAN-based network on GOMACO products that allows fast, two-way communication between all accessories and the G+ controller. The closed-loop system between the paver's valves and various sensors means unparalleled accuracy. The sensored feedback ensures tighter, faster, and more accurate machine corrections. G+ Connect utilizes a CAN (controller area network) network allowing all of the components of the system to easily communicate with each other for precision set up and paving. At the heart of G+ Connect is the G+ control system and GOMACO's new paving software.
"After we introduced the G+ system, there was an explosion in unforeseen control technology shifts. Our customers, our engineering staff, and our service personnel kept saying, if it can do this, can we make it do that? And our controls team would say, yes," Kevin Klein, GOMACO's Vice President of Engineering/Research and Development, said. "The majority of the breakthrough innovations for mainline paving have come about since its introduction on our smaller paver in 2010. What we have is a living control system that will continuously grow with our ability to change, improve and enhance the system and the G+ Connect network in-house."
Just Connect: G+ Connect allows all the components of a GOMACO paver to be easily interfaced. Simply "connect" the 3D stringless control system, IDBI, tie bar inserter (TBI), power transition adjustors (PTA), GOMACO Smoothness Indicator (GSI®) and more, and then pave the project with ease and accuracy. G+ Connect also allows the ability to easily share machine resources. For example, pulse pick-up sensors on the tracks of the paver can log the distance the machine has traveled. This allows the odometer in the G+ controls to share accurate speed and distance measurements with any GOMACO bar insertion system, from TBIs to IDBIs, to manage bar placements.
Sensor Library: G+ features an entire library of sensor capabilities for controlling slope, grade and steer with set-up configurations for any project requirement. This includes paving with 3D stringless systems, laser control, sonic sensors, rotary sensors, slope sensors and all of their set-up requirements. Just connect to G+ Connect and the G+ controls automatically recognize them and communicates with them. Unique applications such as fill-in lanes, tunnel paving, half-width concrete overlays, and sonar steering off an existing barrier wall are examples of projects that can be accomplished through a variety of solutions from the Sensor Library.
Slope Control: GOMACO has introduced digital slope control on our pavers. Long and cross slope can now be configured using high-resolution, dual-slope sensors. These high-resolution, dual-slope sensors are standard on our larger pavers.
A new option for GOMACO pavers this year is the A.I.R., the new Aluminum Instrument Rail for quick attachment and mounting of multiple CAN-based and rotary sensors from the Sensor Library.
Ground Control: G+ Ground Control offers the unique ability of a viewing screen at ground level. The remote operator's screen features the same G+ graphical display as the operator's station. Ground personnel can see everything on the screen that the operator can see, and also have the ability to fine tune the machine, make settings adjustments, and monitor the operation from the ground.
Small and Handy: The new MiniMote available with the G+ controls provides on-the-spot assistance for fine adjustment of the GOMACO paver's set up. The small, handheld remote control is tethered to the machine and can be used to control steering, elevation and the travel of each of the paver's legs to assist in placing them into the transport or paving position. The MiniMote has the ability to jog or vertically adjust one leg at a time, the two legs on either the right or left side of the paver, or all four legs at one time (All Jog). All four legs, two legs, or each individual leg can be traveled in forward or reverse for exacting leg placement.
The first four-track GHP-2800 with G+ and G+ Connect went to Manatt's Inc., from Brooklyn, Iowa. Manatt's personnel, including Paving Superintendent Kevin Hogan, worked closely with GOMACO to develop the ultimate paver for their concrete projects.
The result: a GHP-2800 with G+ Connect, a 5400 series mold, two paver-mounted GSI units, with a Leica Geosystems 3D stringless system.
Manatt's goal: to slipform the smoothest road possible, achieve full bonus incentives, and not use a straightedge behind the paver.
"There are so many things that you always wish... I wish I could change this a little bit or tweak that a little bit," Hogan explained. "It's all in the G+. You can do that now."
Their first project with the GHP-2800 was slipforming nine miles (14.5 km), both northbound and southbound, of U.S. Highway 71 by Spencer, Iowa. It was an overlay project, six inches (152 mm) thick with a 24 foot (7.3 m) wide mainline and six foot (1.8 m) and four foot (1.2 m) wide flying shoulders. All of it was paved in one 34 foot (10.4 m) wide pass.
The flying shoulders were one of the challenges on the project. The Iowa Department of Transportation (IDOT) required four percent shoulders be maintained at all times, regardless of how much the superelevation changed. The GHP-2800 was equipped with three power transition adjustors (PTAs), one for the center crown and one each for the shoulders. The 5400 series mold features self-supported TAs that are hydraulically driven with the transitions controlled by G+.
"Much like your center PTA crown, the difference we've got to figure in the cross slope of the mainline and the shoulders through all the superelevated curves and take those calculations and translate them into the PTA controller that GOMACO has built," Hogan explained. "We can't exceed an eight percent break over and there are several supers, most of them range from two percent to 2.5. If the roadway tips into a two percent curvature whichever direction, we've got to compensate and maintain a four percent shoulder on both sides. It's just a matter of inputting some values into a computer and obviously we've had to double-check our math a couple of times and make sure we do that correctly, but it works great... very slick.
"The new 5400 series mold with all three PTAs is so much more advanced and smooth. The name of the game is to keep the roadway as smooth as possible and we couldn't do that manually manipulating any PTAs."
Smooth and easy PTA transitions are just part of the power of the G+ and its closed-loop electronic over hydraulic control. It also seamlessly integrates with the on-board GSI units that have allowed Manatt's to pinpoint optimum travel speed, vibration, mix design, and variations in ambient temperature to achieve ultimate rideability.
"We've had a lot of luck with those GSIs, and the software and technology they have built in is incredibly smart," Hogan said. "The GSI is telling us a lot of information and with the G+, we know where to go and look for or change items. It is incredibly smart. With this G+, you can really zero in on some items that can knock that smoothness down fast and get everything fine tuned.
"I'm pretty partial to the GSI myself, but with the G+... you really get zeroed in there to be a lot more comfortable. I could not imagine not having the two together. They're a money maker."
When paver adjustments need to be made or other paving information monitored, Manatt's personnel can go to G+ Ground Control. It's mounted to the side of the paver, at easy ground-viewing level, and placed inside a protective box along with the system controls for the Leica Geosystems 3D, PTAs and GSI units.
"That's a very nice setup," Hogan said. "You've got everything in one general location. We've got some good people here at Manatt's and we're all learning this system together. I think every day we learn something and there's always a little trick here or there. We've got a good road that shows that anyway and we look for a lot of bigger, better things to come."
As Manatt's turned their GHP-2800 around to start the northbound nine miles (14.5 km), the crew and the paver hit their stride. Production reached 5700 feet (1737 m) in a 12 hour working day.
G+ Connect allows the Leica 3D stringless system and the on-board vibrator monitoring system to seamlessly interface with G+ for ultimate paver control. The end result is a paving experience that is smooth, efficient and accurate.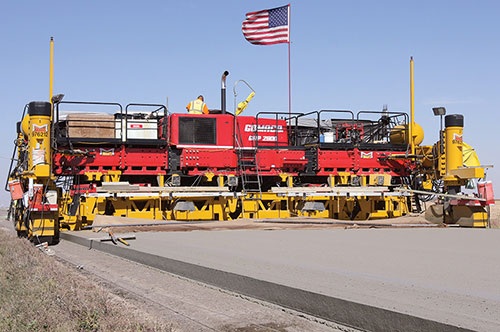 Paver-mounted GSI units provide instant feedback to achieve rideability and help pinpoint optimum travel speed, vibration, mix design and other variations with slipform paving.
IDOT uses the zero-blanking band to measure smoothness on their new roads. Incentive is paid for smoothness under 21. Everything Manatt's was testing on site averaged 17 or under. So smooth, that for a majority of the section, straightedges were pulled off the new pavement.
"That was the ultimate goal," Hogan said. "To put down the smoothest road, full incentive, and no straightedges. The proof is in the numbers and we're getting the smoothness with the GSI, the 5400 series mold, and the GHP-2800 with G+... the whole package is there. We've got the finish and the numbers to prove that you don't have to have straightedges on there."
The ultimate goal was achieved with the complete GOMACO paving package. It is now about the technology that pulls everything together. G+ is the center that Connects all of the paver resources. It's future capabilities and software upgrades are endless and the control system continues to evolve. Make plans today to experience the new G+ upgrades at either World of Concrete or CONEXPO-CON/AGG 2014!
Subscribe to Receive GOMACO World Magazine