GOMACO World Index --- GOMACO World 44.1 - November 2016
Slipforming Success with the New GOMACO GP3 Concrete Paver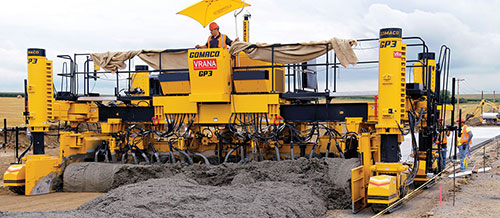 Charles Vrana & Son Construction Company
Omaha, Nebraska
Charles Vrana and Son Construction Company, based out of Omaha, Nebraska, have been actively building a variety of construction projects large and small since 1909. They're a family-held business and one of their specialties is civil and heavy highway construction. They have owned several GOMACO 9500 trimmer/placers through the years and they are now the proud owners of a GOMACO GP3. It's the first GOMACO concrete slipform paver in their extensive fleet of roadbuilding equipment.
Don Sell, Equipment Manager for Vrana, was very involved with the ordering of the new paver, specifying the mold, and other paving attachments. The list of requirements included a telescoping mold, a front bar inserter, and a machine that could be easily transported with the paving mold still attached.
"We went with the GP3 with a 5400 series mold spec'd out to 26 feet (7.9 m) wide," Sell said. "The mold has telescoping end sections in it because we do a lot of paver width changes from one job to the next with one or two foot (0.3 to 0.6 m) increments. The versatility of not having to drop that mold to make a paver width change is something we can do in an hour versus half a day."
The GP3 is also outfitted with a rear loading and front inserting 5400 series bar inserter. The inserter uses a bar loading chain system so the bars travel in a flat, straight path for maximum placing efficiency. A bar box mounted on the rear of the GP3 holds extra bars for easy access and loading of the inserter's bar magazine. A G+ control box for the 5400 series bar inserter is mounted to the rear of the paver and manages the bar placements.
One of the first projects the GP3 was put to work on is a new commercial development in Sarpy County on Schram Road and 140th Street, south of the city of Omaha. The paver is being used to slipform new roadway, as well as the entrance into the development.
"It's booming in Sarpy County right now and for this 40 acre (16.2 ha) site we're paving 3200 feet (975 m) on Schram Road and we have 2100 feet (640 m) on 150th Street," Jarrod Ryan, Project Superintendent for Vrana, said. "On Schram Road we're paving 25 feet (7.6 m) wide with integral curb on the right. When we go down 150th Street, we have a 42 foot (12.8 m) wide slab, but we're going to break it into two 21 foot (6.4 m) pours for the crowning. We're also going to pour the entrance for the development while we're here and that's 26 feet (7.9 m) wide and a third width."
On the GP3's first pour on the new development, Vrana slipformed 1600 feet (487.7 m) of 25 feet (7.6 m) wide, nine inch (229 mm) thick pavement with a six inch (152 mm) integral curb. Paving production averaged up to 250 cubic yards (191 m3)) per hour, which is the production limit of the ready-mix plant.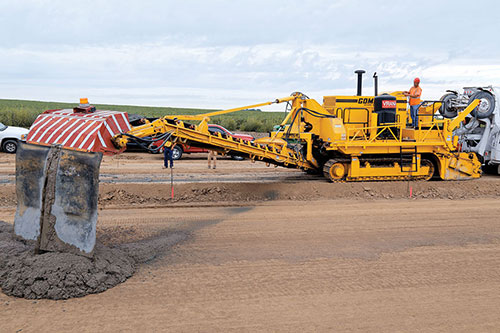 The operator of the 9500 uses the placer's remote control to move the placing belt as it puts concrete on the grade in front of the GP3 paver.
"We have 15 ready-mix trucks supplying us and we're shooting for 250 cubic yards (191 m3) an hour," Ryan said. "That's the best ready-mix can do, but we can go faster than that with this paver. The paver, I guarantee, will go faster than that."
The ready-mix trucks dump the concrete into the hopper of a GOMACO 9500 placer working from the haul road in front of the GP3 paver. The concrete mix design is a city of Omaha standard 6.5 sack mix. Slump averages 2.5 inches (64 mm).
The 5400 series bar inserter is placing a 30 inch (762 mm) long, #5 bar every 33 inches (838 mm) into the new slab.
"We like the bar inserter and it hasn't missed a bar on any of the pours we've used it on," Sell said.
The road is being built with future expansion in mind. The left side of slab has a keyway so dowel bars can be drilled and inserted to scab-on an additional two lanes. The 25 foot (7.6 m) wide pavement has a six foot (1.8 m) offset crown and the 21 foot (6.4 m) wide pavement will have an eight foot (2.4 m) offset crown to accommodate the future lanes. The offset crowns are managed with the 5400 series mold's self-supported, computerized power transition adjuster (PTA).
The GP3 with 5400 series mold is producing an outstanding new roadway. The pavement edges are sharp and the keyway design unblemished. According to Sell, it's a variety of factors that combine to create a great edge.
"It's your concrete mix, your slump, and the machine itself, that allows us to get that real crisp, sharp edge," he said. "It's a perfect edge, the keyway and everything on it. The curb is the best curb I've seen in 20 years of paving. We're happy with the final product of the paver and our yields have been excellent."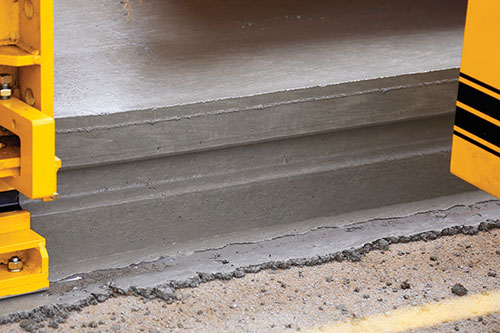 The new GP3 with 5400 series mold produces a smooth, clean and sharp edge and keyway on this new roadway project for a commercial development in Sarpy County, Nebraska.
Finishers working behind the GP3 have very little to do. Most of the time, bull floats are left alone along the side of the new pavement. A burlap drag finish is all that's necessary. A white cure is hand sprayed behind the paver.
"We don't have a smoothness specification on this project and I really wish we did right now because it's looking good," Ryan said. "We would have no issues meeting it, I guarantee you that."
"The technology of the machine is phenomenal," Sell added. "Ten years ago, I would have never thought of something like this, but it has come a long way."
Part of that technology includes telematics and the GOMACO Remote Diagnostics (GRD). It allows GOMACO's service technicians in Ida Grove, Iowa, to monitor and troubleshoot machines in the field. It was a helpful feature for Vrana when they were preparing the GP3 for a pour and a steer sensor went out on them. GOMACO was able to troubleshoot and diagnose their issue and then have a new sensor in Vrana's hands in Omaha within two hours.
"I can't say enough about the GOMACO support, they have been very helpful with us," Sell said. "This is our first GOMACO paver and their field technicians are on top of their game. They do whatever it takes to get it done."
Vrana has several projects planned for the GP3 within and around their home base of Omaha, along with more work in Sarpy County. They'll be moving the paver around a lot on job sites and loading it up on a lowboy for it to be trucked from project to project. The loading is made easier with the GP3's Transport Mode. The operator just drives the paver's four legs and tracks around to the transport position, and then switches G+ from travel to transport for complete control.
"I like the versatility of the machine and the ease of mobility on site where you can counter-rotate the machine right in its own tracks," Sell said. "The slew drives on the steering and those pivot arms are phenomenal. It just gives us so much more room to negotiate the machine around a job site, especially at 25 feet (7.6 m) wide.
"When it's time to transport it, we just fold it up into transport mode. We swing the legs, walk them right around, switch from pave mode to transport, and load it on the lowboy. It takes us about 15 minutes tops to get it from pave to transport mode. We're able to transport it with the mold underneath it. All we do is fold up the work bridge, swing the wings in, and we're ready to go and legally haul it for width and height."
Subscribe to Receive GOMACO World Magazine