GOMACO World Index --- GOMACO World 46.1 - July 2018
Goodbye to an Innovator and Friend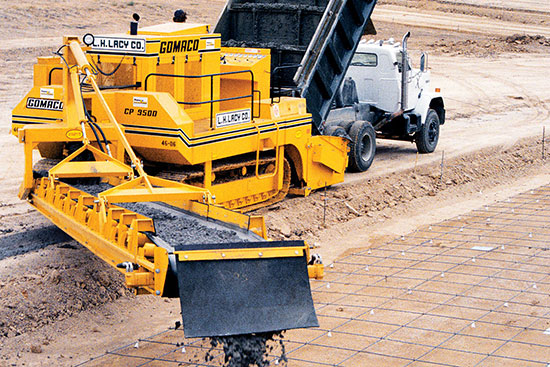 Robert's concrete placing machine, the GOMACO 9500, at work in October 1985, was featured in GOMACO World 14.1.
Robert Millsap, a long-time friend of GOMACO and an employee at L.H. Lacy Company in Dallas, Texas, passed away on March 31, 2018. He was 73 years old. His innovative spirit and the want of a better concrete placing machine resulted in the development of the 9500.
"Robert was equipment supervisor for Mike Lacy when they approached us about building them a high-volume placer for end dump operations," said Ken Kelly, retired GOMACO District Manager for the Southwest United States. "The L.H. Lacy Company and Robert, specifically, were forward thinking people. Lacy was the first company in the area to place site-mixed concrete in front of a slipform concrete paver. This process revolutionized the slipform concrete paving, especially in subdivision paving in the area.
We became good friends through all the trials and tribulations of building this first machine of its size and capabilities. I know the 9500 was always one of my favorite machines to sell because, like Robert Millsap, you knew it would always be counted on to perform, no matter what the situation."
This first 9500 and L.H. Lacy were featured in GOMACO World 14.1 in 1986. You can read the story by visiting www.gomaco.com/downloads/lh_lacy_world14_1.pdf.
In the article, Millsap liked working with GOMACO and the "open mindedness of GOMACO to meet our needs." The article ends with a quote from Millsap.
We run the machine every day that it is not raining or we are moving from one job to another," he concluded. "It has met our expectations 100 percent, and the CP-9500 (now called the 9500) is the only way to go for central mix paving."
GOMACO shares our deepest sympathies with the Millsap family. Robert will always be remembered and applauded for his creative spirit and can-do attitude.
Subscribe to Receive GOMACO World Magazine