GOMACO World Index --- GOMACO World 46.1 - July 2018
Commander
III

x Show Machine Stays in Vegas to be a Star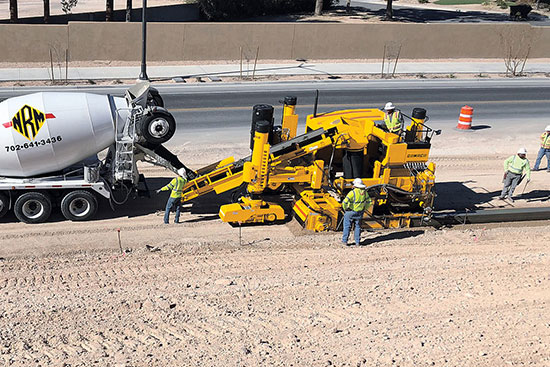 Stewart & Sundell slipforms curb and gutter on a project in Las Vegas, Nevada, with their new Xtreme Commander IIIx.
In a city known for hosting the United States' largest concrete trade shows, a new GOMACO Commander IIIx, a featured machine in the GOMACO booth at World of Concrete 2018, has found a new home. It was purchased by Stewart & Sundell and had a short transport from the Las Vegas Convention Center close to the famous Las Vegas Strip, to its new home in North Las Vegas, Nevada.
The family-owned company has always favored GOMACO and the Commander III for their barrier and curb and gutter work. When the new Xtreme Commander IIIx was introduced featuring rotary-sensored slew drives with extreme track steering, they knew they had to have one for their company. The timing of their purchase worked well for it to be a GOMACO trade show machine and Kris Sundell, and his sons Bryan and Peter, visited their new machine the last day of the show, January 16, 2018.
Stewart & Sundell didn't waste any time putting their Commander IIIx to work after World of Concrete. Within a week of the show, they were slipforming curb and gutter on a project in Las Vegas. They are able to use their existing Commander III molds, steering sensors and other accessories on their new machine without modifications. It's a money-saving feature when you have over 30 years of existing curb and gutter and barrier molds in your inventory.
Subscribe to Receive GOMACO World Magazine