C-450 & SL-450 Cylinder Finishers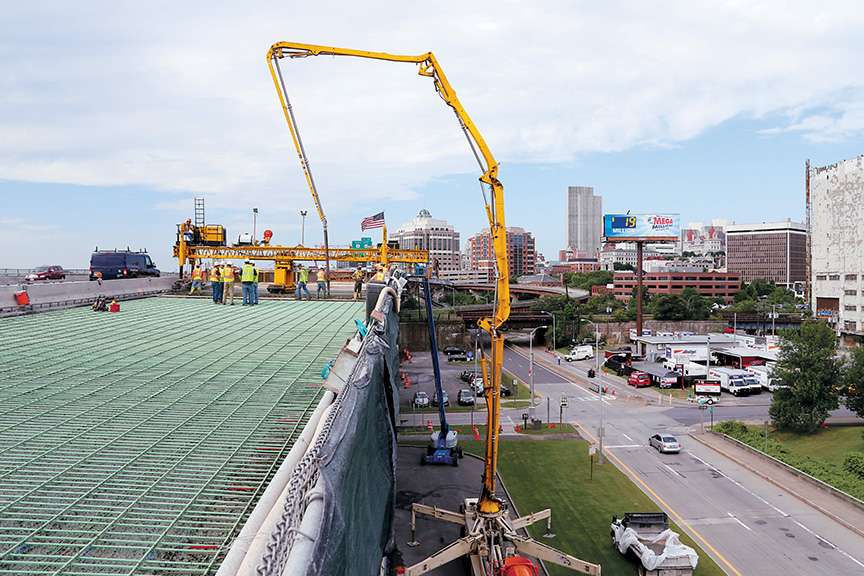 GOMACO Corporation pioneered the development of the first cylinder finisher over 50 years ago. The late Harold W. Godberson, founder of GOMACO Corporation, developed and manufactured a bridge deck finisher to meet the growing needs for bridge markets. Considered to be a milestone, the cylinder finisher made GOMACO a recognized name in the construction industry.
Today, GOMACO cylinder finishers are designed for versatility with the C-450. It is easy to operate and saves time and labor costs on all of your concrete finishing projects.
Pin-connected sections provide fast setup time and the versatility to fit exact job requirements. The C-450 frame widths range from 12 feet (3.66 m) to 104 feet (31.7 m), with transitional framework attached.
Transitional Framework
GOMACO Bridge Deck Finishers - Available with Transitional Framework and Third Wheel Assist
The transitional framework is a design option for the GOMACO C-450 cylinder finisher that provides faster assembly and weight savings compared to wider-width finishers requiring an overhead truss system. The new frame features transition sections connecting the C-450's standard 24 inch (610 mm) tall framework to the 42 inch (1067 mm) tall framework used on a C-750 finisher. The frame sections only need to be pin-connected and the cross arms bolted in place.
The transitional framework sections can also be removed and the C-450 can finish at smaller widths with its standard 24 inch (610 mm) framework. The framework allows the versatility of two finishers in one for the narrower or wider widths. The transitional framework can be added to new or existing C-450s.
GOMACO's line of bridge deck finishers is also available with the optional third wheel assist on the standard bogies to further distribute the machine's weight while traveling on the rails. The optional third wheel assist bogies, on each side of the finisher, consist of two single-wheel idler bogies attached to the spreader beam. It's a simple modification that can be made to any C-450 or C-750 to help spread the weight out and reduce the wheel load on the overhang brackets.

The C-450 with transitional framework - Yellow: standard 24 inch (610 mm) tall C-450 framework and components. Red: transitional framework. Blue: 42 inch (1067 mm) tall framework.
Versatile Frame and Finishing Width...
The frame width for the standard C-450 cylinder finisher is 12 feet (3.66 m) to 72 feet (21.95 m). The frame width on the C-450 with transitional framework is a minimum of 12 feet (3.66 m) to a maximum of 104 feet (31.7 m).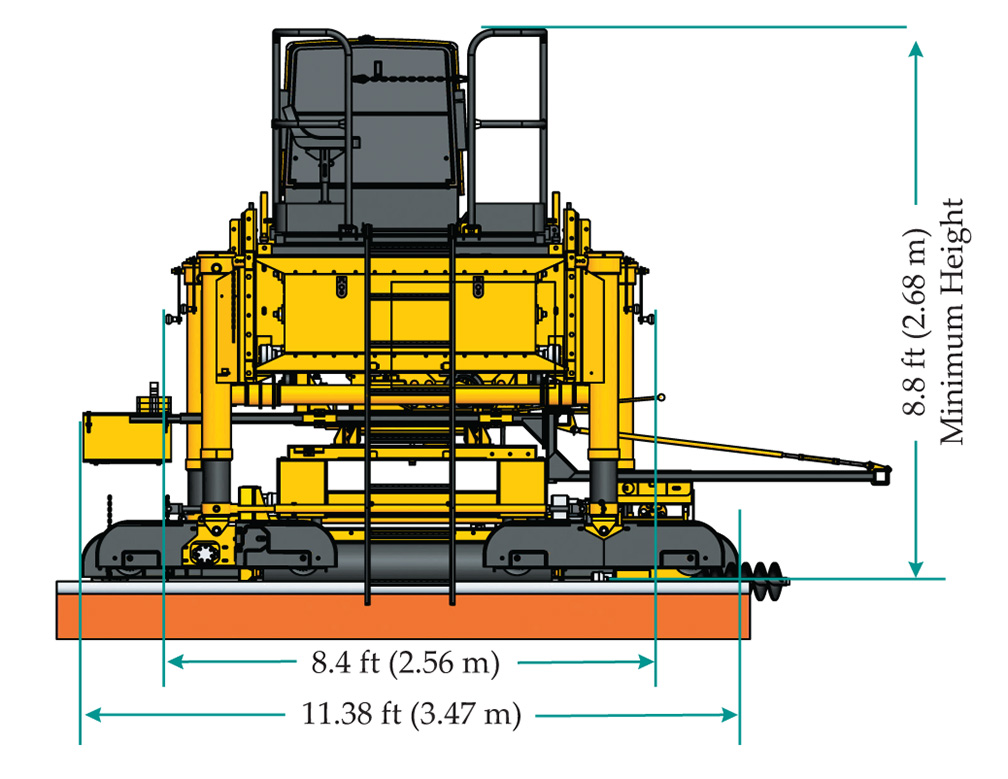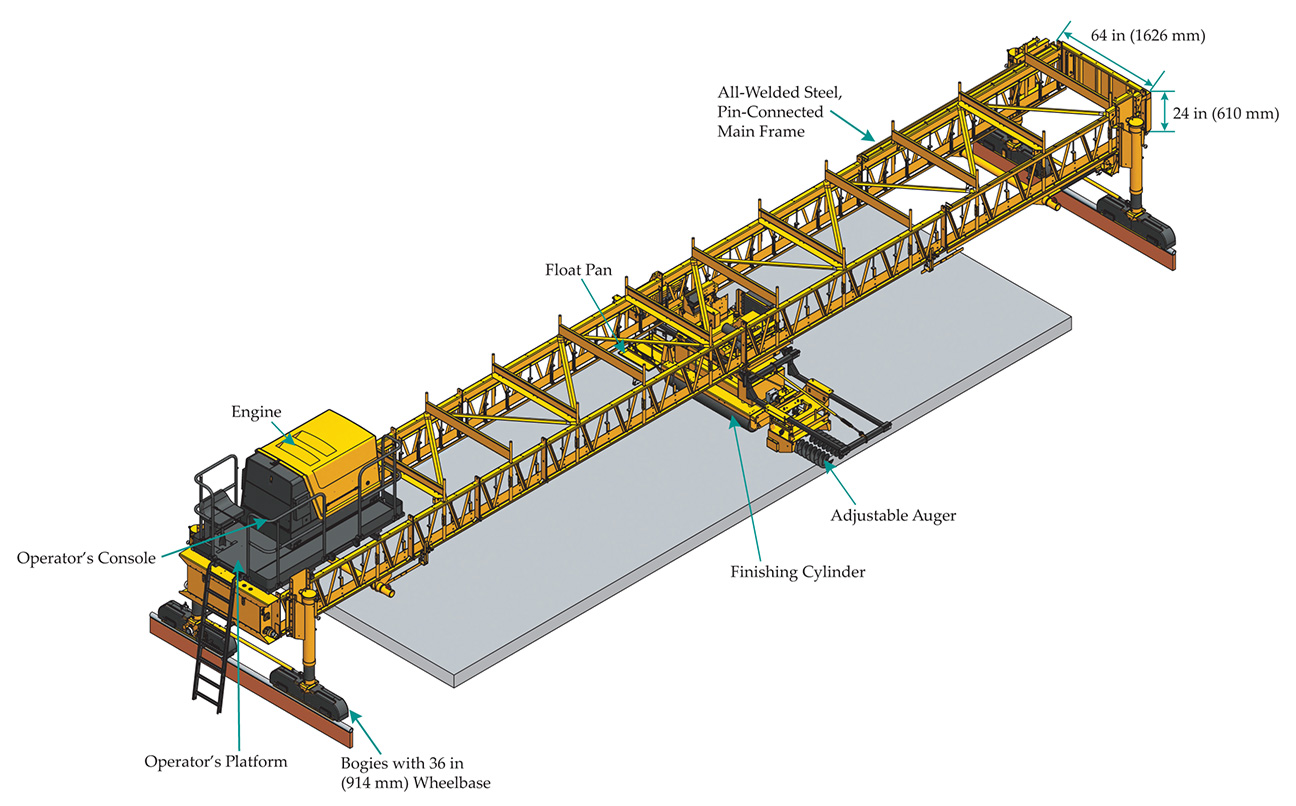 C-450 Cylinder Finisher Specifications
ENGINE (2)
Type: Kohler, air-cooled gasoline.
Horsepower: 18 hp (13.4 kW) @ 3000 rpm.
Electric Start: 12 volt start motor with a 25 amp regulator-rectifier.
SERVICE CAPACITIES
Fuel Reservoir: Carriage 9 gal. (34 L). Console 9 gal. (34 L).
Hydraulic Oil: Carriage 9 gal. (34 L). Console 15.3 gal (57.9 L).
CONSOLE
Self-Contained: Hydraulic console with easy-to-operate controls, including variable travel. Can be positioned in other locations on the main frame for operator safety and convenience.
Carriage Drive: Designed for operator ease in controlling travel speed and direction of the carriage.
TRACTION SYSTEM
Traction Drive: Two drive and two idler bogies standard. Drive bogies include two hydraulically-driven flanged wheels, 3.25 in. (83 mm) wide for 2 in. (51 mm) square tube. Optional cupped or urethane wheels are available.
Traction Speed: Up to 31 fpm (9.4 mpm).
CONSTRUCTION
Frame: All-welded steel, pin-connected main frame.
TRANSPORT ASSEMBLY (optional)
Tires: Two 10 in. (254 mm) x 15 in. (381 mm) wheels with 12-ply tires and removable towing tongue for job site use only.
Hydraulic Vertical Lift: 48 in. (1219 mm).
FRAME WIDTH
Standard 24 in. (610 mm) Deep Frame Assembly: 12 ft. (3.66 m) to 72 ft. (21.95 m).
Frame Transition Extensions: Positioned in the center of the C-450 frame, provides increased frame strength for widths over 72 ft. (21.95 m) up to 104 ft. (31.7 m). Frame transition extensions available in 8 ft. (2.44 m) and 12 ft. (3.66 m) lengths and a depth of 3.5 ft. (1.07 m). Consult factory for machines over 72 ft. (21.95 m) wide.
Note: Finishing width is normally 36 in. (914 mm) less than frame width indicated.
VARIABLE FINISHING WIDTHS
Frame Sizes: The frame is adjustable in 2 ft. (.61 m), 4 ft. (1.22 m), 8 ft. (2.44 m), 12 ft. (3.66 m), or 16 ft. (4.88 m) increments. The C-450 assures a specified tolerance of one-eight inch (3 mm) in 12 ft. (3.66 m). A self-widening capability provides use on tapered decks and slabs. A 360 degree turntable on the upper carriage allows maximum skewing of the undercarriage to keep the finishing cylinder parallel to the center of the slab.
POWER TRANSITION ADJUSTER (optional)
Hydraulic Operation: Console controlled infinite adjustment for on-the-go crown elevation changes. Power transition adjusters can be installed at most frame pin-connected points.
CARRIAGE/FINISHER ASSEMBLY
Finishing Cylinder: One 10 in. (254 mm) diameter, 48 in. (1219 mm) long.
Optional: Single-cylinder or double-cylinder with either 48 in. (1219 mm) or 60 in. (1524 mm) long cylinders.
Augers: One 10 in. (254 mm) diameter (right-hand) and one 10 in. (254 mm) diameter (left-hand), 14 in. (356 mm) long with auger guard.
Finishing Pan: 25 in. (635 mm) x 22 in. (559 mm) trailing float pan.
TRIMMER UNDERCARRIAGE ASSEMBLY (optional)
Trimmer Wheel: 10 in. (254 mm) x 48 in. (1219 mm) trimmer wheel for fine grading the subgrade.
Tooth Holders: Standard holders with 32 replaceable cutter teeth.

OTHER STANDARD FEATURES
Three console auxiliary hydraulic circuits for attachments.
Automatic advance.
Eight-roller carriage system with rail pinch rollers.
Bogies with 36 in. (914 mm) wheel base.
Operator's platform.
OPTIONS
Engine (2):
Type: Honda, air-cooled gasoline.
Horsepower: 19 hp (14.1 kW) @ 3000 rpm.
Electric Start: 12 volt start motor.
Engine (2):
Type: Yanmar diesel.
Power: 19.9 hp (14.8 kW) @ 3000 rpm.
Power transition adjuster (PTA).
Transport assembly.
Adjustable hydraulic, pan-type vibrator for latex overlay applications or with protruding fin for street work.
Hydraulic, stinger-type vibrator and mount assembly, equipped with bent vibrator which rotates
180 degrees at the end of each pass, to allow vibration close to paving form.
Single-cylinder or double-cylinder undercarriage with 60 in. (1524 mm) long cylinder and external vibration.
Incorporated cylinder lowering attachment.
Hydraulic cylinder lowering attachment.
Main frame extensions.
Adjustable single-auger or double-auger assembly, double-wrap 7.75 in. (197 mm) diameter by 24 in. (610 mm) long augers with a 3 in. (76 mm) pitch. Augers can be vertically adjusted to 1 in. (25 mm) above or below the finishing cylinders.
Four hydraulically powered bogies for all wheel drive.
Third wheel assist bogies, consisting of four single-wheel idler bogies and spreader beam to distribute machine weight.
Bogies with 41 in. (1041 mm) wheelbase.
Spare console, upper and undercarriage assembly.
Additional emergency stop buttons available.
Other options are available to customize machine to accommodate applications and customer needs.
Manufactured under one or more of the following U.S. or foreign patents: 5,190,397; 5,209,602; 5,924,817; 5,941,659; 6,099,204; 6,450,048; 2,211,331; 2,069,516; 7,044,680; 7,284,472; 7,517,171; 7,845,878; 7,850,395; 2,591,177; and patents pending.
GOMACO and G+ are registered trademarks of GOMACO Corporation.
GOMACO Corporation reserves the right to make improvements in design, material, and/or changes in specifications at any time without notice and without incurring any obligation related to such changes.
Performance data is based on averages and may vary from machine to machine.