Welcome to GOMACO University
The 2017 GOMACO University class schedule is now available.
Click this link to learn about the educational opportunities this winter and spring, or download the 2017 class schedule PDF here.
Register early, as classes fill up quickly! Be sure to reserve a hotel room for the week, as well.
| | | |
| --- | --- | --- |
| | | |
| A variety of courses are available for GOMACO equipment in our dedicated training facilities. | | The classroom at the University is tiered so students can easily see the presentations to get the most out of their time at GOMACO University. |
| | | |
| | | |
| Don't go another off season without it. Join us this winter and spring to get ready for a profitable concrete construction season. | | Learn from shop and classroom instructors who have a world of experience in set-up and working with the GOMACO equipment. |
New For 2017
GOMACO University is offering classes covering maintenance and diagnostics on the GOMACO G21, G22, and G+® control systems for both pavers and curb and gutter machines. GOMACO University will be offering a wide variety of classes for 3D machine guidance systems to help you understand the software, and how to set up the equipment in order to pave smoothly without stringline.
Mr. Mike Ayers, who is well known in the industry for his knowledge of concrete mixes, will be at the University this year and will be devoting his time to cover basic concrete mix design with the University students. As time allows, he will also move into more advanced topics about the concrete mix and design. Mike will plan to discuss the mix materials, mix design process, edge slump, troubleshooting, and how mix design can affect rideability.
GUS I, the GOMACO University Simulator, now features interchangeable controls and GBoxes. The controls can be switched between the G22 and G+ control systems in order to properly train students on the controls currently being used in the field. The GBoxes are provided for each leg to accommodate improved steering and grade with G+ controls. The GBox features a new location for the slave controller and proportional valves, reduces hose and wiring needs, eases serviceability and troubleshooting, and provides easy access with a horizontal swing door at ground level.
Use the following links to:
---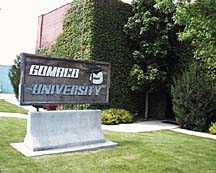 GOMACO University classes are geared to help you, the customer, prepare to have a busy and profitable concrete construction season. Customer and distributor education is the primary focus at the University, and each class is designed to provide you with valuable knowledge to help you throughout the year! Join us each winter for learning, fun and Iowa hospitality.
Founded in the early 1970s, GOMACO University has taught more than 17,000 students from around the world the skills needed to successfully operate GOMACO's line of concrete construction equipment. Classes at GOMACO University run weekly beginning in January, and conclude in early spring.
For additional information, contact Shari Simmons at gomacou@gomaco.com or by calling 1-800-831-2320 or 1-712-364-4781.