Welcome to GOMACO University
The 2016 GOMACO University class schedule is now available.
Click this link to learn about the educational opportunities this winter and spring, or download the 2016 class schedule PDF here.
Register early, as classes fill up quickly! Be sure to reserve a hotel room for the week, as well.
Use the following links to:
---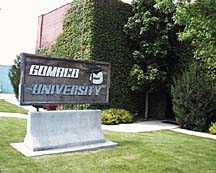 Our classes are geared to help you, the customer, prepare to have a busy and profitable concrete construction season. Customer and distributor education is the primary focus at the University, and each class is designed to provide you with valuable knowledge to help you throughout the year! Join us each winter for learning, fun and Iowa hospitality.
Founded in the early 1970s, GOMACO University has taught more than 17,000 students from around the world the skills needed to successfully operate GOMACO's line of concrete construction equipment. Classes at GOMACO University run weekly beginning in January, and conclude in early spring.