Commander
III

With IDBI
We've taken your Commander
III

four-track to the next level in concrete slipform paving...

Look at Your Commander III Now!

Introducing the new GOMACO IDBI attachment... an independent unit providing dowel bar insertion behind the paver –

• Independent attachment is self-contained, self-powered, and inserts transverse joint bars in pavements up to 16 feet (4.88 m) wide.

• IDBI powered by its own engine


• Crane with rechargeable wireless remote control has 21 feet (6.4 m) of reach and 6500 pound (2948 kg) lifting capacity.

• Outriggers on the attachment have 48 inches (1219 mm) of stroke and can be hydraulically lowered and placed on the ground to support the full weight of the IDBI as it is attached to or detached from the paver. The outriggers are also used to raise the unit so a trailer can be backed underneath for transport.

• CAN cable connects IDBI's controls to controller on the Commander III and allows the two systems to communicate.

• Bar-loading tray accommodates dowel bars ranging in size from one to 1.5 inch (25-38 mm) in diameter and from 18 to 20 inches (457-508 mm) in length.

• Has the new adjustable-height bar extractors, and a patented bar tray for easy bar spacing and width changes.

• Hydraulically telescoping leg pivots on the rear of the paver allow the machine to achieve sufficient length to mount the IDBI to the paver. It also allows the legs to be retracted to meet shipping requirements or to pave without the IDBI.

• New piston-style legs utilize a round inner tube and a keyway for steering control.

• Insertion forks designed to reduce amount of scarring and vibration enhances consolidation of concrete around bars.
Commander
III

IDBI Illustrations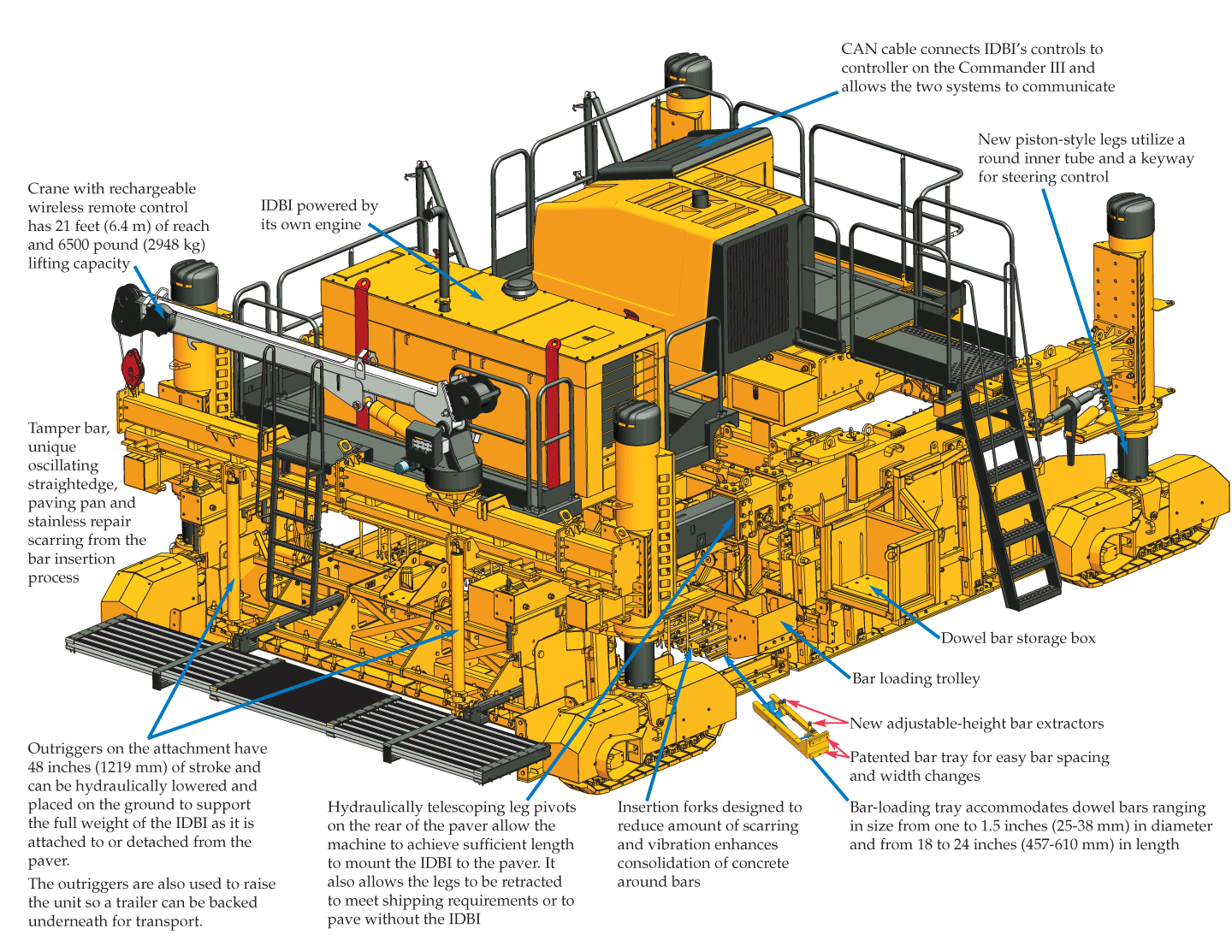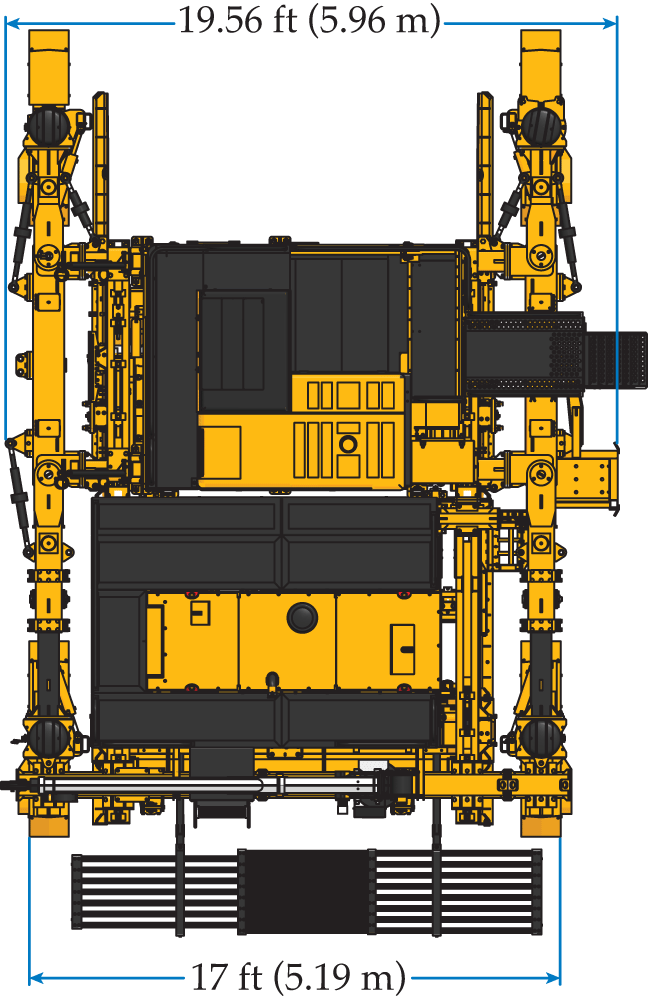 The Commander III backs up to the IDBI attachment to make a synchronized paving system.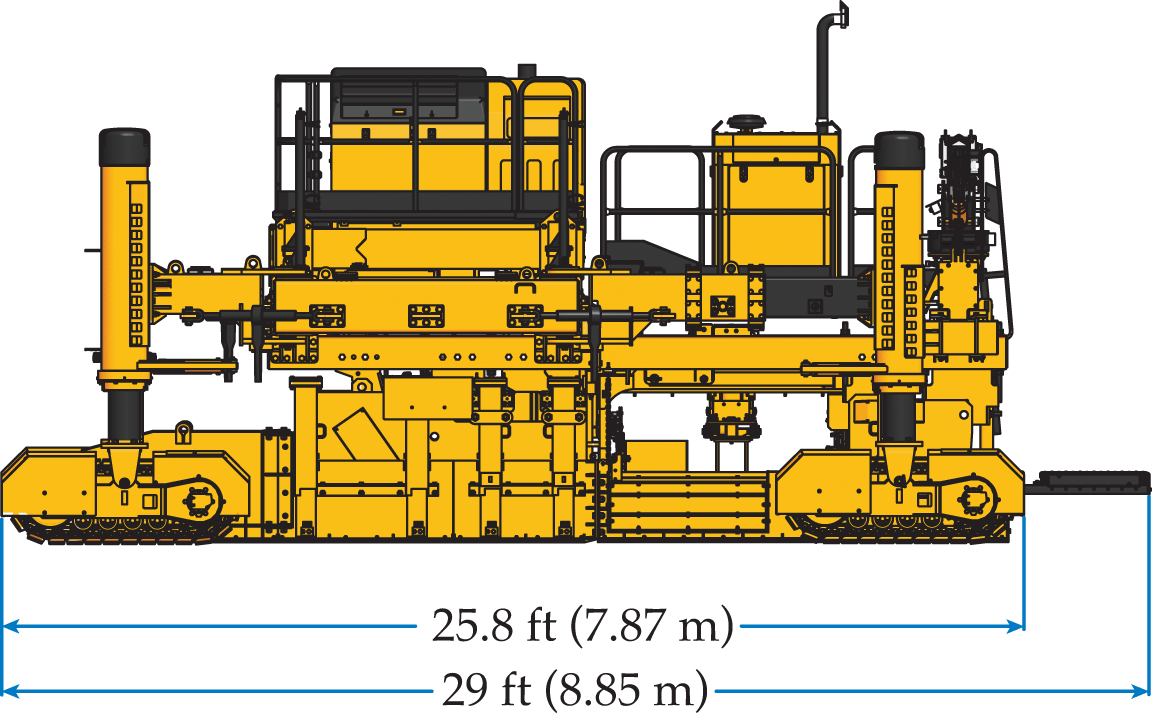 Commander III with IDBI attachment.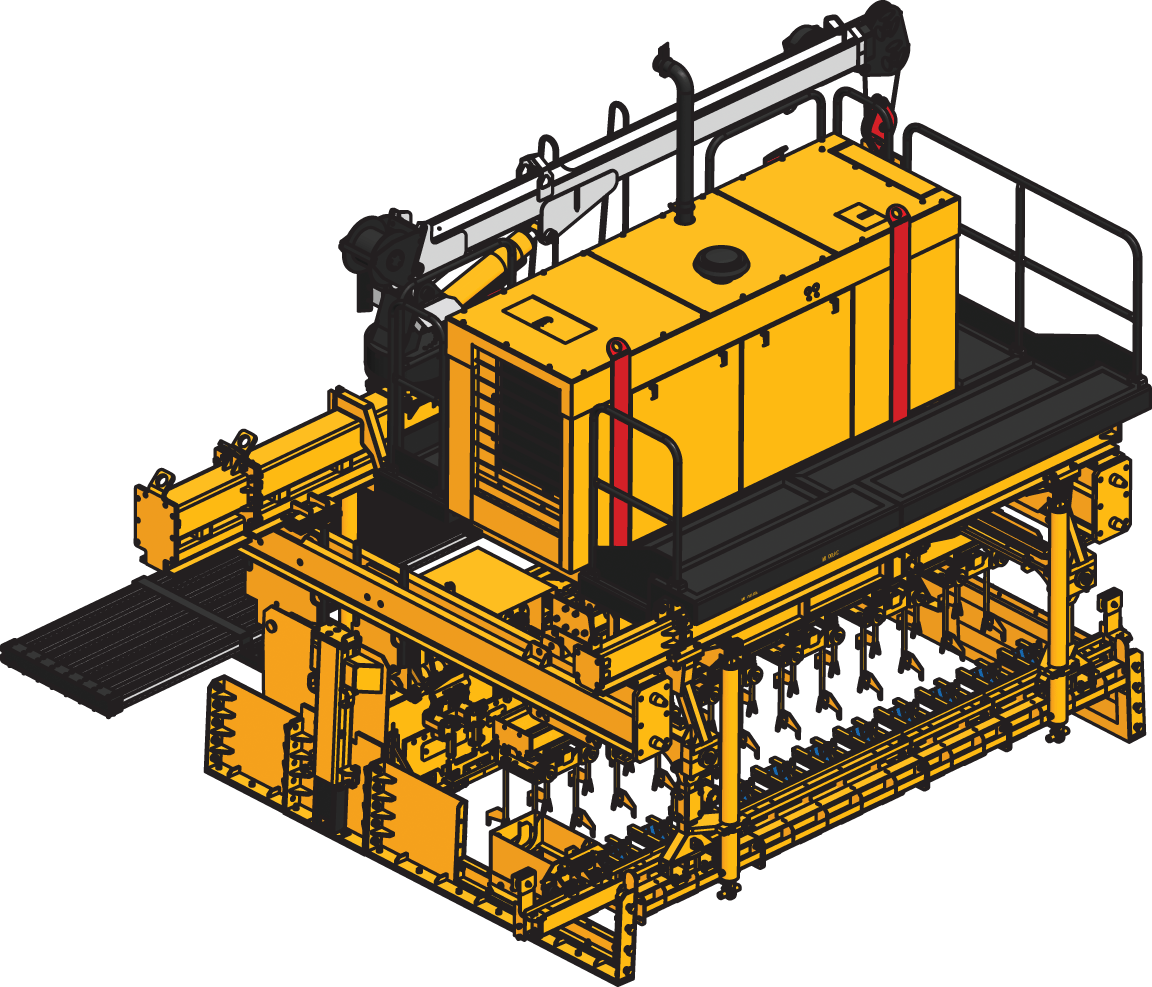 Front View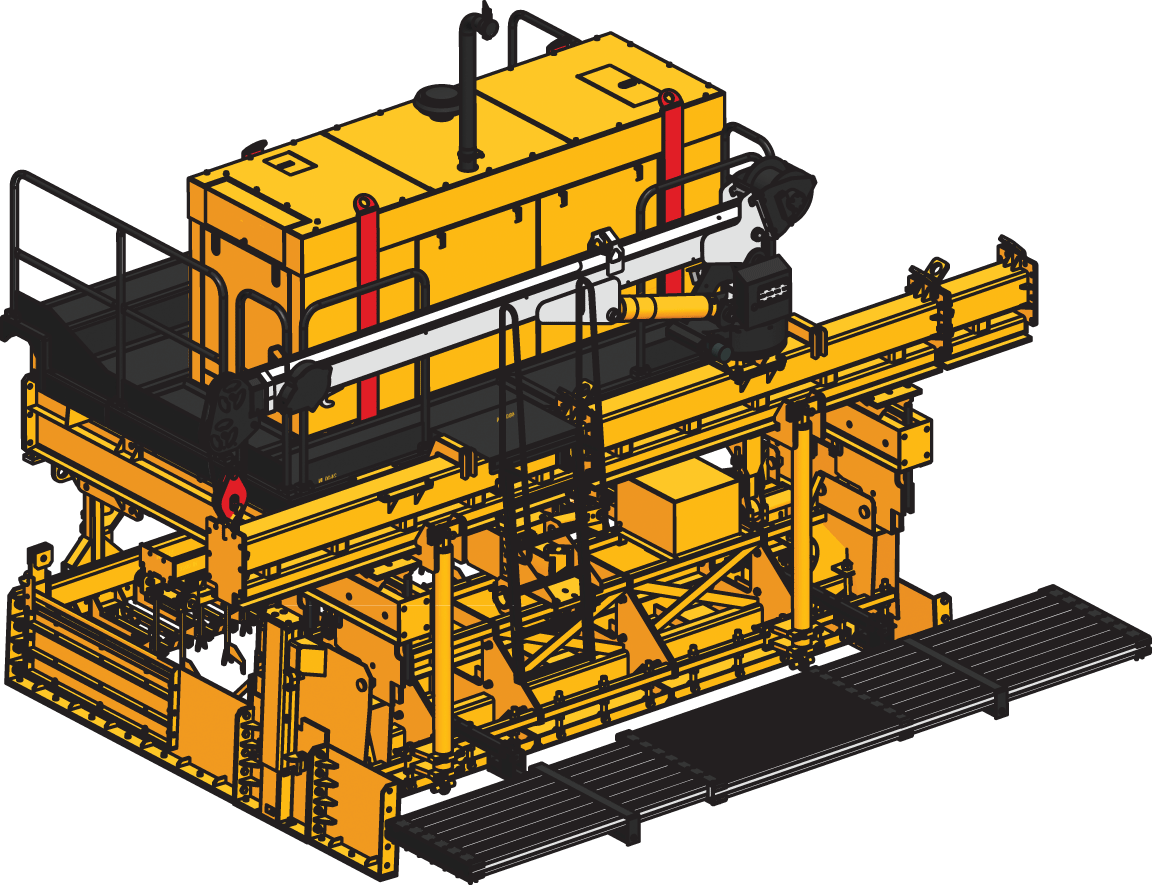 Rear View
MANUFACTURED UNDER ONE OR MORE OF THE FOLLOWING U.S. OR FOREIGN PATENTS: 3,299,786; 3,450,011; 3,541,931; 3,779,661; 3,959,977; 4,073,592; 4,136,993; 4,226,917; 4,343,513; 4,360,293; D-266,850; 853,607; 861,819; 954,773; 406,787; 1,147,187; 133,220; D-512,249; 4,717,282; 4,457,645; C-1,110,893; C-1,191,044; 12,890-1-0010; 5,061,115; 7,509,187; 7,509,615; 5,102,267; 5,101,360; 4,954,019; 4,984,639; 5,190,397; 5,209,602; 0,518,535; 2,067,126; 494,257; 69,031,836.7-08; 2,069,516; 5,924,817; 2,833,084; 7,044,680; 7,284,472; 7,284,472; 7,517,171 B2 AND PATENTS PENDING.
GOMACO Corporation reserves the right to make improvements in design, material, and/or changes in specifications at any time without notice and without incurring any obligation related to such changes. Performance data is based on averages and may vary from machine to machine.