Commander
III

Trimmer
High-Production with the Commander
III

Trimmer

High-production trimmer capable of widths up to 11 feet (3.4 m)

Features the same framework as the Commander III curb and gutter model, but with minor modifications

- Right, front track has been switched to a pivoting front track to accommodate zero trimmerhead clearance on both sides

- Front tracks are parallel and trimmerhead is undermounted

- Vibrator hydraulics for paving applications removed and replaced with a bigger, closed-loop trimmer pump for more power

Equipped with the most powerful trimmer ever put on a Commander III

- 114 horsepower (85 kW) of the total engine power dedicated to the trimmer

Capable of trimming flat or monolithic sidewalk and curb and gutter profiles

Trimmerhead has three air shocks to keep it stable during the trimming process

- If it would hit a large rock or other object, the air shocks reduce some of the force of impact into the Commander III's mainframe

Two conveyors move the material

- Transfer conveyor moves material from the trimmerhead on the front of the machine towards the discharging conveyor in back

- Each belt is 11 feet (3.4 m) long and 20 inches (508 mm) wide

- Discharge conveyor has seven feet (2.1 m) of sliding capabilities to place material over the stringline or discharge into the center of the roadway

Shipping width is only 11 feet (3.4 m) and the Commander III trimmer transports as a single unit

Trimming conversion can be retrofitted to higher horsepower existing new generation Commander IIIs with G21 or newer GOMACO control systems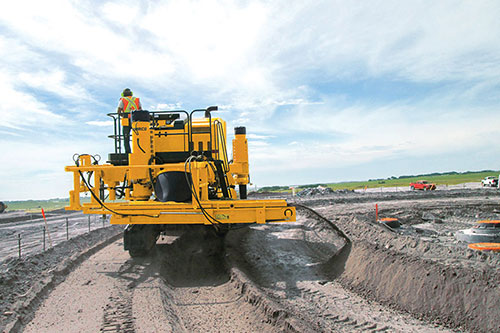 The three-track Commander III high-production trimmer features a powerful trimmer to cut through the clay-based and rocky soil found in Calgary, Alberta, Canada, for monolithic sidewalk profiles.
Read more about this project in GOMACO World 43.1.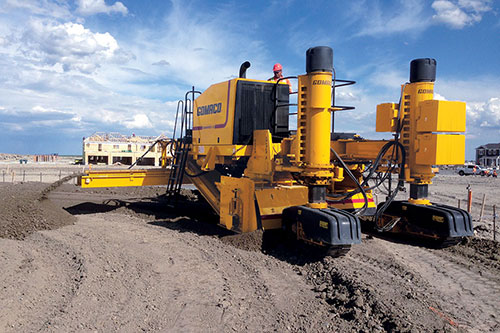 The Commander III trimmer is equipped with a powerful trimmerhead with 114 horsepower (85 kW) of the total power of the engine dedicated to it.