GOMACO World Index --- GOMACO World 43.1 - September 2015
The Commander
III

Adapts for High-Production Trimming

Marmot Concrete Services Ltd. in Calgary, Alberta, Canada, is a family-owned company that got its start in 1978 with just 15 employees. Today, the company averages approximately 160 employees and specializes in new subdivisions working with developers on slipformed curb and gutter, sidewalk, and other applications. They complete approximately 200,000 lineal meters (656,168 ft) of structure annually and use GOMACO Commander IIIs for all of their machine pours.

"It has always been GOMACO and the Commander III for us since day one," Gerry Babb, Vice President of Operations for Marmot Concrete, explained. "We prefer the Commander III because it does what we need it to do. Its size and its weight work for our needs, and it does exactly what we want it to do."

The company is always innovating, trying new applications, and looking for ways to improve their grade preparation and slipforming production. Two of their recent accomplishments involved modifying Commander IIIs. Marmot Concrete worked closely with GOMACO to help create the new Commander III trimmer for high-production sidewalk trimming capabilities up to 3.4 meters (11 ft) wide. It can trim both flat or monolithic sidewalk and curb and gutter profiles. Their second innovation involved adding a second conveyor to one of their Commander IIIs to help slipform a large retaining wall with sidewalk profile at the Mahogany Central Beach site in Calgary.

The Commander III Trimmer

Marmot Concrete slipforms a variety of monolithic sidewalk and curb and gutter profiles. Alberta's soil is mostly clay-based and very rocky, which makes simultaneous sidewalk trimming and pouring not possible. They've been looking for a three-track trimming solution because the placement of the three tracks would prevent the monolithic berm from being disturbed.

"We contacted Jim Hayward and GOMACO and have been working together to create something that could go through the rock and take the abuse while keeping our berm working," Babb said.

The high-production Commander III trimmer was created. It utilizes the same framework as a Commander III curb and gutter machine, but with modifications. It features the most powerful trimmer to ever be put on a Commander III, with 85 kilowatts (114 hp) of the total engine power dedicated to the trimmer. Engineers removed the vibrator hydraulics used in paving applications and replaced them with a larger, closed-loop trimmer pump to increase power. The trimmerhead is equipped with three air shocks to keep it stable during trimming. If it would happen to hit a large rock, the air shocks reduce some of the force of impact into the Commander III's mainframe.

"This new trimmer has tons of power," Babb said. "We'll trim for monolithic profiles that are two meters (6.6 ft) wide with a 550 millimeter (21.7 in) curb added on and it never slows down. The air-ride system that's on the trimmerhead absorbs the shock of it all, so it doesn't bounce around and we have a nice trimmed profile with the monolithic berm intact."

Two conveyors move the material through the machine and away from the trimmed grade. The transfer conveyor is located on the front of the machine and moves material from the trimmerhead towards the discharge conveyor at the back. Each belt is 508 millimeters (20 in) wide and 3.4 meters (11 ft) long. The discharge conveyor has 2.1 meters (7 ft) of sliding capabilities to give contractors the choice of discharging into the center of the roadway or placing the material over the stringline.

"We've used the discharge conveyor both ways, depending on which job site we're on," Babb said. "On some jobs, it needs a lot of dirt behind the stringline. Then, on other jobs, it's already too high so we put the trimmed material out into the road so it can be picked up."

Marmot Concrete finally has the three-track trimmer they've been searching for these past few years. It trims the grade cleanly and moves the material efficiently to either side of the trimmer. And production? Yes, grade preparation production has increased drastically, as well.

"With our old method of trimming, we were trying to achieve 500 lineal meters (1640 ft) per day, per machine," Babb said. "With the new Commander III trimmer that we have now, we're doing about 800 to 1000 lineal meters (2625 to 3281 ft), doubling our old per day production."

The Mahogany Central Beach Site

The Mahogany Central Beach site is a new lake community in the city of Calgary. It's the site of Calgary's largest freshwater lake and includes lake and beach-front access. Developers were having the issue, though, of their sand blowing off the beach and up onto the grassy areas.

"They wanted to make the sand stay on the beach so they needed a wall," Babb said. "The profile that was created has a 2.5 meter (8.2 ft) wide sidewalk with an 800 millimeter (31.5 in) face on it, and at the base of that is where the sand is. We handformed the first 200 lineal meters (656 ft) and it took us a long time because there's a liner underneath that we couldn't pound pins into. We actually had to use concrete blocks to brace all of the forms.

"It took us 4500 man-hours to form it. We knew we had another site and 800 lineal meters (2625 ft) more of this profile to come. We had to figure out a better way to do it otherwise it would take us an entire year just to form it."

They set up stringline in their company's yard and started conducting tests with their Commander III. Supplying concrete for that large of a profile proved to be their biggest challenge. Two cubic meters (2.6 yd3) of concrete were needed to slipform one lineal meter (3.3 ft) of the profile. They tried dumping concrete on the ground in front of the paver, but that didn't work. A single conveyor also couldn't keep up with the concrete demand. They decided the only way they could get enough concrete into the mold would be to mount a second conveyor to the Commander III and dump two ready-mix trucks at one time.

"We didn't need the trimmerhead for this project, so we bolted a base to where the trimmerhead would attach, and put the conveyor on that," Babb said. "That would allow us to move the conveyor around to where we needed it to be using the trimmerhead's hoses and hydraulics. It worked really well."

With testing successfully concluded in Marmot's yard, it was time to move the Commander III to the Mahogany Beach site and begin work on the project. Just ten days later, the 800 lineal meters (2625 ft) of retaining wall with sidewalk was completed.

The concrete for the project was a 32 MPa (4641 psi) city of Calgary mix design with an average slump of 10 to 15 millimeters (0.4 to 0.6 in). Since the profile wasn't slipformed over any steel reinforcing, fiber was added to the concrete. Twelve ready-mix trucks, two trucks every 20 minutes, carried eight cubic meter (10.5 yd3) loads to keep the Commander III supplied.

"The Commander III slipforms such a nice product," Babb said. "When we handformed that first section, we just couldn't seem to get a consistent vibration using the hand-held vibrators. This time around, using the machine and having the vibrators set up, we didn't have any cracks. The machine creates such a better product than by hand."

It's much faster, too. What Marmot Concrete had estimated could take up to a year to complete, the Commander III and its crew finished off in just 10 days, each day a 12-hour shift.

"The owners were excited because we were able to lower the price substantially just by eliminating all of those man-hours and we were also able to give them a better finished product," Babb said. "These Commander IIIs are capable of doing just about anything, so be innovative and try things. You just have to think outside the box, try it, and it will work."
Select any photo to enlarge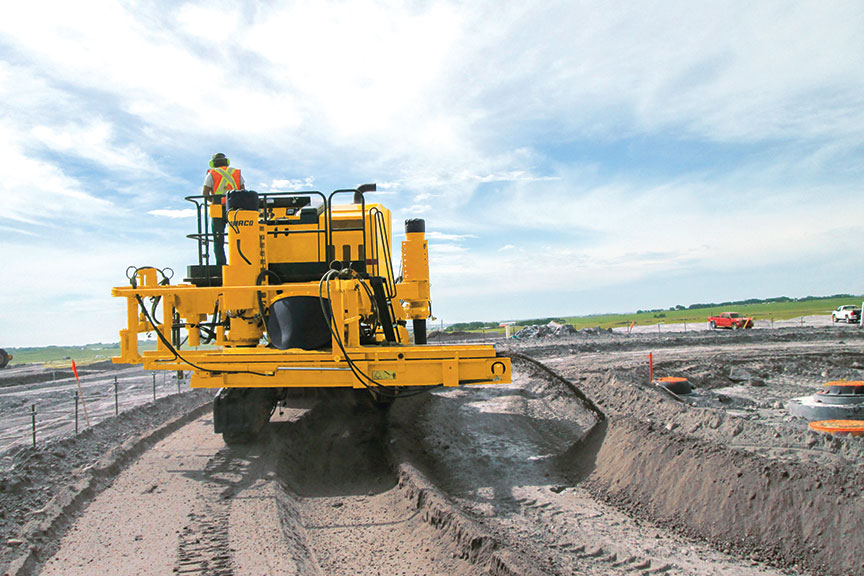 Marmot Concrete's three-track Commander III high-production trimmer features a powerful trimmer to cut through the clay-based and rocky soil found in Calgary, Alberta, Canada, for monolithic sidewalk profiles.
The Commander III trimmer has the ability to discharge the trimmed material to either side of the machine, either into the center of the roadway or over the stringline.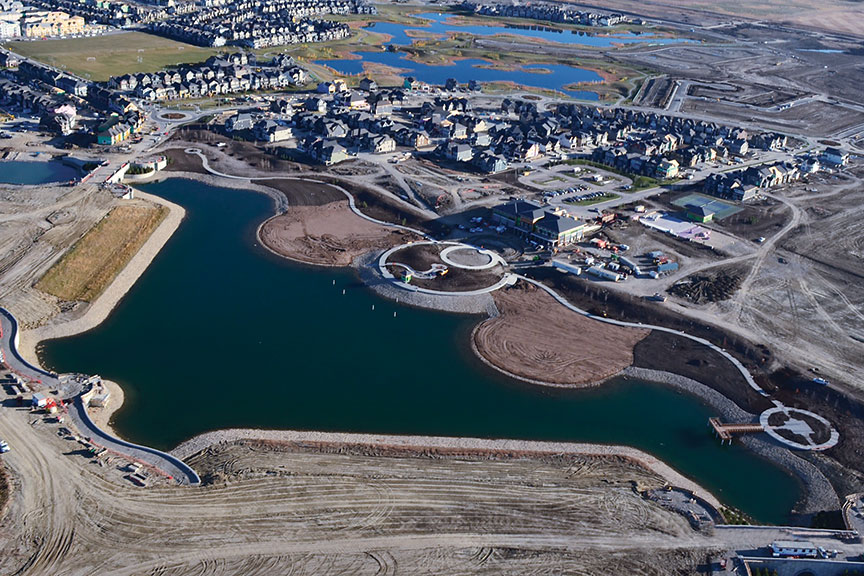 The Mahogany Central Beach site is a new community in Calgary, Alberta, Canada, and features lake and beach-front access for its residents.
Marmot Concrete used their three-track Commander III, with an extra concrete conveyor, to slipform 800 lineal meters (2625 ft) of the unique profile. It was their first time slipforming this profile and they completed the work in just 10 days, working 12 hour shifts.
Two conveyor belts mounted to the Commander III were needed to supply enough concrete to the mold for the unique profile around the lake's edge at the Mahogany Central Beach site.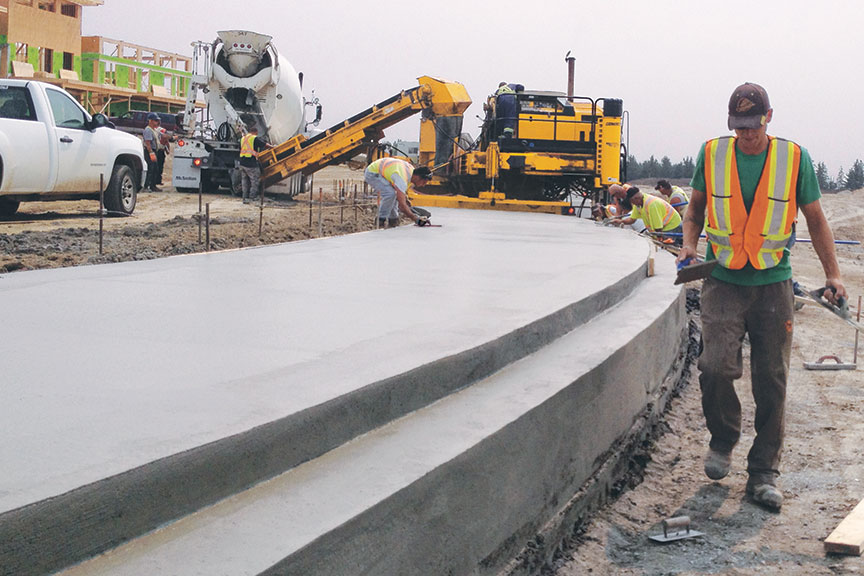 The profile is a 2.5 meter (8.2 ft) wide sidewalk with an 800 millimeter (31.5 in) face that prevents the sand from blowing into the grass at the new development.