GOMACO World Index --- GOMACO World 27.2 - April 1999
"A Dream Come True" New Generation Commander
III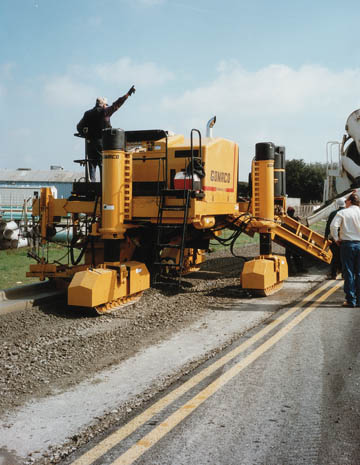 In the early 1970s, Shirley Concrete Company of Northport, Alabama, bought a used GT-6000 curb and gutter trimmer/slipform paver from a contractor in Missouri. Wendell Shirley, president of Shirley Concrete, ran into some problems with the machine and called for GOMACO support. Two service personnel at the time, Ken Kelly and Jim Hayward, were routed from Florida to Alabama to fix the problem. The 6000 was repaired and a friendship was established. The rest, as they say, is history.
Twenty-five years ago GOMACO Corporation built a three-legged machine that the competition said would never work. The Commander III has become, without a doubt, the world's most versatile slipform machine and is the best selling curb and gutter machine of all time. Shirley Concrete bought one of the first 10 original machines. But, it was time for a change...
The cool, misty Alabama morning could not dampen the excitement and anticipation. Sensors were adjusted, stringline tightened, and the controls were gone over one last time while everybody waited. Finally, around 8 a.m., the first ready-mix truck arrived.
Twenty-five years and hundreds of hours of planning, research and development have led to this moment. The first new generation Commander III, under the watchful eye of a research and development team from GOMACO, was ready to roll.
The new John Deere engine purred, concrete was placed in the hopper, the trimmerhead was engaged and the Commander III crawled forward leaving behind beautifully formed curb and gutter.
Shirley summed up the situation. "That's the reason I stay with GOMACO – no worries. You just start it up and go."
First day production was 762m (2500 ft) of curb and gutter. Production was low because of frequent stops. Several measurements and tests were conducted throughout the day. The second day 1524m (5000 ft) of valley curb was poured.
On the third day, the operator and the Commander III were finally getting used to each other. Production increased throughout the day. Various measurements showed the machine was pouring over 12.19m (40 ft) of curb and gutter a minute at one point during the afternoon.
The ultimate test of engineering for the new Commander III was created late in the afternoon of the third day. Shirley set up a 3.05m (10 ft) radius, just for fun. This time, as suspense filled the air, the sun shone brightly.
On a dry run, the machine walked around the radius smoothly, without any problems. The second time, concrete was added and the real test began. The Commander III poured the valley curb smoothly as it wound its way around the radius. When the machine neared the end, the engine was killed and everybody stood back to admire their handiwork.
"I just bet Mr. Godbersen will be building more than one of these," Shirley said with a grin. "That is a dream come true," he added, pointing at the Commander III. "I loved it when I first saw it."
New Commander III concepts were developed through the years by a new product development team. The team included research and development, all facets of manufacturing, sales, service and several years of customer feedback through GOMACO University students and other Commander III owners.
The improvements feature "more" of everything. The new platform offers easier accessibility and ultimate operator visibility. "You can see everything," Shirley said. The new platform also puts the operator within easy reach of all the controls and features a special non-slip surface on the walkway. The redesigned operator's ladder can be positioned on the side or the back of the machine.
The hydraulic system was redesigned and equipped with user-friendly electronic-over-hydraulic controls.
Every circuit in the new generation Commander III is electronic-over-hydraulic, which provides easy, accurate adjustments and an instant controlled response. The new Network Controller is a big jump in technology for Shirley Concrete. Their other machines have had the Analog system.
To make the transition easier, the new generation console features a universal design that is simple to read and understand. Pictograms provide multi-lingual interpretation and easy understanding of the functions.
The switch panel is encompassed in a machine diagram for a quick view and reference to the location of the specific switch's operation. The console and cover is made of lightweight, durable molded fiberglass and features a roll-back design so it no longer needs to be removed during operation or for lock-up at the end of the day.
The next generation of the GOMACO Network Controller features an LED display with arrow indicators. The new Controller features more memory, more software and programming capacity, more computing power, more processing speed, and more input and output capability than before. It is also J1939 compatible to meet the industry standard in a CAN Network.
The cooling capacity was increased for maximum efficiency of resources. Some of the exterior parts have been designed with lighter-weight, industrial-strength materials. The engine shroud and console cover are now molded fiberglass for easy access and serviceability.
The steering control was simplified with "smart" cylinders which eliminated the sprocket, chain, and potentiometer at the top of each leg. The "smart" cylinder reduced moving parts and eliminates the physical adjustment to the steering system. The Network Controller now makes it possible to have push-button steering setup.
Through the redesign of the track circuits, travel speed and operating speed has increased. Job site mobility has been enhanced with travel up to 29.57m (97 ft) per minute. Operating speed has been increased to 13.41m (44 ft) per minute.
The sideshifting and vertical-lifting trimmerhead and mold was designed for the new Commander III while maintaining its ability to use the present paving packages, barrier, and curb and gutter molds. This is an important feature for Shirley and other contractors who own an extensive collection of molds.
The new trimmerhead will save time, material and money and will allow contractors to pave up to obstacles, inlets or previous pours. With the hopper monitored and the trimmerhead sideshifted, the mold can be lifted with exact placement and no waste of material. Actually, at an inlet, the machine can pull ahead and start paving on the opposite side without ever leaving the stringline.
A primary focus of the new generation design was the engine area. The quick-access engine shroud is molded fiberglass for lightweight durability. The easy-lift design is enhanced with gas springs for raising and lowering. The engine is right-hand serviceable, putting the components within easy reach.
Safety is a major concern in all facets of design and manufacturing. Engineers strive to make GOMACO equipment as safe as possible for those operating and working around the machine. Safety features include ground-level emergency stops and track guards.
The capability for more horsepower was expanded and customers now have a choice of engines. Shirley's new Commander III has an 8.1 L-6081, 200 HP John Deere engine. The engine was a special request by Shirley, who has always appreciated John Deere products. He is especially proud of the shiny chrome smoke stack that sits atop the machine, his son's idea.
Shirley has owned GOMACO equipment since the early 1970s, owning a total of 14 GOMACO machines. His present inventory includes his new machine, two older Commander III's with over 7000 and 10,000 hours of running time and a new GT-3600 (see back cover).
"It's like buying a car," Shirley explained. "You have to get in and see if it fits." After 25 years of partnership, GOMACO and Shirley Concrete "fit" really well.
Shirley has used a Commander III on all four of his world record pours. He still is the current holder of the world record. It is a record that he would like to break again, if he can get a project large enough.
In April 2000, Shirley Concrete, based out of Northport, Alabama, will celebrate 40 years of curb and gutter business. Over the years, Shirley has learned many things about laying down a perfect product. "You have to do three things to have a good curb and gutter business. Number one, get up early. Number two, work late. And number three, own a Commander III."
Another trick is surrounding yourself with good employees. Shirley's brother, Hilary, is vice president of the company. His cousin, Robert, operates the new Commander III and another cousin, James, is in charge of stringline.
Shirley Concrete averages over 200 jobs per year, usually spending only one or two days on a job.
The company has a travel radius of 483km (300 mi). They have gone as far as 8.05km (five miles) from the Kentucky border, 16.09km (10 mi) from the Mississippi River, all the way to the Panhandle of Florida, and spanned four states: Alabama, Florida, Tennessee, and Mississippi.
With over 80.5km (50 mi) of curb and gutter work already lined up for this year, Shirley will have plenty of opportunity to use his new Commander III.
"I'm mighty pleased with it," Shirley said, summing up how he felt about his new machine. "The only thing that bothers me is I didn't have it 10 years ago."
A New Machine and A New Challenge
Shirley Concrete Company is a record-setting company and they have the documentation to prove it. Since 1978, they have set and broken the curb and gutter slipforming world record four times and are the current record holders. A Commander III was used on all four record-setting runs.
Their last record-breaking run was October 11, 1986. A total of 5067m (16,625 ft) of curb and gutter was slipformed in 11 hours and 10 minutes, which included mold changes for two different profiles. True to the company's competitive nature, Shirley wanted to do better.
Now, with a new machine and the same competitive spirit, Shirley wants to go after the record again. He wants to hit 6096m (20,000 ft) in a day and he knows he can do it with his new Commander III. The only obstacle in his way is finding a project large enough to be poured all in one day.
GOMACO would like to thank Shirley Concrete and contractors like them for their competitive spirit and drive for excellence. They demand the best from themselves and expect no less from their equipment.
Good luck on your quest for a fifth world record!
Subscribe to Receive GOMACO World Magazine