GOMACO World Index --- GOMACO World 27.2 - April 1999
Whitetopping Project In North Dakota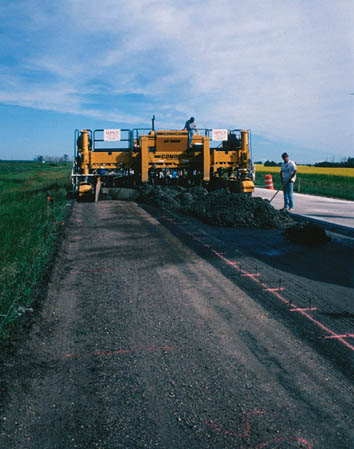 For the second year in a row, the North Dakota Department of Transportation (NDDOT) has incorporated a whitetopping demo project on an asphalt construction project.
The 457m (1500 ft) whitetopping test section of road in North Dakota will be carefully watched by the concrete construction industry in the state. If the project is a success, more whitetopping rehab projects will be done to the state's roadways. It will be a big step for the industry in a state where the majority of roads are asphalt.
The test section is located on U.S. 52, 32.19km (20 mi) north of Jamestown, North Dakota. Three 152m (500 ft) test sections were whitetopped with depths of 127, 152, and 178mm (five, six, and seven inches) of concrete.
"The objective of the test sections is to determine if whitetopping is a feasible option for rehabilitation of an asphalt roadway," Curtis Dunn, transportation engineer for the North Dakota Department of Transportation, explained.
Several roadways were initially considered as candidates for the project. "U.S. 52 was considered because of its good existing soil conditions, a thick section of existing asphalt, approximately 432mm (17 in), and considerable truck traffic," Dunn said.
The deterioration of U.S. 52 was also taken into consideration. "The roadway was experiencing distresses, such as longitudinal and transverse cracking, rutting and shoving pavement, and depressed transverse cracks," Dunn explained.
Upper Plains Contracting, Inc., of Aberdeen, South Dakota, was chosen as the subcontractor for the whitetopping project. Work began on May 1, 1998, and was completed in October.
"I think the highway department is trying to find out if it's cost effective to just mill off so many inches of asphalt and put on a whitetop. With asphalt, you go through the whole process of completely tearing up a road, adding virgin material to it, laying it back down again, and putting a new asphalt lift on top of it," Neil Reede, president of Upper Plains Contracting, explained. "Rather than going to all the labor and material cost of redoing the asphalt, it may be more efficient to just prepare the existing road and put on a whitetop."
Besides being cost effective, whitetopping has other benefits. "An advantage of whitetopping is the ability to resist rutting and shoving. These imperfections in the surface can cause water to collect on the roadway," Dunn explained. "Another advantage is to bridge isolated problems that would be reflected through a flexible pavement."
Approximately 127mm (five inches) of the original asphalt road was milled, swept, and blown with an air compressor to keep it clean. The concrete was then placed on top of the asphalt using the GOMACO GP-2600 with Auto-Float®.
"The big thing with the whitetopping process is that you set a stringline and use your milling machine off your actual paving stringline," Reede said. "That way you have a perfect grade."
Average daily production was slow. The batch plant was 32.19km (20 mi) away in Jamestown and 457m (1500 ft) of concrete wasn't enough to set up a central mix plant on site.
"It was just a ready-mix concept," Reede explained. "We only averaged 61m3 (80 yd3) an hour with it. It was pretty slow."
The width of the slab measured 10.97m (36 ft). It was poured as two 3.66m (12 ft) sections with two 1.83m (6 ft) shoulders. The concrete mix was North Dakota spec with a 30MPa (4,000 psi). Slump was 38mm (1.5 in). The shoulder line was reinforced with #3 bars every 1.22m (4 ft). Random tine spacing of the transverse texturing, North Dakota spec #550.06, was applied using the GOMACO T/C-600.
Rideability specifications called for six millimeters (.25 in) rideability per 3.05m (10 ft). The project was not profilographed, but Reede commented, "All I know is that it rides real nice."
NDDOT will be monitoring and evaluating the test sections and collecting performance data beginning this summer, 1999.
Upper Plains Contracting, incorporated in 1993, specializes in concrete paving and asphalt recycling primarily in North and South Dakota.
American Concrete Paving Association Whitetopping Facts
• Whitetopping is an established proven pavement rehabilitation technique.
• The first whitetopping project was a street in Terre Haute, Indiana, in 1918.
• Highway whitetopping started in the 1960's.
• There ae 178 documented projects with over 100 new projects since 1982.
• Most of the projects are too new to provide performance data. Those that are old enough are providing excellent performance results with no signs of early deterioration.
Subscribe to Receive GOMACO World Magazine