GOMACO World Index --- GOMACO World 27.3 - September 1999
AMEC & BAA - The Pavement Team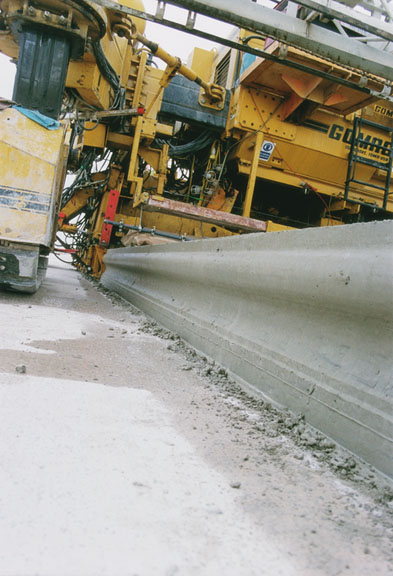 With every project AMEC does, they bring with them over 100 years of experience, a work force of over 20,000 people, and the knowledge of over 30 combined companies in Europe, Australia, the Middle East, Southeast Asia and the United States. It goes without saying, AMEC can handle any project, just about anywhere in the world.
Headquartered in Berkshire, England, one of AMEC's specialties is airports. In 1995 and 1996, AMEC teamed up with the BAA (formerly the British Airport Authority) for a five year partnership calling themselves The Pavement Team. The integrated team is responsible for the design, management and construction of projects at the airports.
The partnership consists of a framework contract with AMEC responsible for the engineering and construction of projects for airports at Heathrow, Gatwick, Stansted and Southampton. During the five year time period, approximately 60 to 70 separate packages of work will be done at the BAA airports.
It's interesting to see just how close a partnership The Pavement Team is. In their airport offices, AMEC and BAA people sit side by side with BAA staff working at computers that can access AMEC's accounts and cost systems giving them an insiders view to managing their projects.
AMEC purchased a GHP-2800 slipform paver with Auto-Float® from GOMACO to meet the tight deadlines and requirements for airport paving.
Initially, they estimated the new paver would increase productivity 86 percent in cubic meters per man hour. Weekly production would increase by 25 percent with the overall benefit of reducing project costs.
The GHP-2800 has met their expectations. In the first year alone, they put 3000 hours of running time on the slipform paver.
During a recent three month project for the BAA at Stansted, the GHP-2800 paved 30,000m2 (35,881 yd2) of taxiway, six meters (19.69 ft) wide and 450mm (17.72 in) thick. The concrete mix consisted of limestone aggregate with PFA and cement.
The taxiway was slipformed on a 150mm (5.91 in) wet-lean subbase material. A brush finish was applied behind the paver and joints were wet sawn every six meters (19.69 ft).
Production averaged around 140m3 (183yd3) per hour. Concrete delivery was a major factor in determining production. Standard tipper trucks and their drivers required security clearance and could only gain access to the site by going through a security checkpoint. If trucks got delayed at the checkpoint, then production had to slow down to accommodate the late delivery.
The BAA has also kept AMEC busy at the airport in Gatwick. In a two year period, they placed approximately 100,000m2 (119,603 yd2) of concrete with their GHP-2800 for both new and reconstruction projects. Most of AMEC's projects were completed in a time frame of five weeks to six months.
Taking care of paving projects on four BAA airports as well as other independent airport projects keeps AMEC's GHP-2800 busy. One of their favorite attributes is the paver's compact size which makes it easy to move from job site to job site.
Within just a couple of days, the paver can be loaded, moved halfway across the country, unloaded and be ready to pave again. Without this kind of mobility, AMEC would have a hard time keeping up with their work load.
Other favorite features that AMEC enjoys are the GHP-2800's versatility, the ability to pave at 500mm (19.69 in) thick, and the technical support provided by GOMACO.
Subscribe to Receive GOMACO World Magazine