GOMACO World Index --- GOMACO World 27.3 - September 1999
MOOvin' & Groovin' Pt. 1
Agricultural Building and Design, Inc.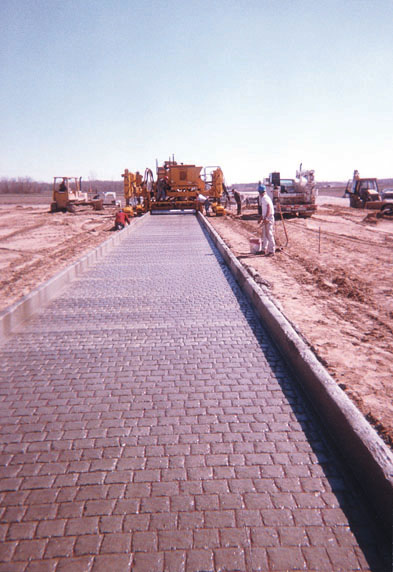 Agricultural Building and Design, Inc. (AB&D), in Okemos, Michigan, started a business specializing in building commercial-size milking facilities. Ron Haarer, an owner in AB&D, had over 15 years in the installation and general management of building dairies. He realized the need for a construction contractor that could provide a turn key milking facility. AB&D soon learned that by managing all their own labor and equipment, they could control quality and efficiency. They believe in providing top-quality projects finished within a specific time period.
AB&D is always adding new technology to improve quality and efficiency. They were already utilizing lasers on their final grade dozers, laser screeds and curb-forming machines, but they were looking for a more efficient method to speed up the time it took to do the free stall alleys.
The company started looking for a slipform paving machine that could pour an integral curb with a flat slab and accommodate a special concrete stamping roller to improve production. The search led them to GOMACO and the four-track Commander III.
The first-time slipformers put their new paver to work in April on a 650 cow dairy for TeVoortwis in Bad Axe, Michigan. Earlier in the year, AB&D sent Brad Laser, concrete superintendent, and Bill Davis, equipment operator, to GOMACO University to learn how to operate their new machine.
On their first pour, they slipped a slab with two curbs. The integral curb was 102mm (four inches) wide on top, 254mm (10 in) wide on the bottom, and 254mm (10 in) tall with a 2.87m (9.4 ft) wide flat surface that was 102mm (four inches) thick. First day production was slow due to several factors.
"We've never had a machine before," Laser explained. "We didn't go really fast because we were learning how to set up things, set the stringline right, set the vibrators, and perfect our measurements."
Other factors slowed production too. "We had to learn what consistency of mud worked the best, learn how to schedule the trucks apart, deal with the grade and everything else," Laser said.
The curbs and flat were poured in one 4.27m (14 ft) wide pass. Concrete was a 30MPa (4000 psi) mix with industrial fiber, limestone, sand and cement. It was poured at a 38 to 51mm (1.5 to 2 in) slump on a sand subbase.
"The Commander III's doing a beautiful job," Laser said. "All we did was broom finish the curb. Everything's running good."
Their average production rate has risen since the first pour. "We went from about 152mm (six inches) per minute and now we're doing over 1.83m (six feet) a minute. We'll get better as time goes on." Laser said.
A special 254mm (10 in) diameter free-floating roller imprinted a cobblestone pattern on the flat surface of the concrete. The roller was produced by another company and was mounted to the back of the Commander III. The pattern provides traction for the cattle to keep their feet from slipping.
"The roller is doing a nice job," Laser said. "A lot of the credit should be given to the mold. The mold is doing a nice job of finishing the concrete before it gets to the roller."
"We used to do all of the free stall alleyways by hand. I'm estimating the Commander III saves us 10 days per barn because we don't have to set all the forms, hand pour the concrete, bull float it and roll it. We'd have to go back later and put the curbs in," Laser explained. "Now we're doing it all in two days instead of 10 to 12."
AB&D plans on taking greater advantage of the Commander III's versatility on their next project in Indiana with four 427m (1400 ft) free stall barns.
"We've bought a mold from GOMACO to slipform our 508mm (20 in) outside walls and feed-alley walls. I estimated that if we could just slip the walls, it could save us a lot of labor," Laser said.
"That is just the setup and tear down of the forms," Laser explained. "That wasn't figuring tying rebar or cleaning the forms afterwards."
According to Laser, AB&D plans on keeping their new Commander III busy. "We've got eight projects going right now. We're just finishing up a couple of them," Laser explained. "We've got approximately nine more to build on the books already this year."
Now veteran slipform pavers, Laser offered some advice to other first-time slipformers. "Just take your time," he said. "I think your first time is a lot of trial and error. The GOMACO service representatives were really good at showing us what to do and letting us work through things."
AB&D is a company on the move. They slipformed 53,519 m3 (70,000 yd3) in their first full year of business and they plan on doubling that production figure next year. They are constantly trying to figure out ways of doing things faster, better and more efficiently and the Commander III is helping them accomplish those goals.
Subscribe to Receive GOMACO World Magazine