GOMACO World Index --- GOMACO World 27.4 - January 2000
Impossible Scenarios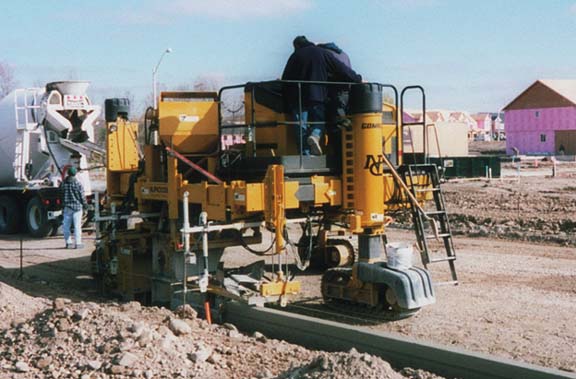 Impossible scenarios. N. Piccoli Construction Ltd. has seen a lot of them in the 16-year history of the company.
They experienced a situation three years ago where an asphalt roadway was to be lowered and rebuilt. Unfortunately, the general contractor left Piccoli with only a 300mm (12 in) working margin to pour the lowered curb and gutter next to the original asphalt. It couldn't be done.
"We had to rip out a 3m (10 ft) wide section of the road in order to do anything. It wasn't just one spot, it was the whole job," Mario Piccoli, Project Supervisor for Piccoli Construction, said. "I swore if there was ever a new machine that could relieve us of that problem, we would have to buy it."
That day has arrived. Piccoli Construction has a new machine in its paving fleet, the new generation Commander III, and they didn't waste any time testing it on another impossible scenario.
One side of an existing roadway had not been properly built by the original contractor. It was supposed to have a two percent crown. Instead, it was built with a two percent crossfall straight across the road leaving the far edge too high by nearly 200mm (eight inches).
"As soon as we put up the stringline we realized we had a problem," Piccoli said. "The top of the existing asphalt was 75mm (three inches) higher than the top of the new curb. The bottom of the mold was going to be 425mm (17 in) lower than the adjacent asphalt. The new curb and gutter was going to have to go at the bottom of a fairly substantial trench. In the past we would either have to move to another job until the road builder brought the road down to the correct grade or we would have to excavate a lot of road ourselves just to keep the crew moving. Neither alternative would do anything for our production rates."
This time the backhoe just dug a trench to the correct grade and Piccoli took advantage of just one of the new features of the new generation Commander III, the sideshifting mold. "We dug down to subgrade, sideshifted the mold way out and dropped it down so the tracks didn't bottom out, and poured the curb and gutter in the trench," Piccoli said. "It's just a matter of dropping the mold and resetting the sensors. It took five minutes to do it. We didn't have to stop the concrete trucks or anything, we just continued pouring. That's one of the reasons why we wanted the new generation Commander III," Piccoli said. "Just for this type of situation."
On this particular project Piccoli Construction poured 2500m (8202 ft) of Ontario Standard 600.04 curb and gutter. Concrete slump was 38mm (1.5 in) with a strength of 32MPa (4641 psi).
The Commander III and Piccoli Construction have a long history together. Nick Piccoli, President of Piccoli Construction, started the business with one in 1983 and another Commander III was added in 1987. In fact the 1983 machine is still working fine and was traded in for the new generation Commander III. "We've had a lot of excellent experiences with the old machines and I'm already getting really good production and results out of the new one," Piccoli said. "The difference is in its versatility. You can take the new generation Commander III and put it into any job condition and it will be able to pour. It can also pour faster and the travel speed is excellent."
So far, Mario Piccoli's favorite and most used feature is the sideshifting and vertical-lifting trimmerhead and mold. He uses it to pave up to existing curb. "Once the trimmer reaches the existing curb, you can lift it and move it out of the way and your mold can literally butt up right against the existing curb. That means very little hand work." Piccoli said. Another one of his favorite features is the increased speed. "I've had it pouring full out. It handled going that fast without a problem. It was smooth on the line and it slipformed great. We were unloading trucks in six minutes or less. The biggest problem was keeping the machine fed with concrete and keeping up with the finishing and catch basin adjustments."
The new generation Commander III comes equipped with the Network Controller. Since Piccoli Construction's previous machines only had the Analog or Micro systems, Piccoli is looking forward to maximizing the new technology. "The Network Controller has a lot of potential for techniques that haven't been fully developed yet. We take pride in using the latest technology where appropriate to assist us in our work," Piccoli said. "I think we will be able to interface this machine with other computers and controllers and come up with some pretty useful modifications. Our first goal will be to automate transitions from normal curb and gutter to superelevation and back over a set distance. We plan to have this modification up and running when we start up again next spring."
Through the years, Piccoli Construction has developed techniques and modifications to their older Commander IIIs to enable them to accomplish some pretty unbelievable things. A 1.5m (five foot) radius is just one example. "It took a little bit of practice but we've got the machine plumbed and specially modified so it just does it on its own now," Piccoli said. "It takes a lot of stakes and you don't want the line too jagged because the machine has to be able to move smoothly around the curve. It's pretty funny to see the reaction when we do the tight radii with our old machines. People don't believe that we can do it but all that's needed is knowing what the Commander III is really capable of ...as well as a few special valves, hoses and cylinders."
The switch from old to new generation Commander III has been a relatively easy one for Piccoli Construction. "Usually the new machine works just like the old ones did," Nick Piccoli said. "What we have to realize now is that we are able to sideshift and move the trimmer and mold when needed. Taking full advantage of all the versatility will require a bit of time. Once the operator and foreman get familiar with the new machine's capabilities, it will save us a lot of time in a lot of situations. I'm sure it will do a lot of good work for us."
It has worked well so far and Piccoli Construction is enjoying the new machine. "It has the features we wanted with the sideshifting, the power, the Network controller plus still being able to hook onto all of our existing molds," Nick Piccoli said. "They sure packed a lot of machine into the new package and it looks good too.
"The fiberglass hood gives it a sleek new profile and it sure gets a lot of compliments. The one side with the Commander III graphics and the Piccoli Construction logo tends to stay really clean and sharp looking," Nick Piccoli said.
Nice compliments from a company that originally bought the machine sight unseen. The new generation Commander III was so new at the time of the original negotiations, all Piccoli Construction saw were two side-view engineering drawings. "We bought it sight unseen but that didn't bother us ...too much," Nick Piccoli said. "The first time we saw what we were getting was at CONEXPO. The guys that went down for the exhibit e-mailed me lots of pictures. That was our first real look at what we had ordered but we knew we were buying a GOMACO product and that it would work. We were going to buy an old style Commander III but when they told us of the upcoming new model and the expected features we knew that was going to be the machine for us. Our other Commander IIIs have always worked well and been very reliable. When your primary machine is pouring curb all summer, day in and day out, it has to be reliable. That's why we stay with GOMACO. The Commander IIIs work well - every day, every week, every year. What more can you ask for?"
Piccoli Construction is based out of London, Ontario, Canada, and specializes in curb and gutter and sidewalk for subdivision, commercial and municipal reconstruction work. Their working radius is 300km (180 miles) and construction season lasts from April until December. During that period, the curb machine runs almost every day on jobs ranging between 200 and 9000m (650 to 29,500 ft).
Editor's Note: N. Piccoli Construction Ltd. has taken on several challenges with their new generation Commander III in the few short months they've owned it. Every few weeks Mario would send us photos of something interesting he had accomplished with the new curb and gutter machine.
These pictures are from other job sites, but we wanted to share them. You can see the near zero-clearance paving and other job-site challenges that Piccoli Construction has conquered so far with their Commander III. The machine paved past 20 hydro poles with minimal clearance. They accomplished this feat by moving the mold out past the frame. Now clearance is limited only by the wall thickness of the mold itself. On the same project, they paved up to a 6m (20 ft) deep trench. The curb had to be slipformed before the sewer work was finished to allow the road builder time to place the asphalt before winter set in. Concrete had to be loaded on the conveyor with an excavator.
Piccoli's Believe It or Not
Piccoli Construction poured a number of 1.8m (six foot) radius curbs (top left) a couple of years ago. "The job layout was right so we thought we could save some time and some hand work by pouring all of the islands with the machine. We had the line crew set up the stringline all the way around the curves and we just let the machine do its work. It was no big deal for the crew. They knew what to do and were confident that the machine could do it right." Mario Piccoli explained. "The best part was when a competitor drove by and stopped in disbelief. He must have been trying to figure out why we were wasting time putting stringline around such a tight curve. I guess you just have to know how to use a Commander III to its full capability."
Piccoli Construction poured this 360 degree 2.44m (eight foot) radius two years ago with their Commander III. "This was a circle that no one, except for me, thought could be done with the machine," Piccoli said. He had his crew set the stringline and grade the base. The trimmerhead was then removed so the mold would be able to butt up against the curb when finished.
"I set the machine up and watched the crowd gather," Piccoli said. "The concrete arrived and we started pouring. Everyone's jaws dropped when they saw the Commander III travel around the radius and butt into the start without making a mess. I know it's hard to believe, especially when all you're seeing is the finished product, but it is true."
Subscribe to Receive GOMACO World Magazine