GOMACO World Index --- GOMACO World 27.4 - January 2000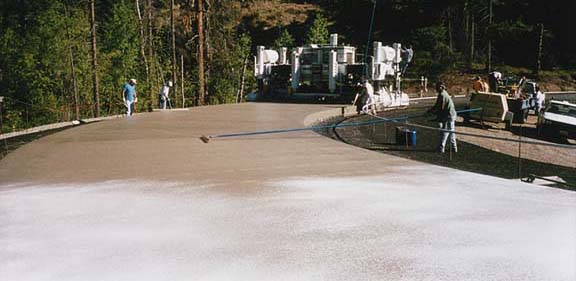 Radii, An Airport And The GHP-2800
Salinas Construction, Inc., based out of Everett, Washington, decided it was time to upgrade from their GP-2500 paver. High on their list of priorities for the new paver was size and versatility.
After looking at the competition, they stayed with GOMACO and purchased a two-track GHP-2800.
"We have two curb machines and our paver that are all GOMACO," Joey Sullivan, Vice President of Operations for Salinas Construction, said. "We've had good performance with those and figured we'd stick with what we know."
Salinas Construction put their new paver to the test in August on Interstate 90 near Cle Elum, Washington.
"What they were doing is rebuilding a weigh station in the Cle Elum area," Paul Gonseth, Project Engineer for the Washington Department of Transportation (WADOT), said. "They were basically rebuilding all new roadway in the weigh station area and an acceleration lane adjacent to the two existing lanes."
The actual project was 2.41km (1.5 mi) long. "We didn't add any lane miles to the interstate," Sullivan said. "It was all on-ramps and off-ramps for the weigh station and interchange."
The 305mm (12 in) slab was slipformed over a permeable concrete base. Widths varied between 4.27 to 6.1m (14 to 20 ft) because of the state's design specs.
"We did a lot of stopping and starting because there were so many changing lanes and areas where we had to tie onto the existing," Sullivan said. "We could only do one or two days of paving at a certain width before we'd have to change widths again."
Even with all the stopping and starting, Salinas managed good rideability. "We averaged somewhere between 76 to 102mm (three to four inches)," Sullivan said.
The ultimate challenge on the project, besides the varying widths, were several radii for turn-around areas. "Nothing on this project was straight," Gonseth said. "The big radius curve was 380m (1247 ft). Two of the tighter ones they did were a 24m (79 ft) and 30m (98 ft) curve."
"It was kind of a first time thing for us. We wanted to see if the paver could do it," Sullivan said. "It went fine for us."
Approximately 17,558m2 (21,000 yd2) of concrete was slipformed during the project. The mix was a contractor-provided design that consisted of a six sack mix with 20 percent fly ash. Production averaged around 115m3 (150 yd3) per hour.
Average concrete slump was 38mm (1.5 in). Sawed and sealed contraction joints were placed every 4.57m (15 ft).
Salinas Construction finished the paving portion of the project in September. The entire weigh station reconstruction was completed the end of October.
"They did an excellent job," Gonseth said.
Sullivan credited the project's success to several factors. "The machine ran good and our guys know what they're doing," Sullivan said. "It's just a matter of taking the time to make sure everything is done right."
On a different project with the GHP-2800, Salinas Construction loaned their paver and operator to Frontier West for an airport project. "They wanted to use the GHP-2800 because they felt they'd have more control," Sullivan said. "It has the ability to insure no or low edge slump."
The GHP-2800 was used to slipform twelve 6.1 by 366m (20 by 1200 ft) lanes to form a runway in six days. The new runway is for the Great Falls International Airport, Great Falls, Montana.
"We basically sent our machine and operator over there so we weren't responsible for the finishing or anything," Sullivan said. "In six days, we did about 11,468m3 (15,000 yd3) of concrete with our GHP-2800."
The lanes were paved 6.1m (20 ft) wide and were 457mm (18 in) thick. Concrete slump was 25mm (one inch) and the mix design was FAA spec. Production averaged around 1911m3 (2500 yd3) per day.
Subscribe to Receive GOMACO World Magazine