GOMACO World Index --- GOMACO World 28.1 - May 2000
"Spin The Drums"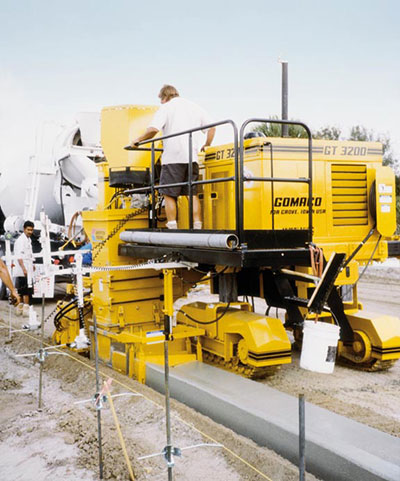 Griffith Paving, Inc., located in Bonita Springs, Florida, needed a curb and gutter machine to complete their road construction fleet and give them full control of the paving process. The machine had to be the right size for the variety of projects they deal with, from small parking lots to new industrial parks. The curb and gutter machine they chose was the GT-3200.
The first-time GOMACO owners put their new GT-3200 to work as soon as they received it. Their first project was the Northport Park of Commerce industrial park in Northport, Florida. The project involved slipforming 11,680 feet (3560 m) of two foot (0.61 m) Miami valley gutter and some F curb. All of the curb and gutter was completed in five days.
"As fast as they could spin the drums on the ready-mix trucks, we were slipforming the curb out," Glen Key, foreman for Griffith Paving, said. "The trucks really couldn't keep up with us."
Griffith Paving runs a five-man crew, including two finishers, with their GT-3200. A light broom finish is applied to the curb and gutter behind the machine and joints are saw cut the next day every 10 feet (3.05 m).
Slump averaged around two inches (51 mm) with a 3000 psi (25 MPa) concrete mix.
"We use that mix on almost all of our molds," Key said. "We've got five different molds and the two inch (51 mm) slump works good with all of them."
Since slipforming their first project, Griffith Paving has done several other various-sized projects. The smallest radius they've had so far was 18 feet (5.49 m) but they're anxious to slipform something tighter.
"We've got a couple of jobs coming up that might have a couple of tight radii in it," Key said. "We won't know until after they stake it out, but we're hoping we'll get a chance to test the GT-3200."
They have, however, been able to use and familiarize themselves with some of the GT-3200's other options, like the sideshifting trimmerhead and the belt conveyor.
"There were some inlets and manholes that we had to go around and it was nice having that movable trimmer," Key said. "You just move it out of your way and go on about your business. The only problem is remembering to move it back over once you're past."
Griffith Paving chose the belt conveyor option instead of the standard auger for concrete handling.
"I like the conveyor a lot better than the auger because you can see what's going on and it's easier to clean," Key said. "The conveyor is fast, too. The discharge kept up with the ready-mix truck. In fact, the trucks really couldn't keep up with us."
The compact size of the GT-3200 makes it ideal for all types of projects. "We've done a couple of little turn lanes, one was about 200 feet (61 m) and the other was 400 feet (122 m). Both are half-day or less projects," Key said. "The GT-3200 is small enough for the little jobs like that and gets in and out of the tight spots where we don't have much room. It sure beats forming all that curb and gutter by hand.
"It's fast, too. We've used it for big developments and parking lots and the quickness of it is really handy. This little curb and gutter machine works good for the little jobs and the big jobs, both while being easy to handle."
Visibility is also a feature Key enjoys about the GT-3200.
"You can see everything," Key said. "That's one of the best things about this machine. You can see the chute man, the ready-mix truck, everything."
Griffith Paving has been in business since 1981 and specializes in concrete and asphalt paving. Purchasing the GT-3200 has allowed them to take full control of the paving process and do everything themselves.
"It's helped out a lot and completed our whole process of constructing roads because we do everything in-house now," John Griffith, president of Griffith Paving, said. "We have total control now. We don't have to wait on anybody."
Subscribe to Receive GOMACO World Magazine