GT-3200 Slipform Paver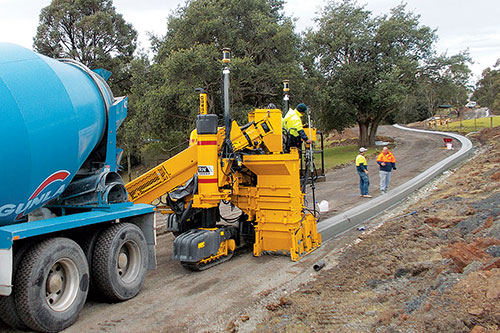 For Additional Information
• GOMACO's GT-3200 is a compact three-track curb and gutter machine with the versatility for other applications.
• The operator's platform is strategically positioned to allow the operator to view all aspects of the slipform paving operation.
• Molds are sidemounted to allow minimum offset and the stainless provides GOMACO's superior finish.
• GOMACO's quick-detach mold allows fast and easy profile changes.
• The GT-3200 features front-steer capability and All-Track Drive to slipform a 24 inch (610 mm) radius.
• The GT-3200's auger system, or the optional conveyor, provides quick, clean, and efficient delivery of concrete to the mold.
• The hopper system is designed for extra concrete capacity to allow slipforming a complete radius without waiting for concrete truck repositioning.
• Exact grade and maximum concrete utilization is achieved with the simultaneous trim/pour concept.
• The GT-3200 can be equipped with a sectionalized trimmerhead with hydraulic sideshift and vertical adjustment to clear obstacles and pave within inches (millimeters) of objects in front of the machine.
• The GT-3200 features two-speed track motors to provide fast job-site mobility up to 136 feet per minute (41.5 mpm).
• It's one of the fastest tracking speeds in the industry with a paving speed up to 50 feet per minute (15.2 mpm).
• The GT-3200 will slipform curb and gutter, barrier wall, and flat slabs. Its hydraulically telescoping frame allows up to 36 inches (914 mm) of lateral right leg movement to accommodate changing job-site requirements and profiles.
• Optional All-Track Steering is available on the GT-3200 for sidewalk paving.
• The GT-3200 is carefully designed to give years of dependable and safe service.
• Now available as a zero-clearance and minimum-clearance sidewalk paver for rehabilitation projects. Click here to learn more.
G+
®

Controls – Designed For Concrete Paving

It is now the technology that pulls everything together… G+ is the center that Connects all of the resources.
Once you experience G+ controls, you won't be satisfied with anything else. It's a control system that is both easy to learn and easy to operate. G+ expresses itself in easy to understand international icons and full script explanations. It operates in all the major languages of the world and in imperial or the metric system. It has a lightning-fast processing speed and features two-way communications between the accessories and G+. Its instant digital feedback combined with the tight closed-loop electronic and hydraulic control creates a G+ experience that is smooth, efficient, and accurate. There is nothing on the market that can compare, because G+ is a proprietary system that was designed by our in-house control experts incorporating what we have learned from decades of experience in the field, and from what we have learned from you, our customer.
- Machine operation is simple.
- Machine response is fast.
- Troubleshooting is pinpointed, quick, and easy.
- Fault history available.
- Control from stringline, 2D, or 3D guidance.
A flat-panel 6.5 inch (165 mm) anti-glare display screen is provided with sensor-controlled backlight levels for superior visibility in all operating conditions. The screen is rugged and shock resistant in its construction to protect against dust, moisture, and rain. G+ provides a full color display on the control panel to illustrate the various aspects of the paver for set up and operation. A "run" screen on the control panel illustrates the various aspects of the paver. It includes leg position, paving speed and percentage of drive, steering, travel information, grade information, deviation meters, and more. Newly designed icons and color graphics make it easy to understand and easy to identify the targeted functions. G+ receives a track speed reading from pulse pickups in the track motors to give you real time feet (meters) per minute and total linear footage (meters). G+ controls feature a detailed fault history with the time stamp, date, and information to track when each fault occurred. GOMACO's G+ control system has been proven around the world.
Designed For Safety
The GT-3200 is carefully designed to give years of dependable and safe service. The emergency stop buttons are on the operator's console and on the corners of the machine, which are easily accessible from the ground level. The machine is equipped with a backup alarm, which is designed to alert personnel around the machine when the tracks are set to operate in reverse. Other safety features include track guards, warning decals, operator horn, an operator's manual, and a safety manual. GOMACO machines are also designed to provide the operator with excellent visibility over the entire paving operation.