GOMACO World Index --- GOMACO World 28.1 - May 2000
Top Of The Line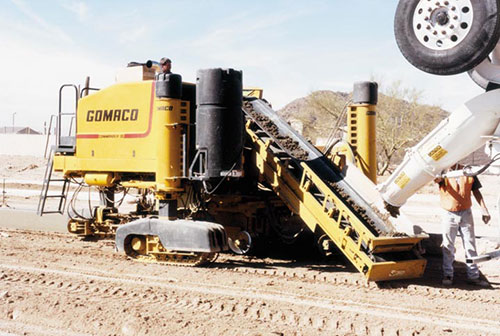 H.W. Johnson Concrete, Inc., based out of Phoenix, Arizona, has owned Commander IIIs for over 15 years. Their current inventory of five was updated at the end of last year to include a three-track new generation Commander III.
"We wanted to see the versatility of the sideshifting mold and see if we could use that for other applications," Rick Ryder, shop foreman for H.W. Johnson, said. "We want to pour off the edge of asphalt with it and we're thinking about the possibility of pouring behind curb with it."
So far, on various projects, H.W. Johnson has poured several different profiles of curb and gutter and a six foot (1.83 m) sidewalk with their new machine. On a large subdivision project in Mesa, Arizona, H.W. Johnson put their new generation ommander III to work slipforming vertical curb.
"We slipformed curb and gutter on both sides of the street and the median down the center," Ryder said. "It was just a small part of the fifth or sixth phase of the project."
Three men worked behind the machine applying the broom finish. Joints were cut every 10 feet (3.05m).
The new sideshifting trimmerhead helped H.W. Johnson overcome some job-site challenges.
"There was some conduit in the way and that is one nice thing about the trimmer," Ryder said. "All you do is slide the trimmer over so it's right on the edge of the conduit, slide by it, then slide it back into position and you can pour right by it without a problem."
Ryder also enjoys other new features on the new generation Commander III, including the redesigned operator's platform and control panel.
"They're probably the best features of the machine," Ryder said. "Your visibility is much better and the new control panel is so much more user friendly. You've got more control over what happens and more control over the variables with your pour."
H.W. Johnson's new generation Commander III is equipped with the six-cylinder John Deere engine.
"I'm very happy with that engine," Ryder said. "It seems to be a quieter engine and horsepower-wise, I haven't been in any situation where I've been under horsepowered with it by any means."
The new generation Commander III also features increased travel speed.
"You get jobs where you've got X-amount to pour and then you've got to walk it to another area or load it onto a truck and haul it to another area," Ryder said. "With the high speed, you cut your walking time in half and it's faster and more efficient to move from A to B than bringing in a truck and trailer."
Through the years, H.W. Johnson's Commander IIIs have featured the various GOMACO Controllers, from the Analog system to the new generation GOMACO Network Controller.
"We've been all the way back to the Analog," Ryder said. "It hasn't been a difficult transition to the new controller. Once you get the feel of it, it's a piece of cake."
The new generation Commander III has the capability of turning a tighter radius than before.
"When you get into your tighter radii or you're manipulating your machine around a tight spot, the extra turning radius really helps you get around things quicker and easier," Ryder said. "That's one of the reasons we wanted this machine, because it will turn tighter radii."
H.W. Johnson has several projects lined up for their new generation Commander III. One of them may include converting the machine to a four-track paver for some light paving.
"Overall, I think it's a very good machine," Ryder said. "I was very impressed with how smooth it poured and how quickly it responded.
"The new generation Commander III is definitely the top of the line machine. I've been to other job sites with other machines and I cannot see why somebody would use anything but a Commander III. I just can't figure that one out."
Subscribe to Receive GOMACO World Magazine