GOMACO World Index --- GOMACO World 28.1 - May 2000
Where There's A Will...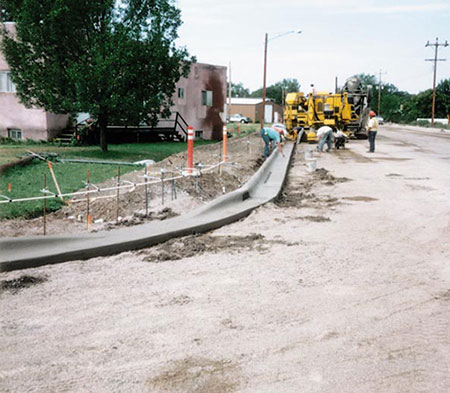 Kurt Koebbe, concrete superintendent for Century Construction Company, Inc., in Lewistown, Montana, had his skeptics on a project. The project was the reconstruction of a truck bypass around the city of Sidney, Montana. Part of the project included installing a storm drain system and slipforming the curb and gutter over slotted drains and around standard inlets.
"The company vice president bet someone that we wouldn't be able to do it," Koebbe said. "I guaranteed them at the office that where there's a will, there's a way, and we did it."
Century slipformed 13,790 feet (4203 m) of curb and gutter with a GOMACO GT-3600. There was a total of 28 slotted drains on the project.
"I've been getting GOMACO World for quite some time and I've seen all the different things that GOMACOs have paved over," Koebbe said. "I just knew this little slotted drain was not a big deal for the machine to do. I knew it could handle it and it did a real good job of it."
Work on the $4.7 million dollar Sidney Northwest project began in March 1999. The subbase of cement treated base (CTB) was pretrimmed with the GT-3600 before the curb and gutter was slipformed.
A custom mold on the GT-3600 was built to allow Century to pave over the slotted drains. The bottom-front part of the mold was left open and covered with a flap. When the paver approached the drain, the drain pushed the flap back and the mold passed over the drain for continuous paving.
"If everything with the slotted drain was in properly, we went over them without a bit of trouble," Koebbe said. "I was really happy with the way things turned out."
Century used duct tape to cover the openings in the slotted drain to keep them from filling with concrete.
"Most of it worked fine with the duct tape, but on one the elevation was too high and we ended up tearing off the duct tape," Koebbe said. "Naturally, we vibrated a bunch of concrete down into the slotted drain and we had to hose it all out. We've got the high-pressure washer on the machine so we had plenty of power right there with us to wash the thing out. Otherwise, we would have been in kind of a pickle."
To prevent the problem from happening again, lath was laid on top of the drain followed by a strip of duct tape.
The curb and gutter was slipformed with a 6.5 sack mix. Concrete slump averaged around 1.5 inches (38 mm).
"The Montana Department of Transportation only required a 5.5 sack mix on this, but we figured it's worth an extra sack of cement," Koebbe said. "It slips better with the extra cement in it and we've got the extra strength. Quality is real important to us, so that extra sack of cement is well worth the money to make sure we've got a good product coming out."
Production on the project was controlled by the CTB operation. "I know we could run more than that but we were trying to stay close behind the CTB operation and they were working towards the 1500-2000 feet (457-610 m) a day mark."
A four-man crew worked behind the GT-3600 finishing the curb and gutter. "We consider ourselves the Cadillac of the curb companies and we want our product perfect," Koebbe said. "We take pride in putting out a good product and we figure it's just a little bit better when you've done some handwork to it."
Century Company added a GT-3600 to their operation in June 1999. At the time, Koebbe wanted them to go with a competitor's model. After running the GT-3600, he soon changed his mind. "Once I ran it, I loved it," Koebbe said. "I was a little leery of the Network Controller at first, but it only took me 30 minutes and I was running the GOMACO."
His favorite features on the paver are the sideshifting and vertical-lifting trimmerhead and mold.
"Parking lots always have a lot of drains and things that we have to go around and the sideshift and vertical-lift come in so handy," Koebbe said. "You can pull your trimmer out and pour right up to your drain."
The crab-steering function along with reverse steering are also Koebbe's favorites. "When you're backing into existing curb, no matter how hard you try or how good you are, you don't always get straight on line," Koebbe said. "The GOMACO gets you back on line and straightens you out so quickly."
"I am really pleased with the way this machine works," Koebbe said. "We had all the power we wanted for everything we did and I'm looking forward to doing a lot more work with it next year."
Subscribe to Receive GOMACO World Magazine