GOMACO World Index --- GOMACO World 29.1 - February 2001
On A Handshake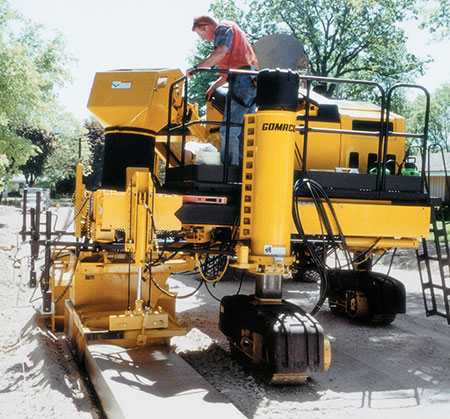 A handshake. It personifies the spirit of GOMACO and the relationship the company has built with its customers. A contractor, with a need, approached GOMACO looking for an answer. Jim and Don Beaudoin, owners of William Beaudoin and Sons, approached GOMACO in 1974 looking for a machine. It's a story best told in their own words.
"We had a curb machine that we used but the quality was very short. We ended up tying it with a chain to a tree we had in the back of our shop area and it died right there," Don Beaudoin said. "During the holidays we came down to visit with Harold and Gary Godbersen and we talked with them about building a curb machine and what our feelings were.
"After about a half an hour of talking, Gary took us out to the yard and showed us this machine sitting there. It was exactly what we were talking about. The beauty part of the deal with Harold (GOMACO's founder and Gary's father) and Gary was they asked us how much they should charge for the machine. We didn't know either. We finally got everything worked out and we got the machine.
"This was all on a handshake. They told us when the machine went into production, they would either update our machine or they'd give us a new one at a reasonable number. We ran about half a million feet of curb and gutter through that machine and really shook it down. Then one day, we got a call from Gary wanting to know if we were ready for a new machine. I wanted to know at what price and he asked if $12,000 made any sense. I thought it made a lot of sense.
"I think it's just a great story because it was all on a handshake. The machine went into production and we had the pleasure of owning the first Commander III that was made. Everyone knows the rest of the story and the success of the Commander III."
The Commander III has remained the curb and gutter machine of choice for the Beaudoins. It was a natural choice for them to go with a new generation Commander III when it was time to upgrade.
"It's the latest and greatest," Jim Beaudoin said. "We saw the machine last year at World of Concrete. It's state of the art in design and technology and we liked the new features."
The Beaudoin family has been in the construction business for 52 years. They specialize in reconstruction work and new subdivisions slipforming curb and gutter, sidewalk and asphalt paving and are based out of Brookfield, Wisconsin.
The first project with their new machine was 5,000 feet (1524 m) of curb and gutter in Glendale, Wisconsin.
"Startup went well," Jim said. "The machine was prepared well and away it went."
"GOMACO did a fine job on it," Don said. "Startup went right out of the box."
The size of the projects Beaudoin slipforms varies depending on the client. The majority of their projects are municipal, county or state work with 30 percent being private.
"We do a fair amount of state work," Don said. "We're probably one of the largest city of Milwaukee contractors, volume-wise."
Their average production is limited by the projects they do and the areas they have to slipform them.
"In city reconstruction the blocks are short, 400 to 500 feet (122 to 152 m) and you have to go across them," Don said. "Average production on that type of work is 2000 to 2400 feet (610 to 732 m) a day and I think it's very good production for that type of work."
A typical crew size consists of nine workers and a foreman. Three finishers work behind the machine applying a broom finish.
Driveways also have to be dealt with in city reconstruction. Beaudoin's molds are equipped with driveway blockouts to save time and labor.
"There's lots of driveways," Jim said. "In a city, there's usually a driveway every 50 to 75 feet (15 to 23 m). The driveway blockouts work well and save us material, labor and clean-up."
City blocks also present other logistic challenges. The Commander III's increased travel speed helps solve the problem.
"The travel speed is just unreal and it's a real feature for us," Don said.
"Imagine, we have to jump a block for hit and miss work and it makes a big difference," Jim said. "We can walk that in less than half the time it was taking. It's a big savings for us."
Beaudoins are enjoying several other new generation features, including the sideshifting, vertical-lifting trimmerhead and mold and the ability to use their existing molds on their new generation machine.
"The machine is very smooth, especially the hydraulics and track system. The smoothness creates a better product in the end," Jim said. "It's the same good, reliable GOMACO."
Subscribe to Receive GOMACO World Magazine