GOMACO World Index --- GOMACO World 29.1 - February 2001
Love At First Sight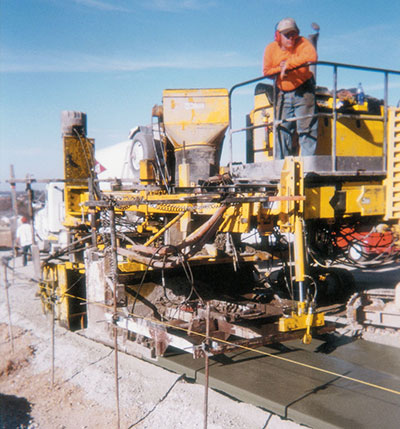 Jared Allen, machine supervisor for Allen & Sons Construction, Inc., in French Camp, California, was on a routine parts run. He stopped by his GOMACO distributor, California Performance Diesel (CPD), and that's when he spotted it, the new generation Commander III.
"I guess you could say it was love at first sight," Allen said. "I just happened to see it sitting there in the yard. A day later, I was on my way up there with a transport to pick it up."
Allen & Sons has been in the concrete business for 22 years. They've worked their way through the Analog and the Micro Controllers on their various Commander IIIs in those years.
"We're a general contractor dealing strictly with concrete. We do all of our own site work for our tilt-up buildings so we do a large amount of parking lot work," Allen said. "We also do a lot of subdivisions, slipforming monolithic curb and gutter/sidewalk and they average 8000 lineal feet (2438 m) in each subdivision."
The monolithic work is something Allen & Sons have just started to slipform in the last month.
"That's a new area we've just ventured into and we're pretty proud of it," Allen said. "We've done some 10 foot (3.05 m) sidewalk with regular curb and gutter and that's the widest we've done so far."
Their Commander III is equipped with a monolithic trimmerhead that they have specially modified.
"We built a device on our monolithic trimmerhead so we can control it hydraulically," Allen said. "We can lower the back side of the trimmerhead down to drag the loose dirt out of the handicap ramps and driveways. We also have a driveway depressor inside the mold to depress it. It works great and saves so much time and labor."
In a year's time, Allen & Sons have put their machine through its paces while trying out the new features.
"We were pouring 10 foot (3.05 m) wide landing pads for truck trailers six inches (152 mm) thick at the Sharps Army Depot in Lathrop, California," Allen said. "The sidewalk had to have heavy gauge wire running through it. We cut the front of our mold open and built a roller system on it to roll the wire into the paving as we moved along. We're pretty proud of that job because it worked great and we were able to get that wire in the center of the paving."
On a project in San Francisco, Allen took advantage of the sideshifting and vertical-lifting trimmerhead and mold to help them slipform through tricky job-site conditions.
"We had to slipform vertical curb down in a 12 inch (305 mm) trench because they had removed some asphalt in that area," Allen said. "We just lowered the mold down in the trench and took off. The Commander III's back and side legs were riding on asphalt but the front leg was down in the trench. It held the line of that vertical curb without any problems."
Most of the vertical curb Allen & Sons slipforms has to have reinforcing rebar in it.
"The sideshifting and vertical-lifting trimmerhead and mold have made my job 10 times easier. It's really nice that you can raise that trimmerhead up and shift it out of the way instead of having to take it off," Allen said. "We'll just pretrim, shift the trimmerhead out of the way, feed rebar through and pour the curb."
Another new feature they are enjoying is the increased travel speed.
"We do a lot of parking lots so we're always jumping around and the increased speed really pays off," Allen said. "It takes half the time now to get around. It's really quick to get around the job site."
Allen & Sons has put over 700 hours on their new machine in a year's time. They also operate two other Commander IIIs.
"It wasn't a hard transition to make to the new controller," Allen said. "I went to GOMACO University last winter and took a class and it really helped me get familiar with the new controls and capabilities of the machine.
"I don't think I've met anybody from GOMACO that I haven't liked. Jon Langdon at CPD is always taking really good care of us and same with Jim Homan, a research and development project engineer for GOMACO," Allen continued. "They're both very knowledgeable about the machine and can answer any questions we have."
Allen & Sons plan on keeping their new generation busy slipforming more monolithic curb and gutter/sidewalk while also exploring their other options with the new machine.
"We thought sometime we'd put the fourth leg on and do some paving with it," Allen said. "We'd also like to get into barrier wall, but those are things for the future to look forward to. We're pleased with our new generation Commander III and we hope GOMACO keeps building them like this because they do the job."
Subscribe to Receive GOMACO World Magazine