GOMACO World Index --- GOMACO World 29.1 - February 2001
Two Ready-Mix Trucks At A Time? No Problem!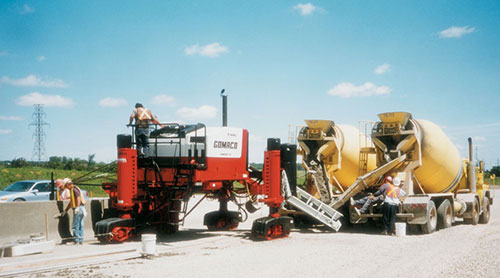 In the early 1970s, a father and son bought their first slipform paver and started a paving business. They named their company, Miwel Construction Limited, from a combination of their own names. Michael (Mi), the son, and his father Weldon (Wel) McEachen purchased a new generation Commander III and have used the paver throughout the years on projects all over Ontario, Canada.
"My father was one of the first to bring a GOMACO curb and gutter machine into Ontario in the early 1970s," Mike McEachen, general manager for Miwel Construction, said. "We've had a great, long lasting relationship with GOMACO."
This year the company has approximately 37 miles (60 km) of barrier wall on the books with other projects expected to add to that total. Miwel decided it was time to add a new generation Commander III to their fleet of three existing Commander IIIs, including a four-track with paving package.
"We've grown from the Analog to the Micro to the Network Controllers on the Commander IIIs and we've done all facets of slipform work from curb and gutter to sidewalk to flat work to barrier and parapet walls with them," McEachen said. "We decided we'd like to try the new generation Commander III to stay with the times and Strongco, our distributor here in Ontario, came in and helped us out."
The day after Miwel Construction took delivery on their new generation Commander III, they put it to work slipforming approximately 8.7 miles (14 km) of Jersey barrier wall on Highway 401 in Ontario.
The contract called for two different types of barrier. One profile was a normal Type-E wall, 44 inches (1125 mm) tall with a base width of 31 inches (793 mm) and top width of 11 inches (280 mm).
The second wall was a more challenging Type-E2 variable barrier. The asymmetrical tall wall had a maximum height of 68 inches (1725 mm), a 35 inch (884 mm) bottom width and 11 inches (280 mm) on top.
Warm temperatures during the course of the project and working next to a heavily traveled roadway created additional challenges.
"We're working with a 5000 psi (35 MPa), high cement content mix and we were concerned about the temperatures and the curing," McEachen said. "We elected to work at nights and it was a little easier to slipform. The temperatures are more relaxed and there's a lot less traffic."
Nine to ten ready-mix trucks were running in a cycle supplying concrete to the machine. Miwel chose to dump two trucks at a time onto the conveyor of the new generation Commander III.
"We're dumping two trucks at a time to get that consistent flow of concrete into the machine," McEachen said. "We're pouring asymmetrical wall and there's a high volume of concrete that has to go through the machine. We find that dumping two trucks at a time works a lot better and the conveyor had no problems handling the double load."
Production has averaged around 1148 feet (350 m) per day using approximately 229 yd3 (175 m3) of concrete. The concrete has a 5000 psi (35 MPa) mix design with a one inch (25 mm) average slump.
"We work with the same suppliers and we've had good luck with them," McEachen said. "To slipform good Jersey barrier wall you need good, clean ready-mix trucks and drivers that have worked with a slipforming operation before. We've done that with our suppliers and we've had good luck."
New specifications in Ontario called for the contraction joints to be done differently.
"The Ministry has requested a contraction joint every 13 feet (four meters) and we're grooving them in about an inch (25 mm) deep," McEachen said. "It's something new that they're trying in Ontario to prevent any cracking and it's moving along fairly well."
Miwel runs a 12 person crew in a typical slipform paving operation. Two people work on grooving in the expansion joints and four are assigned to finishing work. Finishing consists of puttying in holes larger than a quarter. Ontario specifications don't call for any other type of finish.
"The finish coming out of the new generation Commander III is excellent and there's very little handwork that we have to do," McEachen said. "It all depends on the mold and how you set up the vibrators."
Miwel Construction has been fortunate to have a contract superintendent with them since the company first started.
"Luigi Quafisi is in charge of all of our slipform work. He's a great individual who's very knowledgeable about the machine and Miwel wouldn't know what to do without him," McEachen said. "Luigi started with my father 30 years ago and there's not a man that knows more about GOMACOs than he does."
Miwel's first barrier project with the new generation Commander III was finished in two months time.
"The new generation Commander III has worked out very well," McEachen said. "Not only does it look great, but it's doing everything that we hoped it would do."
Weldon McEachen retired after 50 years of working in all areas of road construction in 1998. The company was sold to Armbro Construction Limited during that same year. The company still operates under the Miwel name.
Subscribe to Receive GOMACO World Magazine