GOMACO World Index --- GOMACO World 29.1 - February 2001
Blazing A Trail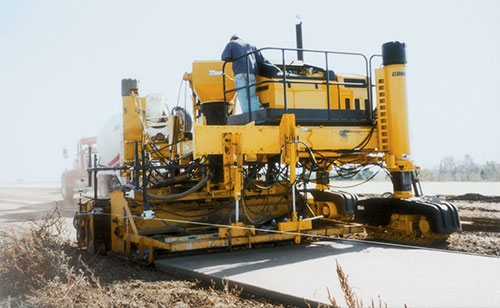 The Cedar Valley Trail has 50 miles (80 km) of multi-use trail for biking, hiking, in-line skating, cross-country skiing and nature study. Fifteen more miles (24 km) were added in 2000 to the trail that connects Waterloo, Cedar Falls and Cedar Rapids, Iowa.
Rampart Corporation, based out of Waterloo, was responsible for slipforming 18,000 feet (5486 m) of the new trail. They turned to GOMACO and the new generation Commander III to help them get the job done.
"The additional bike path is part of a larger project involving the construction of Martin Luther King Road in Waterloo," Dennis Clark, president of Rampart, said. "We were a subcontractor on the project and were responsible for the bike trail only."
Their subcontractor responsibilities included preparing the grade and slipforming the trail.
"We cut the grade with a sonic control on our motor grader ahead of time and got the grade just about right," Clark said. "We leave a one-half inch (13 mm) to an inch (25 mm) for the trimmerhead on the new generation to shave off while we're paving."
Rampart mounted their existing mold underneath their new generation Commander III and slipformed the trail 10 feet (3.05 m) wide and five inches (127 mm) thick. A standard Iowa Department of Transportation class-C concrete mix design was used. Slump averaged 1.5 to two inches (38 to 51 mm).
Groove joints were placed every 50 feet (15 m) with control joints sawed in every 10 feet (3.05 m).
An exceptionally cold fall season slowed Rampart's production.
"Our production was really self-limited because of the cold weather. If the temperature went below freezing, we had to cover everything we'd slipformed that day," Clark said. "On days where the temperature stayed above freezing at night, we tried to average between 1000 to 1500 feet (305 to 457 m)."
Rampart's inventory of GOMACO machines includes a GT-3600, Commander III, C-450 bridge deck finisher and now, the new generation Commander III.
Their existing Commander III and GT-3600 both have the the older control systems but Clark said learning the new generation GOMACO control system wasn't a problem for their operator.
"Our operator, with the help of the GOMACO serviceman, was able to pick it up right away and we haven't had any trouble with it at all," Clark said. "We're planning on going to GOMACO University this winter to learn a little more but, for now, I think we've got a good grip on it."
Rampart is a whole service contractor with concrete and asphalt paving crews, a small grading crew and sewer and concrete structures crew. With so much activity, they plan on keeping their new generation Commander III busy.
"We have some pretty sizeable curb and gutter projects coming up that we're going to combine the new generation Commander III and the GT-3600 and try to use them in tandem to do some different things with each machine, based on their capabilities," Clark said. "It helps us stage the job a little differently if we have two machines we can set up to do things like that."
Overall, Rampart is enjoying their new machine and its added features, the balance and increased horsepower.
"The machine is balanced nicely for our 10 foot (3.05 m) work and there's a lot more flexibility," Clark said. "We have the John Deere engine which gives us more horsepower than we've had before. The hydraulics respond quicker and it's just an all around nicer machine.
"The servicemen and everybody from GOMACO have just bent over backwards to help us. To me, that says a lot about GOMACO and that fact endears GOMACO to this contractor's heart."
Subscribe to Receive GOMACO World Magazine