GOMACO World Index --- GOMACO World 29.1 - February 2001
Sideshifting: Saves Time and Money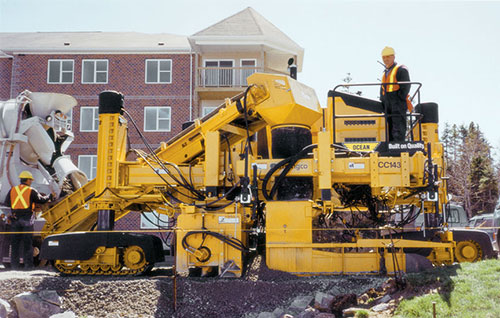 Ocean Contractors Limited from Dartmouth, Nova Scotia, Canada, arrived at the 2000 World of Concrete ready to buy a new machine. Their existing Commander III had just hit over one million feet (304,800 m) of curb and gutter and they figured it was time for an upgrade.
"I knew we wanted a Commander III and the new generation sounded like it had a lot of features that we would be interested in," Steve Wellwood, general manager for Ocean Contractors, said. "From our point of view, the Commander III is the only curb and gutter machine on the market. We've had great luck with them in the 20 years that we've owned one."
The company hasn't wasted any time putting their new machine to work slipforming both curb and gutter projects and Jersey barrier wall. Their first project with the new generation involved slipforming 2461 feet (750 m) of curb and gutter on a new street project in Halifax, Nova Scotia. The gutter measured 18 inches (457 mm) wide with a six inch (152 mm) curb.
"There's basically only two types of curb and gutter done around here," Wellwood said. "There's the standard one that we slipped on this project then there's also a high-back curb that's 18 inches (457 mm) tall with no gutter."
Ocean Contractors slipforms the curb and gutter over a crushed rock subbase. They trim between one to two inches (25 to 51 mm) of the subbase while they're slipforming.
"The trimmerhead has so much power," Wellwood said. "It works very well."
A lot of the concrete work Ocean Contractors slipforms is replacement. It requires them to remove the existing, prepare the grade and then finally, to slipform the new curb and gutter.
"You really have to sight your grade when you're working on old streets that are up and down," Wellwood said. "One of the keys that we've found, and we certainly feel we do the best curb and gutter in the region, is just eyeing up your stringline and making sure your grade is right. A lot of times on those old streets we'll do a trial run with the machine and trim it first just to make sure we're going to be all right."
A broom finish is applied to the curb and gutter behind the machine. Joints are placed every 10 feet (3.05 m).
"The machine went off without a hitch and we haven't had any problems at all," Wellwood added. "It's putting out a great product."
With curb and gutter success under their belt, Ocean Contractors tackled a Jersey barrier slipforming project on a 2.4 mile (3.9 km) stretch of 100 Series four-lane highway in Nova Scotia. The existing barrier had deteriorated and was falling apart because of salt alkali aggregate reactivity in the concrete. The new wall required a special mix design to counteract future deterioration.
"Alkali aggregate reactivity has resulted in premature deterioration in hundreds of kilometers of Jersey barrier across our province," Scott Flemming, concrete operations manager for Ocean Contractors, said. "A high dosage of Type-F fly ash was utilized in the concrete mix. Initially, this did present some slump retention problems, but through several mix design adjustments we were able to proceed with minimum difficulties."
Over 1439 yd3 (1,100 m3) of 4500 psi (35 MPa) air-entrained concrete was used to slipform the wall. Production averaged 1800 feet (549 m) of barrier per day.
"The catch on the project was the roadway was a restricted highway and we couldn't start work until 9 a.m. and we had to be off by 4 p.m. We were still able to achieve 1800 feet (549 m) during that time," Wellwood said. "We were pretty tickled with it."
Ocean Contractors has put their new generation Commander III through its paces on several other projects and they're appreciating the new features. Tops on their favorites list is the sideshifting and vertical-lifting trimmerhead and mold. It's helped make some challenging projects easier and saved them time and money.
"A lot of work here is reinstatement on city streets. We're going in and cutting out the old curb and gutter and then reinstating," Wellwood said. "Previously we've had to make sure our asphalt was cut out 4 feet (1.2 meters) from the curb to allow for the trimmer.
"We don't have to do that anymore. We just sideshift our mold over and lower it into the hole. We can do the same thing with our trimmerhead, we can sideshift it and lift it out of the way. It makes the machine more maneuverable for getting into tight corners and doing tight radius work. It's a big plus."
Ocean Contractors is also enjoying the increased travel speeds.
"There's no question the increased travel speed is much better for getting the machine around," Wellwood said. "A lot of times we'll be working on curb and gutter for four or five different streets that are close together but they're still all a block away. With the increased travel speed, we don't have to load the machine up anymore, we just drive it to the next block."
Another, sometimes overlooked feature available on GOMACO curb and gutter machines are neoprene pads for the tracks. Ocean Contractors has them on their new generation Commander III and is enjoying their benefits.
"They're great for our reinstatement work," Wellwood said. "With reinstatement work, you're tracking over existing asphalt. The pads are great because they protect the existing surface and you don't have to worry about anything.
"We've had good luck the first 20 years with our Commander III and we expect more of the same without any problems. So far, it's exceeded my expectations. The transition to the new machine has gone off without a hitch."
Subscribe to Receive GOMACO World Magazine