GOMACO World Index --- GOMACO World 29.1 - February 2001
Makin' Money With Mono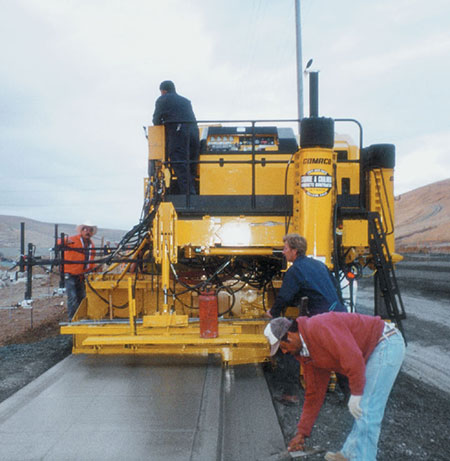 Strange & Chalmers, Inc., has been in the curb and gutter and sidewalk business since 1986. The company has grown during those years but two things have remained constant. Their slipforming machine of choice, from the very beginning, has been the Commander III, and their chief operator has been Andy Garnica.
"Andy poured the first ever vertical curb monolithic by a Commander III in 1975," Harold Strange, president of Strange & Chalmers, said. "He's probably poured more of the monolithic vertical curb and gutter/sidewalk than anybody in the world because he's been doing this for so many years.
"He's known all over California and a lot of people have come and watched his performance, so to speak. He's probably the best Commander III operator in existence for monolithic work and a lot of the success of our company is attributed to Andy Garnica."
Strange & Chalmers has a fleet of five Commander IIIs. They make it a habit to keep track of production figures for each one.
On their 1995 model, the machine they did all of their monolithic paving with from May of 1995 to September of 2000, they slipformed 699,902 lineal feet (213,330 m) of monolithic curb and gutter/sidewalk.
"That comes out to about 133 miles (214 km) and 80,000 cubic yards (61,165 m3) of concrete," Strange said.
The 1995 monolithic machine was retired to curb and gutter work in September 2000 and a new generation Commander III took its place.
"We're already getting better production," Strange said. "It's a higher producer as far as per minute production."
Strange & Chalmers is based out of Vallejo, California, and the majority of their work is subdivisions in Contra Costa and Alameda counties in California.
On a project in Pittsburg, California, they were pouring a 6.5 foot (1.98 m) sidewalk with a vertical six inch (152 mm) face curb and 18 inch (457 mm) gutter.
A mid-80's model Commander III was modified to work as a trimmer to precut the monolithic grade. The setup provides for a perfect driveway grade. It is also equipped with a blade on the back of the trimmerhead shroud to drag the loose dirt out of the way for a perfect driveway depth every time.
Then, the new generation Commander III fine trims as it slipforms the monolithic curb and gutter/sidewalk. Weakened plain joints are cut in every 10 feet (3.05 m) with score marks every five feet (1.52 m).
The slipform concrete mix design varies depending on which city Strange & Chalmers is working in. Slump stays constant at two to 2.5 inches (51 to 64 mm). Production is dependent on the concrete supply.
"We can easily slipform 5000 to 6000 feet (1524 to 1829 m) in an eight hour day," Strange said. "What controls our output is how fast the ready-mix trucks are able to get to the conveyor and how fast they can discharge the concrete onto the conveyor. We've timed it and we can unload three yards per minute without any problems. If everything goes well, it's limitless."
Strange & Chalmers is enjoying their limitless production along with some new generation features. The increased travel speed is helping them travel across job sites faster and easier.
"That's a big plus for us because we move around on one job quite a bit," Dale Strange, Strange & Chalmers' maintenance supervisor, said. "If the distance is reasonable, we just drive the machine over there and it saves a lot of time and effort."
They were also able to utilize their monolithic paving package from their existing Commander III on their new generation.
"We took all of the existing monolithic pieces off and put them onto the new generation machine," Harold Strange said. "We made some very minor modifications and they went right onto the new machine."
The added weight on the new generation also makes their monolithic pours easier.
"The machine is heavier on the right-hand side which, in our situation, is a big plus because we pour monolithic curb and gutter/sidewalk up to six feet (1.83 m) wide," Dale Strange said. "The mold puts a lot of weight on the left side of the machine and the extra weight on the right counter balances it."
Switching over to the new generation controller hasn't been a problem for their operator.
"It didn't take Andy any time at all to adjust to the new controller," Dale Strange said. "It's just a matter of getting used to it and he has. Of course, the more you operate it, the quicker that goes."
Strange & Chalmers plans on keeping their new generation Commander III busy on more subdivision work and monolithic paving in the future.
"We just do our work day-in and day-out," Harold Strange said. "We're very experienced with the GOMACO Commander III. We've owned several and right now, we have five operating in our fleet."
"We've been getting good service from Jon Langdon, our GOMACO distributor from California Performance Diesel, and Jim Homan, a research and development project engineer for GOMACO," Dale Strange said. "They're both very cooperative and very knowledgeable. I have no complaints what-so-ever."
Subscribe to Receive GOMACO World Magazine