GOMACO World Index --- GOMACO World 29.1 - February 2001
Running Wide Open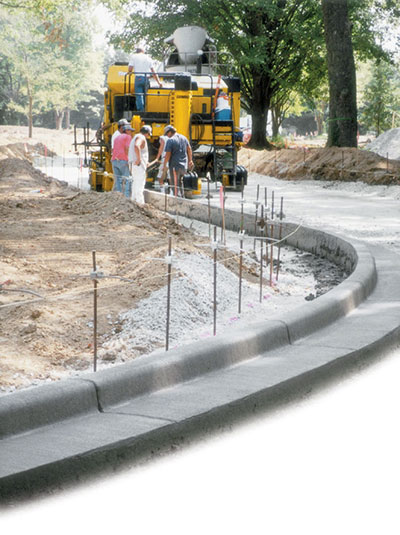 Advance Concrete Ltd. (ACL), based out of Noblesville, Indiana, has been in the curb and gutter business for seven years now. During that time, they owned and operated a GT-3600 curb and gutter machine. In 2000, the company decided to make a change and upgraded to a new generation Commander III.
They liked the extra horsepower and new options on the three-track new generation Commander III.
"The operator's visibility on the machine and the sideshifting and vertical-lifting trimmerhead and mold were really appealing to us," Jaime Hays, vice president of ACL, said.
GOMACO had the opportunity to visit their job site recently in Indianapolis, Indiana. ACL slipformed two different curb and gutter profiles for the new Springwood subdivision.
ACL started the morning slipforming 1300 feet (396 m) of chair-back curb and gutter. Then, they switched molds and slipformed an additional 1300 feet (396 m) of 24 inch (610 mm) roll-over curb.
"As a general rule, we have to change the mold about once a job. It's pretty common, especially on the first section of a new subdivision," Hays said. "I think it's easy to change the molds on this machine. In five to 10 minutes we can have the mold changed and have the machine set up and back on line pouring again."
The narrow roadway in the subdivision created some tight working conditions.
"There's only 14 feet (4.27 m) of clearance between the curb driving lane and I was a little concerned the new generation would be a little bit large for this size of job," Hays said. "It worked outstanding. We didn't have any of the problems I thought we'd have with tracks hitting the curb or anything like that. It worked really well."
The curb was slipformed with a 4000 stone performance mix designed for curb and gutter machines. Slump averaged 1.5 inches (38 mm) for the chair-back curb and gutter and two inches (51 mm) for the roll curb. A broom finish was applied to both, with joints cut in every 10 to 12 feet (3.05 to 3.66 m).
Concrete was supplied by Builder's Concrete out of Indianapolis. ACL demands good concrete and consistent delivery from all of their suppliers.
"You have to demand service out of the people you're doing business with. If they're not giving you a good product and their service is bad, then stay away from them," Hays said. "Your concrete supplier has got to give you a good product and be very customer orientated."
ACL's crew normally consists of an operator, a chute man and three to five finishers working behind the machine. A stringline crew works ahead of the paving crew setting the string.
Hays hopes to someday eliminate his stringline crew and replace them with a stringless guidance system.
"It would be nice to be able to start out pouring on a job instead of stringing first," Hays said. "I want to eliminate my stringline crew all together. There's no money in stringline, it's all in the curb."
ACL's production with their new generation Commander III has averaged between 36 to 40 cubic yards (27.5 to 30.6 m3) an hour.
"Our best production so far has been about 50 yards (38.2 m3) an hour," Hays said. "We've had the machine running wide open pouring and it's done an outstanding job."
ACL specializes in curb and gutter work in and around the Indianapolis area.
"We're going to get really good at the curb business before we advance to something else," Hays said. "It's good to know that we do have options, because the machine can do anything we want it to do."
Subscribe to Receive GOMACO World Magazine