GOMACO World Index --- GOMACO World 29.2 - June 2001
29 Years and 14 GOMACOs...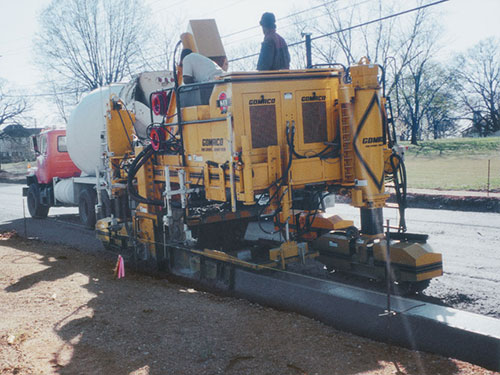 Cecil Key started in the concrete business in 1972 in Conyers, Georgia. He named his company Key Curbing and Paving, Inc. Key's step-son, Derrill Perry, was only 12 years old at the time and already a member of the paving crew. In 1974, the company purchased its first curb and gutter machine, a GOMACO GT-6000. Perry was 15 when he started operating the curb and gutter machine.
"You could say I grew up on a GOMACO," Perry, vice president of Key Curbing, said. "We've had 14 GOMACOs since then and they've ranged from the GT-6000, Commander IIs, GT-3300 and Commander IIIs. We bought our first Commander III in 1978 and we've owned five of them since then."
Key Curbing bought their first curb and gutter machine to stay competitive.
"We got to the point where we couldn't compete in the subdivision business. It took 20 men to do what a curb machine could do with only seven," Perry said. "Our GT-6000 had the chain-driven trimmerhead and tracks and it was so much better than doing the curb with forms."
Key Curbing's GOMACOs have continued to help them stay ahead of the competition throughout the years and the Commander III became Perry's favorite.
"We pour a lot of sidewalk, curb and gutter, and a lot of different things with the machine. It's just so versatile."
The versatility of their Commander IIIs have allowed them to tackle the bigger projects.
"In the last four years we've been pouring around a million feet (304,800 m) of curb and gutter a year," Perry said. "About 60 percent of our work is for the Georgia Department of Transportation and those jobs will run anywhere from 10,000 to 100,000 feet (3048 to 30,480 m). The other 40 percent is subdivisions and those will range from 3000 to 20,000 feet (914 to 6096 m)."
Perry is currently running three Commander IIIs on various projects throughout Georgia. This past year they added a Commander III with an auger.
"The auger was a great option that GOMACO gave us," Perry said. "We're tickled to death with it."
Key Curbing put their new machine to work slipforming both curb and gutter and sidewalk on a project on State Route 72 near Athens, Georgia. The project called for the slipforming of 75,000 feet (22,860 m) of curb and gutter, 7000 yd2 (5853 m2) of four foot (1.22 m) wide sidewalk and some concrete median work.
"It's a pretty big project for us," Perry said. "On any given day we'll go out and set stringline and pour 2500 to 3000 feet (762 to 914 m) of curb. Every day we set stringline, we pour concrete. It's the fastest way to do it and it keeps us ahead of the competition."
Most of Key Curbing's projects require them to trim and pour simultaneously.
"That's what makes this machine just so incredible," Perry continued. "We do a lot of soil-cement base that our competitors won't do. With the Commander III, we only have to trim 3.5 to four feet (1.07 to 1.22 m) wide because the machine can pour off the level and we don't have to move as much dirt."
The standard concrete mix design has a slump of two to 2.5 inches (51 to 64 mm) with a strength of 3000 psi (20.7 MPa). Two finishers work behind the machine applying a broom finish and cutting joints.
"The machine does a real good job with the finish. We broom it and joint it and that's pretty much all we do," Perry said. "We've tried to make some of our own molds but we pick up most of them from GOMACO. They do something special with that steel, something better that we can't get done. They've got a secret up there that makes them put out a better product."
During 28 years of ownership, Key Curbing has witnessed first hand the changes the GOMACO equipment has gone through.
"It has always been easy for us to make the switch from one controller to the next and we can produce a pretty good bit of curb now," Perry said. "They've made the machines a lot more people-friendly. The good part of that is you don't lose as much concrete because my guys know the machines and they can work on them if they go down. Concrete isn't going to wait on you if you break down.
"We've always liked the GOMACO line. Anybody starting out in the curb business would definitely need to look at a Commander III," Perry continued. "It'll do it all from barrier wall to curb and gutter to sidewalks and anything else you'd want to do. I just think this machine is a far superior machine."
Subscribe to Receive GOMACO World Magazine