GOMACO World Index --- GOMACO World 29.2 - June 2001
Steep Grades Can't Slow Down A Commander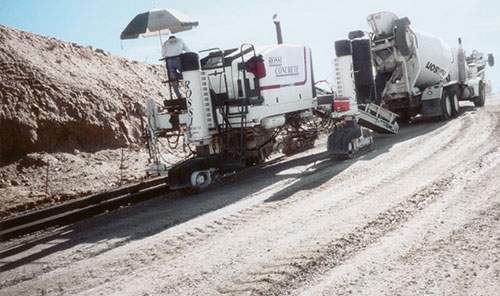 San Diego County, California, is experiencing a housing crunch. Land for developing new subdivisions is limited and many are being built in the mountains. The steep grade and other challenges of slipforming curb and gutter in the mountains didn't slow down Rossi Concrete Inc.'s new generation Commander III.
"We're building subdivisions right into the mountainside," Joe Rossi, vice president of Rossi Concrete, said. "Some of the streets we're slipforming curb and gutter on have average grades of 15 percent, which is pretty darn steep."
The project in Rancho, San Diego, required the slipforming of approximately 20,000 feet (6096 m) of G-2 curb and gutter. The six inch (152 mm) curb with 18 inch (457 mm) gutter was slipformed over a Class-2 base material.
"One of the reasons we bought the Commander III was its bigger trimmerhead," Joe said. "It's powerful enough and big enough to trim what we need it to."
Ron Mihos, Rossi Concrete's operator, added, "We also run a GT-3600. It's nice to see the sideshifting, vertical-lifting trimmerhead on the new Commander III. Whenever we come to obstacles, we can move it in or out, up or down. It's a great feature."
The grades on the project averaged 15 percent but went as high as 22 percent in some areas.
"The machine operated very well in that environment," Joe said. "We had problems with the concrete trucks and getting concrete fast enough, but the new generation handled it well."
The concrete mix design was a 5.5 sack city mix with a 2500 psi (20 MPa). Average slump was two inches (51 mm). A trowel and light broom finish is applied to the curb and gutter behind the machine. Joints are cut in every 10 to 15 feet (3.05 to 4.57 m).
Rossi Concrete's Commander III is equipped with a California-style driveway cutout. The blockout saves them finishing time and concrete yield.
"The cutout works good," Joe said. "It actually increases our concrete yield quite a bit. It's about a 20 percent concrete yield increase for driveway areas. It works out good and basically, we love pretty much everything about this machine."
Rossi Concrete is based out of Temecula, a city near San Diego, California. The company specializes in curb and gutter, parking lots and flat work. Ten years ago they started slipforming with the purchase of a Commander II.
"It was a great learning experience," John Rossi, vice president of Rossi Concrete, said. "We built a lot of character in this company from that machine. We wanted to get more advanced so we bought a GT-3600 and then last year, we purchased the new Commander III."
Joe added, "We wanted a machine with more power and we had read about the new generation. We went to see one in operation and, as soon as I saw it operating, I knew that was the machine we needed to have."
It's been a love affair ever since it was delivered. Rossi Concrete is enjoying the new features on the machine, the increased travel speed, operator visibility, power, and increased production.
"We did up to 750 yd3 (573 m3) with it one day. That was up to two miles (3.22 km) of curb and gutter in a 10 hour day," Joe said.
John added, "We turned around and did that kind of production the next day, too. We did two miles (3.22 km) in two different days, two different profiles of curb and gutter."
Increased visibility and the easy to use G21 controller are favorite features for Rossi's operator.
"It's very user friendly. When they delivered it, I got right on it and started operating it and I think that's something you can't do with a lot of machines," Mihos said. "I think there's good visibility all the way around the mold and the machine. I love the layout of the panel too. Everything is right there and it's easy to run."
Joe added, "We just poured some curb and gutter last week and one of our competitors was next door pouring another project. Our competitor's machine was quite a bit smaller but they have no visibility of the mold. Our machine is more of a machine than what they have and we're very happy with it."
Rossi's other favorite feature is the increased travel speed. An extra bonus, too, is their GOMACO district sales representative, Jim Hayward.
"Jim has always been a big help to us," Joe explained. "He's a very good guy and he's always come to our rescue when we've needed him."
Rossi Concrete is celebrating their 25th year in the concrete business. The company was originally started by Al Rossi. Al is now retired and his sons, Joe and John, are looking towards the future of Rossi Concrete, one that will include the Commander III.
"Basically, we love the Commander III. We really do like that machine," Joe said. "It's a heavy, powerful machine and it has done everything we had hoped it would do."
Subscribe to Receive GOMACO World Magazine