GOMACO World Index --- GOMACO World 30.2 - April 2002
Leaving A Lasting Impression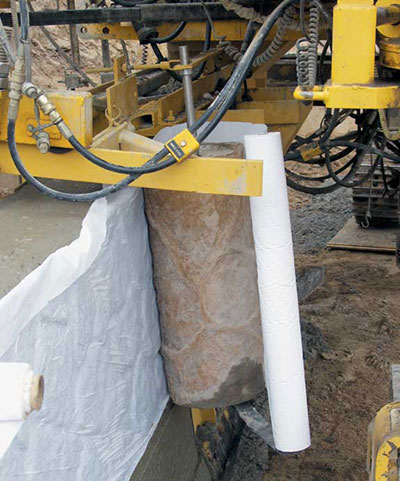 The process of slipforming concrete and imprinting a stamped pattern during the process is interesting to watch and read about. GOMACO World has featured contractors who have stamped concrete slabs for various projects, including streets and dairy floors. All the work up to this point has been flat slabs.
A contractor in California is changing the way people view barrier wall and showing people stamped concrete isn't just for flat work. Allen & Sons Construction Inc., in French Camp, California, have developed the patented Slip Stone Extruded Wall system capable of impressing a pattern into all three sides of a slipformed wall.
It's said that necessity is the mother of invention and it's true in Allen's case. They wanted to be competitive in the market and saw that the traditional methods of decorative wall was too labor intensive and took too long to complete.
"This has been in the back of my mind and I said look, I have this beautiful GOMACO machine, we need to find out if we can do this," Michael Allen, Sr., president/owner of Allen and Sons, said.
Since Allen & Sons is the innovator of this vertical-slipforming concept, they had no one to turn to for roller molds or advice. They built their own.
"We went out and found the rocks we wanted, placed them and made a plaster of paris mold of our rock wall," Allen explained. "We cast another mold to get the reverse and then poured a rubberized material in the mold. We took our mold and wrapped it around an aluminum cylinder, bonded the mold to the cylinder and stood it up on our new generation Commander III."
Mounting the roller to their machine required modifying their mold.
"We added on about two feet (0.61 m) to the back side of our GOMACO mold for a one roller process," Allen said. "We attach it with adjustable arms to control the depth of the impression we're trying to get."
They tested their new design out in their yard and knew almost instantly their work and ideas had paid off. The Slip Stone method of slipforming barrier wall was born.
"I had guys tell me I was crazy for attempting this. That I would never get my wall to stand up," Allen said. "I've proven them wrong."
They put their new method to the test on a project in Modesto, California, slipforming wall around a man-made lake in a new lake-front community. The project involved slipforming approximately 3600 feet (1097 m) of imprinted wall with their new generation Commander III.
The project was complicated by the fact that the general contractor had over-excavated the lake. An initial cut down of nine feet (2.74 m) was supposed to have been made first, allowing Allen room to slipform the wall. Then the general would come back and cut down an additional six feet (1.83 m) of slope to complete the lake.
"When we got there, the general contractor had already dug the whole pond leaving us with only a 15 foot (4.57 m) ledge to work with," Allen explained. "We couldn't get the concrete trucks in anymore to get mud to our Commander III."
Allen adapted to field conditions by outfitting his new generation Commander III with an additional side-mounted conveyor borrowed from a spare GOMACO machine in his yard. That way the trucks could stay on the high ground and the concrete was loaded down to the side conveyor.
"We reconfigured the new generation Commander III by welding extra brackets on the slideable arm of the mold and mounted the conveyor to it," Allen said. "It worked out great. We could keep the trucks up above and dumped right onto the added belt."
As slipforming progressed, Allen found they were having troubles keeping material buildup off their Slip Stone roller. They tried using a form release agent.
"I came back to the yard after a day of placement and said we just had to come up with something better," Allen said. "It was just too expensive and labor intensive to keep the roller clean."
The problem would soon be solved at their annual company picnic. Allen spotted the plastic table cloths on the picnic tables and knew he had found his answer.
"I said, 'hey boys, this will do it'," Allen explained. "We went back to the Commander III, put another stud behind the roller, set the roll of plastic table cloth on it, placed the plastic in front of the roller, and once we started placing, it just imprinted right on the wall."
Allen was able to cut his six-man crew down to only two men behind the machine. After 30 minutes, the crew is able to pull the plastic off the wall.
The wall on this project is four feet (1.22 m) tall by 12 inches (305 mm) wide. As Allen was slipforming his wall, he heard something most contractors are never told. The project's developer told him his wall was too straight.
"All these years we've been trying to make our wall perfect and then this guy comes up to us and asks us if we can't make it crooked," Allen said. "The wall was actually too straight so we started bumping the stringline every once in a while and we also physically put our mats on the top of the wall and knocked it down a little bit."
They also resorted to a mix design with a higher concrete slump. It averaged two inches (51 mm).
Production averaged 600 feet (183 m) per day. With better working conditions, Allen says he'll be able to slipform approximately 1000 feet (305 m) of imprinted wall per day.
"Our production was limited because of the technicalities of the job. We were pouring down in that hole with 100 degree weather," Allen said. "Speed depends on height, width and the concrete volume you can get to the machine. Moving slowly and vibrating well is important to control slump. Even if we use rebar, we add fibermesh to the mix to help bind everything together.
"Our goal is to slipform 1000 feet (305 m) in a nine-hour day using a GOMACO machine with our Slip Stone roller. If you look at it from a financial perspective, producing a Slip Stone Extruded Wall at $60 a linear foot is not a bad day's revenue."
Allen says patterns for the rollers are limited only by the imagination. And obviously, concrete slump. They've discovered anything with straight lines, such as a brick wall, doesn't work too well with the concrete slump.
The next phase of their Slip Stone development will include a tall wall roller. They're working on a roller for a six foot (1.83 m) imprinted sound wall around a subdivision.
They're also working closely with landscape architects at the California Department of Transportation. They are in the process of crash testing the strength of the imprinted walls. The tests are providing some great results and Slip Stone is well on its way to becoming a California standard.
"Our main goal is to make people understand what it is you're telling them about. They still think of it as just a concrete wall," Allen said. "But people who know concrete know the difficulty and the savings there are with slipforming an imprinted wall versus form liners.
"Just imagine you're driving down the Santa Monica Freeway and we've just finished slipforming an eight foot (2.44 m) sound wall with our new generation Commander III. The new wall looks like the ocean with waves stamped into it and a sun. We've color stained it with acid so the ocean is blue, the sky a lighter blue and the sun yellow. How pretty would that be?"
Subscribe to Receive GOMACO World Magazine