GOMACO World Index --- GOMACO World 30.2 - April 2002
The New Generation - Creating Opportunities In Pennsylvania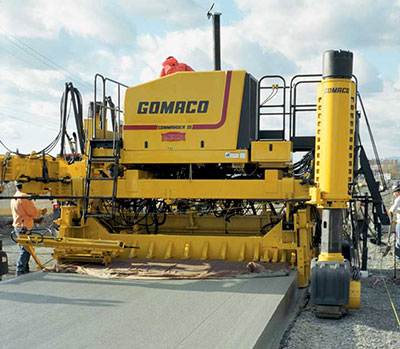 Charles J. Merlo, Inc., based out of Mineral Point, Pennsylvania, is the owner of the first new generation Commander III in the state. They are new to slipform paving, but on their first pour with their new machine, seasoned professionals at the job site claimed they would have never known it was Merlo's first pour if they hadn't been told otherwise.
The paving is taking place on a retrofit project in Altoona, Pennsylvania. Merlo is converting a one-mile section of a two-lane blacktop road into a four-lane concrete road.
"Slipform paving is a whole new avenue for us," Gary Heinrich, manager of contracts administration for Merlo, said. "We decided to start because of the economics involved. The way we bid this project, it made more sense to buy the machine than it did to sub the work out. Part of it also goes to the paving, it was such a large part of the project that we couldn't afford to give it away."
The new concrete roadway is being slipformed over an asphalt-treated permeable base. Baskets have to be placed and then staked down to the base material. Both the base and the baskets created concrete placing challenges for Merlo. They turned to the GOMACO RC Conveyor as a concrete placing alternative.
"We went to the RC Conveyor for three reasons. With the asphalt-treated permeable base, once it's down, you can't drive on it so you can't back a concrete placing truck right in front of the paver," John Wallet, project manager, explained. "Since the baskets have to be staked down prior to placing the concrete, you can't place the baskets as you're going. The third part of our problem is limited access. We're building two lanes in an area that had no roadway before and we're tight up against two existing lanes with traffic. We had to get the concrete in from the side, and without the placer, we couldn't get the concrete where it needed to be.
"We found it makes the process a whole lot easier to do the full-width paving with a placer. You're just further ahead to spend a couple extra dollars and get the concrete placer. It makes everything so much easier and it'll pay for itself in no time."
A four-track new generation Commander III with a 3100 series mold is slipforming the new roadway one lane at a time with 12.5 foot (3.81 m) wide lanes. An average day's production has been 540 yd3 (413 m3).
"The total paving width is 25 feet (7.62 m)," Jim Swetland, concrete superintendent, said. "We can only pour one lane at a time because we need to use the other one for access for the concrete trucks."
Each of the new lanes will be nine inches (229 mm) thick. A Pennsylvania Department of Transportation class-AA concrete mix design is being used on the project. Slump averages 1.25 inches (32 mm). A female keyway is slipformed and an air-operated sidebar inserter shoots #5 tie bars into the side of the slab every 30 inches (762 mm).
"We're getting a really good finish from the paver. When it's not good, it's not the machine's fault," Swetland said. "We learned right away that you need a consistent concrete mix design. We had to get through that learning curve where nobody on our job wanted to send a truckload of concrete back. We soon learned that when it comes in and it's too dry, you need to add a little bit of water. If it's too wet, don't use it, because all it does is cause you problems."
A tined finish with a 0.125 inch (3 mm) wide by 0.125 inch (3 mm) deep groove every .75 inches (19 mm) is applied to the new roadway. Joints are cut in every 15 feet (4.57 m).
It has been a successful project for the first-time slipformers. Merlo credits the success to the members of their crew and machine operators Bill Nealen on the RC Conveyor and Willis Weaver on the new generation Commander III.
Merlo is looking to the future and the new paving opportunities their Commander III will help them accomplish. Ramp work is one area they plan on being more competitive in.
"The new generation Commander III gives us a heck of an advantage because the people who are doing this kind of work, they're hand-setting road forms and pouring it that way," Heinrich explained. "This machine is going to open up a whole new avenue for us by either subcontracting the work from other people or giving us an advantage on jobs that we bid.
"That's one of the reasons why we chose the Commander III. It has expanding versatility and possibilities in what we can do with it. Even though when we bought it, we configured it for this one project, we didn't want to limit ourselves to only this type of project. The new generation Commander III gives us all kinds of opportunities to expand it later."
Subscribe to Receive GOMACO World Magazine