GOMACO World Index --- GOMACO World 30.3 - November 2002
The New Generation Yields Advantages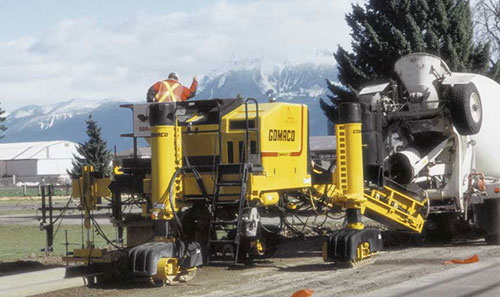 It was time for Online Curbing and Concrete Ltd., in Abbotsford, British Columbia, Canada, to purchase a new curb and gutter machine. They already owned competitive machines but they weren't ruling out the possibility of a new GOMACO.
Hugh Porter, their GOMACO distributor from Lone Pine Equipment, took them across the border to Seattle, Washington, to watch a new generation Commander III at work.
"When I saw the model then, I thought it was a pretty good machine and what they were pouring was looking really good," Larry Cavacece, general manager for Online Curbing, said. "We were going to buy another machine and we made the decision to go with GOMACO, the new generation."
One thing they were concerned about at the time of purchase was the new G21 controller. The new technology had them a little intimidated.
"I was a little nervous about the system because the machine we have is an Analog," Cavacece explained. "We took a class this winter at GOMACO University. They spent time with us there and, once we got on the machine, it didn't take long to catch on. I have to say I think the G21 is actually easier to use than our old Analog."
Rehabilitation projects in Canada can be pretty tricky, with tight clearances and multiple objects in the way. A curb and gutter machine has to be able to handle those challenges effectively.
"I like the sideshifting, vertical-lifting trimmerhead and mold on the new generation Commander III. What we're running up against pouring, those are the features you need," Cavacece explained. "You name it, they throw it in our way here, but the machine has been pouring really nice curb and gutter. It's been doing a good job for us and we've been up against some tight spots without any problems."
Online Curbing put their new machine to the test on its first project. It was a design-build rehabilitation project in Chilliwack, British Columbia. All of the existing curb and gutter was removed and the road was widened. As a subcontractor on the project, it was Online Curbing's job to slipform the new L-shaped high-back curb and gutter.
The design-build aspect of the project created an additional challenge. The curb had to be designed with a .3 percent fall.
"Before we started the job, we had told the engineers we weren't going to guarantee it," Cavacece said. "We knew from past experience that somewhere you're going to get water ponding on .3 percent."
They hadn't factored in the accuracy of the new generation Commander III. After Online Curbing slipformed a section of the curb and gutter, they put a smart level on it.
"It was exactly .3. I couldn't believe it," Cavacece said. "The engineers were impressed and we were really happy."
The total project included slipforming 2,625 feet (800 m) of the L-shaped curb and gutter. The project had to be completed in two sections to keep existing driveways open for access.
"We started at one end, did 1312 feet (400 m), moved the machine a couple of blocks down to the other end of the job and poured another 1312 feet (400 m)," Cavacece explained.
Online Curbing always trims and pours simultaneously on their projects. In Chilliwack, they were trimming approximately two inches (51 mm) of compacted road mulch.
The L-shaped curb and gutter was 12 inches (305 mm) high on the back with a six inch (152 mm) gutter and cap.
A concrete mix design with 4641 psi (32 MPa) and a maximum aggregate size of .55 inch (14 mm) was used to slipform the project. Slump averaged 1.6 to two inches (40 to 50 mm).
"It's one of the things I was surprised at was that we can pour quite a bit wetter with the Commander III," Cavacece said. "The curb and gutter held its shape and we didn't slump anything. We didn't have any problems, we just poured it a little wetter, opened the machine up and got it going a little faster."
The new generation Commander III has taken Online Curbing to a higher level of production then they've experienced with their other machines.
"The speed of the Commander III blew me away," Cavacece said. "We had the machine up to 27 feet (8.23 m) per minute and that was good."
Average crew size, including the operator, is seven but that's dependent on the number of driveways and catch basins on the project.
"Finishing work is minimal," Cavacece explained. "We have a walk behind mule that's the same shape of the curb and gutter. We just walk it down there on a handle and seal up any spots."
Control joints were cut every 9.8 feet (three meters) and expansion joints are every 33 feet (10 m).
Online Curbing has completed many other projects with their new machine since this one. According to Cavacece, they've only just begun to touch on some of the capabilities of their new generation Commander III.
"The All-Track steering capability definitely helps," he said. "We really like Crab Steer and using it to get on line. Once you're on line and in automatic, it just backs up on the stringline. That's a nice feature, really nice. When we back up to existing curb and start off, it's right on the money. There's no problems and you don't have that little kink in it or anything. It's nice.
"We're really happy with our new machine. It's solid and there's no bouncing on it. We've gotten into situations where we get to the job site and start pouring and the grade might be a little high or the subbase is too high and we've had no problems because of the machine. It's definitely got the weight and the speed we need and so far we've been really happy. It's a well thought of machine."
Subscribe to Receive GOMACO World Magazine