GOMACO World Index --- GOMACO World 30.3 - November 2002
Taking Side-Mounted Paving To The Limit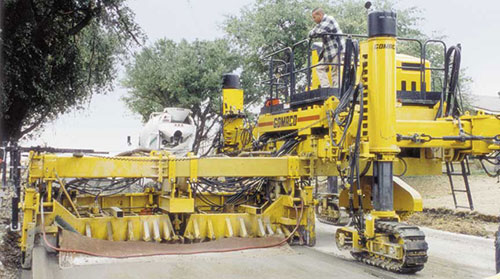 Contractors working on city rehabilitation projects have to deal with clearance limitations. It's the nature of the work. McMahon Contracting L.P., located in Irving, Texas, faced clearance limitations to the extreme on a city street project.
McMahon Contracting won a bid to rebuild three streets in Carrollton, Texas. Each of the three streets were edged with large oak trees.
"These oaks are expensive trees because they stay green all year round," Shane McMahon, paving foreman for McMahon Contracting, said. "The city went through and trimmed back the trees to what they would allow and they wouldn't let us cut any more."
Even with the trees trimmed, there was no way McMahon could run a paver, with a paving pan underneath it, down the street. Clearances were too tight on either side because the tree trunks and overhanging branches were too low to pass under.
"We asked the authorities what kind of clearance we had and they told us there wasn't any," McMahon explained. "We could get the pan under the paver, but then we had to worry about the height on the top, as far as clearance for the machine. We were also restricted on the opposite side of the pan with how far we could swing the legs out. We only had 26 feet (7.92 m) that we were working in, half of it at a time."
The solution presented itself in a picture from an edition of GOMACO World magazine. In the picture, a Commander III was equipped with a side-mounted mold and they were paving 12.5 feet (3.81 m) wide.
McMahon's project required a paving pass of 13.5 feet (4.11 m) with integral curb on one side.
"Where there's a will, there's a way," Searle Flynt, master mechanic for McMahon Contracting, said. "We had the mold built and took it to the job site."
Prior to paving, McMahon had to put in a root barrier on both sides of the road. The barrier consisted of digging out a four foot (1.22 m) deep by 12 inch (305 mm) wide trench. A plastic liner was placed in the trench and concrete was poured on top of the liner.
The root barrier is placed under the curb line and is level with the grade. McMahon has to warranty the concrete slab for two years and the root barrier prevents roots from growing underneath the slab and pushing the concrete up.
Next, counter-weight was added to their new generation Commander III.
"We filled up the water tank and swung it to the outside of the machine," McMahon said. "It wasn't enough weight, so we added what our helpers call the spare tire, our extra high-drive track, and hung it on the side."
Adding to the difficulty of the project was the profile of the new roadway.
"The mold was built with 13.5 feet (4.11 m) of pan with a six inch (152 mm) curb on the left-hand side. A 1.5 inch (38 mm) quarter point was set on the PTA," McMahon explained. "The really tricky part about it was putting the five inch (127 mm) crown in the road."
The new city street was 1600 feet (488 m) long and six inches (152 mm) thick. Reinforcing was set at 18 inch (457 mm) centers and L-bars were hand-set every 18 inches (457 mm).
"The day we poured, we had quite a few people come out to watch," Flynt said. "Inspectors from other cities had heard through the grapevine what we were trying to do and they wanted to see it."
Production averaged 80 yd3 (61 m3) an hour.
"This being our first pour, it was surprising and it was impressive," Flynt said. "We like seeing the finished product coming out from the paver nice and pretty and it built good curb all day."
Baker brooms are used behind the paver to apply a light brush finish to the surface of the new street.
No actual rideability measurements were taken on the new pavement, but it does have to get approval from the city inspectors.
"The inspectors have driven down the road. They're proud of it and that's all we can ask for," Flynt said. "It's nice and smooth and has a very nice rideability to it."
With their first pour behind them, McMahon and Flynt spent a week at GOMACO University attending a new generation Commander III class. They wanted to share what they had learned as well as get tips from others who had attempted side-mounted paving.
"What's nice about the school is talking to people from around the country who have seen and done some of this work and you can trade ideas with them," Flynt explained. "It's all about finding different ways to do applications and learning a little bit more about what you can and can't do with the machine. It was a benefit to us."
McMahon Contracting plans on keeping their new generation Commander III busy in the future slipforming city streets in their own unique way.
"The machine is so versatile. It'll do more than what you can ask it to do," McMahon said. "We know we can do this now and we'll be able to bid other jobs. First thing my brothers Shawn and Jayce, who are also owners in the company, said to me when they came out to see us paving was 'How much wider can we go?'"
Subscribe to Receive GOMACO World Magazine