GOMACO World Index --- GOMACO World 31.1 - March 2003
Variable Barrier In Changing Mountain Conditions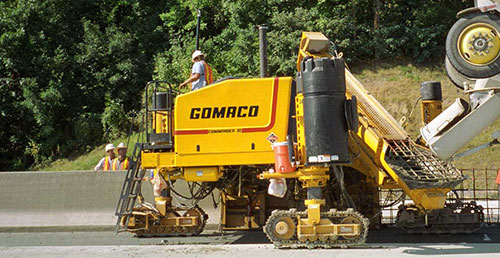 The mainline paving aspect of the I-26 project through the mountains near Asheville, North Carolina, was complete. The next phase involved slipforming over 41,000 feet (12,497 m) of variable barrier to separate the newly paved six lanes of highway. Once again, a GOMACO machine would be used for the challenging mountain project.
Summers-Taylor Inc., based out of Elizabethton, Tennessee, and a subcontractor to APAC - Asheville Division, used their new generation Commander III with auger to slipform the variable barrier.
"We started the project September 5, 2002, on top of the mountain range," Shane Lee, project superintendent for Summers-Taylor, said. "Already we were dealing with high elevations and low temperatures."
Unfortunately, neither were going to improve. Temperatures continued to drop, weather was questionable at best, and working in the mountains prevented them from seeing any approaching storm systems.
Fortunately for them, they were slipforming with a Commander III and had experienced and skilled personnel on site to handle the challenging conditions.
"Our men did an excellent job and I just can't say enough about them," Lee said. "Lee Thompson was foreman in charge of the daily setup, steel tying and finishers. Ron Butcher was the foreman in charge of the machine, the operations around it and the concrete. They deserve a lot of the credit for the success of this project."
Their profile of median barrier wall had both a variable width and height. The bottom width varied between 29 and 30.25 inches (737 and 768 mm) and the height ranged between 51 and 57 inches (1295 and 1448 mm).
The barrier was slipformed over a cage of steel reinforcing. The steel sat on bricks placed on top of an asphalt base. Approximately 1.3 million pounds (589,680 kg) of #5 rebar was used to build the steel cage.
"Our concrete supplier was Southern Concrete Materials in Weaverville, North Carolina," Lee explained. "The plant was 45 minutes away from the job site and five trucks were on the road at all times supplying us. They had a quality control person on site at all times. Over 920 truckloads of concrete were delivered to us. We didn't send one yard of concrete back for any reason."
The concrete was a state of North Carolina Class AA design with fly ash and an air content of six percent. Slump averaged 1.5 inches (38 mm).
Rain and cold weather kept Summers-Taylor's crew from working a full five-day work week. During the entire project, from September 5 through December 11, 2002, they worked only four days or less per week.
"You could only see the sky right above your head in that part of the mountains and trying to guess the weather was impossible," Lee said. "The days were getting shorter on us and the days were getting colder, too. During the last month of the project, we had to cover the newly slipformed wall with thermal blankets."
Finishers worked behind the Commander III applying a broom finish. A total of 527 expansion paper joints were inserted every 80 feet (24 m). Contraction joints were saw cut into the wall every 20 feet (6 m).
Despite the weather and steep grades associated with working in the mountains, Lee said it was a great job for Summers-Taylor.
"It was a high-profile project and it went well," Lee explained. "The only traffic we encountered was other construction traffic."
Summers-Taylor achieved some outstanding production figures.
"We slipformed 41,414 feet (12,623 m) of barrier wall in 47 days," Lee said. "Our best day we reached 1286 feet (392 m). The production was great and the machine worked well for us."
The new generation Commander III played a key role in their successful project. Features such as the digital G21 controller, faster tracking speed for job-site mobility and the concrete auger were especially useful.
"The Commander III followed the stringline with ease to meet all of the project's specifications," Lee explained. "The G21 controller was simple to learn and easy to use. The operator had great visibility over everything. Our machine has the auger and we think it's a big plus. Our machine still looks new, even after 9125 cubic yards (6977 m3) of concrete has gone through it.
"Summers-Taylor is a very versatile company and we tackle a wide variety of projects. The Commander III has great versatility, from pouring curb and gutter, sidewalk, barrier wall or flat pavements. It adapts to any situation. On this project in the mountains, the machine did not miss a lick. It did everything it was asked to do, but I had no doubts that it would."
Subscribe to Receive GOMACO World Magazine