GOMACO World Index --- GOMACO World 31.1 - March 2003
It's All Downhill From Here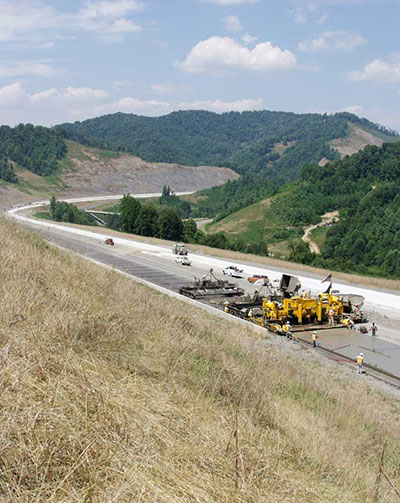 It's all part of the process of trying to carve a six-lane concrete roadway out of the Appalachian mountain range. The future North Carolina section of I-26 will connect Tennessee at Sam's Gap to North Carolina and provide a scenic route into the northern United States.
With the two heavy grading and bridge contracts nearing completion, the North Carolina Department of Transportation (NCDOT) let the base and paving contract, and awarded the contract to APAC-Carolina, Inc.'s, Asheville division. APAC-Asheville's president, Ottis Vaughn, called on the expertise of Ballenger Paving, a division of APAC-Georgia, Inc.
Ballenger Paving was responsible for the Portland cement paving on the mountain project. The complete project included 8.5 miles (13.7 km) of 36 foot (11 m) pavement, one truck inspection station, an interchange, a scenic overlook, one North Carolina welcome center, and three run-away truck ramps.
By the time the project was completed, Ballenger had slipformed approximately 360,000 square yards (300,966 m2) of 10 inch (254 mm) pavement.
They had several challenges to face during paving, steep grades, the constant threat of rain and limited communication abilities, but they still managed paving production days exceeding one mile (1.6 km) of concrete roadway.
From the very beginning of the project, Ballenger had to make some decisions about how to deal with the six percent grade on a majority of the project.
"There were some areas where the transition flattened out to only a five percent grade or the roadway changed from a negative to a positive grade, but the majority of it was six," Robert McCord, vice president of operations for Ballenger Paving, said. "We decided we would pave everything downhill and broke the project up instead of starting at one end and paving all the way through."
This decision meant extra moves, some 1.5 miles (2.4 km) others were 8.5 miles (13.7 km) long, getting the equipment from one area to the next. Cure times had to be closely watched, too. Ballenger Paving couldn't cut cure times short while maintaining access to the job site for both their equipment and other contractors working in the area.
"We'd have three to 3.5 mile (4.8 to 5.6 km) runs and then we'd pick up and move," McCord explained. "We'd have to watch the cure time because we had to be able to get our concrete to the paver, and ensure the uninterrupted deliveries of cement and fly ash. We had to make sure other contractors could gain access to their work."
Ballenger used one of their GOMACO GHP-2800 slipform pavers for all of the concrete work on the project. The new roadway was slipformed on top of three feet (0.9 m) of graded aggregate base (GAB) topped with a three inch (76 mm) asphalt base, which APAC-Asheville placed.
The GHP-2800 was first set up to pave two lanes, 24 feet (7.3 m) wide and 10 inches (254 mm) thick.
The GHP-2800 had to be narrowed down before it could pave the final 12 foot (3.7 m) lane. The two four-foot (1.2 m) extensions were removed and the 24 foot (7.3 m) paving pan was replaced with Ballenger's 12 foot (3.7 m) paving pan. The conversion took only a one-half day to complete and the single-lane paving began.
Concrete was supplied by a double-drum plant with a 10 cubic yard (7.6 m3) capacity. The plant was set up in the middle of the project and 28 Maxon side-dump trucks supplied concrete to the site.
"You could see those side-dumps coming up the grade towards you. They looked like ants marching up a hill," McCord said. "The hills claimed a few casualties. Four of the side-dumps have new engines in them now."
APAC Materials Service Lab's Scott Palotta designed and tested over 50 concrete mixes until one NCDOT mix was chosen that Ballenger Paving felt comfortable with. The mix design consisted of cement that was trucked 80 miles (129 km) from CEMEX in Knoxville, Tennessee. Fly ash was supplied by Boral Materials Technology in Belew's Creek, North Carolina. Sumter County Sand, 250 miles (402 km) away in Sumter, South Carolina, supplied the sand, and the stone and manufactured sand was locally supplied by Materials Sales Company from a quarry 20 miles (32 km) from the project. Slump averaged 1.5 inches (38 mm).
"It was very intense because of the grade we were hauling on and the distance it had to travel," McCord explained. "Our trucks were running downhill about 15 to 20 miles per hour (24.1 to 32.2 km/hour) and when we were on the far end of the project, it was an eight mile (12.9 km) haul, round trip. It would take 20 to 25 minutes to get a load of concrete to the paver."
Rain was always a constant threat and the fear of getting caught and washed out was a very real possibility. Ballenger was in constant contact with the weather service during each day's placement.
"We were constantly threatened by rain and there were only a few days where we could get in a full day of paving, from beginning to end," McCord said. "We did a lot of stopping early and covering. Every day our grade crew was dropping back and covering."
When the weather cooperated, Ballenger averaged excellent production with days of production exceeding over one mile (1.6 km) of paving 24 feet (7.3 m) wide. After they narrowed the GHP-2800 down to 12 feet (3.7 m), their production increased to 1.5 miles (2.4 km) in an average work day.
Mountain paving created another unanticipated problem with communication and cellular phones. The south half of the job had cellular service, but the north half didn't.
"We had company radios, but we couldn't use a cellular phone to call suppliers from the plant north," McCord explained. "We ran a phone line from our office, six-tenths of a mile (1 km) up to the plant along the back side of the haul road to improve communications. Our plant operator had to be a part-time secretary relaying messages. Everybody's become so dependent on cellular phones that when you get into an area where they don't work, it complicates things."
Workers behind the paver used 12 and 16 foot (3.7 and 4.9 m) straight-edges and a Spanit® work bridge was used to apply a burlap drag. The final finish was a transverse tine. Rideability results were excellent.
"We had to meet four inches per mile (63 mm/km) with a two-tenths blanking band and the DOT was holding right to the book," McCord said. "NCDOT's resident engineer Stan Hyatt is really pleased with the ride."
The future I-26 roadway is expected to be open in 2003. Final work on the project, from adding eight foot (2.4 m) asphalt shoulders to guard rails and signs, is still being completed. Plus, Summers-Taylor Inc. is using their new generation Commander III to slipform median barrier wall through the entire project.
Subscribe to Receive GOMACO World Magazine