GOMACO World Index --- GOMACO World 31.2 - October 2003
GHP-2800 Chosen For Japanese Airport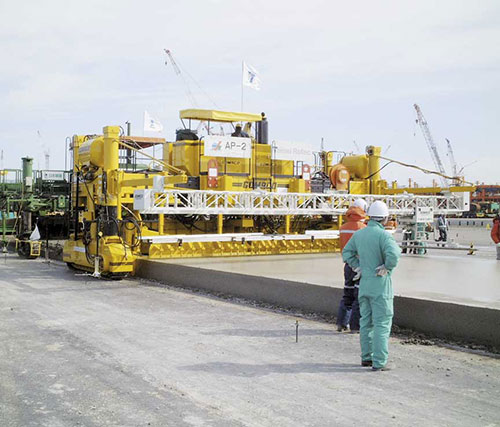 The GHP-2800 impressed Japanese officials and had no problems with edge slump on a test project for the new international Chubu airport near Nagoya, Japan. Each paving pass is 24.6 feet (7.5 m) wide and 18 inches (460 mm) thick.
GOMACO will be the first paver manufacturer to represent true slipform paving on a civil aviation airport in Japan. Chubu, the new international airport near Nagoya, Japan, will be built by three consortiums, each made up of three Japanese contractors. Two of the three consortiums will be using GOMACO equipment on the project and Taisei-Rotec, a Japanese contractor in one of the consortiums, will be supplying their GOMACO PS-60 placer/spreader and GHP-2800 paver.
The project will be paved in passes 24.6 feet (7.5 m) wide and 18 inches (460 mm) thick. Edge slump concerns are a major consideration on this project and since it's the first slipforming on an airport in Japan, everyone wants to see it succeed.
"Taisei purchased the GHP-2800 specifically for this job," Tim Nash, GOMACO International Regional Manager - Asia Pacific, said. "They decided to purchase a GOMACO because they had serious concerns about meeting the criteria on this extremely important 'first ever' slipform construction on a civil aviation airport."
Over 50 visitors were on site from 17 different companies, including the Japan Slipform Association and the Central Japan International Airport Company, to watch the initial paving test.
"All present were in agreement that the tests were extremely successful and 'true' slipforming with the GOMACO GHP-2800 gets the green light for Japan's Chubu Airport," Nash said.
Watch for a future story on the Chubu Airport in a future edition of GOMACO World magazine.
Subscribe to Receive GOMACO World Magazine