GOMACO World Index --- GOMACO World 31.2 - October 2003
Operation Enduring Freedom
The men and women in the RED HORSE Squadron of the United States Air Force are called upon to complete projects all over the globe. Often times they are the first unit in and will be the last ones out. They are self-sufficient and have all they need when they travel, including carpenters, medics, and cooks. Sometimes their projects are completed under enemy fire. It is the ultimate deadline pressure any builder can face.
RED HORSE is an acronym which stands for Rapid Engineer Deployable Heavy Operational Repair Squadron Engineer. The 823rd RED HORSE Squadron is based out of Hurlburt Field, Florida, and is a heavy engineering construction unit. Their latest overseas project took them to the deserts of Oman, a small country bordering Saudi Arabia and the Arabian Sea in the Middle East.
"As it turns out, this $27 million, 47 acre (19 ha) project, which covered an area equal to 36 football fields, was the largest ever constructed by RED HORSE," Major Mark Mittler, on-site commander in Oman, said.
A major part of the project included concrete slipform paving.
"We were tasked to deploy to the area of operations (AOR) and construct an aircraft parking ramp with adjoining taxiway and arm/de-arm pads," Senior Master Sergeant Ron Westerfield said. "There were only four men on our crew who had slipform paving experience."
The United States Air Force and the RED HORSE Squadron not only needed the paving equipment in a short amount of time, they needed a company that could train their men and teach them the concepts of concrete slipform paving. GOMACO stepped up to the challenge.
Weeks after the orders were placed for two complete paving trains consisting of PS-2600 placer/spreaders, GHP-2800 pavers with Auto-Floats®, and T/C-400 texture/cure machines, the equipment was ready for shipment. The fastest way to get six pieces of concrete-finishing equipment from Ida Grove, Iowa, to the deserts of Oman would be by air.
The Antonov-124-100 Russian cargo plane, one of the world's largest commercial cargo airplanes available today, would transport the equipment to Oman in two separate shipments. The first Antonov shipment consisting of one full paving train left from Eppley Airfield in Omaha, Nebraska, on December 26, 2002. A second Antonov-124-100 flew out with the last paving train January 9, 2003.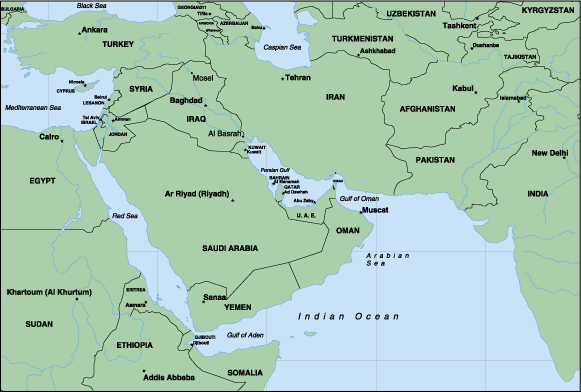 A map of the Middle East region illustrates Oman's strategic location for the war.
With the manufacturing of the equipment near completion and shipment pending, the members of the RED HORSE Squadron still needed training. A special week-long paving school at GOMACO University was scheduled. Both classroom lectures and hands-on training in the University's shop helped prepare the Squadron for their mission.
"We have experience with larger projects but not with slipforming equipment," SMSgt. Westerfield explained. "The hospitality shown to us while we attended classes was an eye-opener and the training at GOMACO University was a tremendous asset to our being able to operate the equipment."
Work on the project began in October 2002. Westerfield and the RED HORSE Squadron arrived in early January 2003 and began preparations for paving.
"In the desert, there is a variety of subgrade conditions," SMSgt. Westerfield said. "You can have sand that is as fine as baby powder and is difficult to level and remove or you have ground that is so compacted that you have to use an excavator and jackhammer to remove it."
In the desert conditions, just setting stringline proved to be a difficult task.
"The stringline stakes were set in six inches (152 mm) of base material, as well as in some of the most compacted soil. It was pretty difficult at times, but when you use jackhammers with air compressors to drive the stakes it makes it easier," SMSgt. Westerfield explained. "One of the most difficult things was dealing with the wind. There were times when there would be a constant 30 mph (48 km/hr) wind with 40 mph (64 km/hr) gusts causing sandstorms and making it difficult to set the stringline. We had a great crew leader in Technical Sergeant George Yepes who attended GOMACO University and had some previous experience."
The total size of the new concrete parking ramp, taxiway and arm/de-arm pads was 980 feet (299 m) wide by 2100 feet (640 m) long. The entire project sloped 0.5 percent or 10 feet (3.05 m) across the length of the concrete.
The GHP-2800s paved 20 feet (6.1 m) wide lanes, each 16 inches (406 mm) thick.
"The GHP-2800s did an outstanding job of putting down concrete," SMSgt. Westerfield said. "There were very few problems and we could tell that the people who built them take great pride in what they do."
A mobile batch plant capable of producing 288 yd3 (220 m3) of concrete per hour was on-site. Dump trucks were leased from a local company and each had the capacity to deliver 11.8 yd3 (9 m3) of concrete per truck to the paving site.
The concrete mix design had a high cement content with .75 inch (19 mm) maximum aggregate size and a high percentage of manufactured fines 0.12 inch (3 mm) or smaller. Water reducers and plasticizers were added because of the desert environment and water restrictions. Entrained air in the mix ranged between four to five percent. Slump averaged between one to two inches (25 to 51 mm).
"There were many variables and issues that we encountered every night that affected production, but on the average, we would pave a 980 foot (299 m) lane in four hours, about 221 yd3 (169 m3) an hour," SMSgt. Westerfield said. "There would be times when we'd push the plant to its limits at about 288 yd3 (220 m3) an hour."
Several of the factors influencing production included hot daytime temperatures, material deliveries to the concrete plant which had limited storage in the cement silos, and learning the slipforming process on the go. They also had to deal with some substandard materials, water shortages, language barriers when working with the locals and long supply lines.
To combat the hot desert conditions with temperatures exceeding 100º F (38 ºC), 80 percent of the project was paved at night. Night-time paving solved some problems but it also created other complications.
"The most difficult part of this project was getting the plant to produce a consistent mix, not that it was all the plant's fault," SMSgt. Westerfield explained. "We would start paving at 3 or 4 p.m. while the temperatures were still pretty hot, but by 8 p.m. the temperatures had dropped to where we needed a drier mix."
Every other lane was slipformed with stringline. Then, the Squadron would come back and pour the fill-in lanes using the lock to grade feature. Paving locked to grade and the Auto-Float® attachment on the GHP-2800 pavers saved time.
"The Auto-Float® was essential to the proper completion of our project," SMSgt. Westerfield said. "With our limited manpower, we didn't have enough people to actually bull float and broom the entire project. Even if we did, it wouldn't have been very efficient or effective to do.
"We tried to keep the hand-finishing to a minimum. Joints were cut at 20 foot (6.1 m) spacings equally throughout the project. It made for a total of 210,000 linear feet (64,008 m) of saw cuts."
Eighty percent of the project was slipformed at night to combat the hot desert temperatures that surpassed 100º F (38º C) during the day.
The T/C-400 texture/cure machines drug burlap and sprayed on a curing compound to complete the paving process.
"All of the GOMACO machines performed outstandingly and definitely met our expectations," SMSgt. Westerfield said. "This was a major undertaking for us and we do a wide variety of construction tasks and not just concrete. If you have to go to the desert to construct anything... be patient. Things don't happen as quickly over there.
"This project was in support of Operation ENDURING FREEDOM and directly contributed to the liberation of Iraq. The men and women of RED HORSE that were involved in the completion of this project gave their all and sacrificed a great deal for their country. It wouldn't have been possible without the people of Ida Grove, Iowa, and the workers at GOMACO. They did a fantastic job."
"This inspiring project was indeed a win-win situation for GOMACO and the U.S. Air Force," Colonel Benjamin Anderson, commander of the RED HORSE Squadron, said. "As a result of unparalled teamwork and dedication, our combined team achieved true success. Undeniably, this teamwork resulted in the fast-track completion of the largest and most challenging project ever constructed in the 38 year history of RED HORSE."
Seven months after beginning work, the concrete paving was finished and the air base was operational. The RED HORSE Squadron returned to their home base at Hurlburt Field more versatile than ever before. Their Squadron motto, "Can Do, Will Do, Have Done," now includes concrete slipform paving.
Editor's Note: GOMACO Corporation is proud of the role we played with helping the RED HORSE Squadron achieve their goals. We've been waiting since January to share their story with our GOMACO World readers, but we made a promise to them that we'd wait until now. We didn't want to do anything to jeopardize the safety of our troops in the field. It is with great pride that we helped them become concrete slipform professionals and are able to share their story with you.
Secret Training at the U
During the second week of December 2002, a special class was held at GOMACO University. Fifteen members of the RED HORSE Squadron traveled from Hurlburt Field, Florida, to Ida Grove, Iowa, for the week-long class.
The class provided the Squadron members with both classroom lectures and hands-on learning in the shop about the fundamentals of slipform paving and the operation of GOMACO equipment.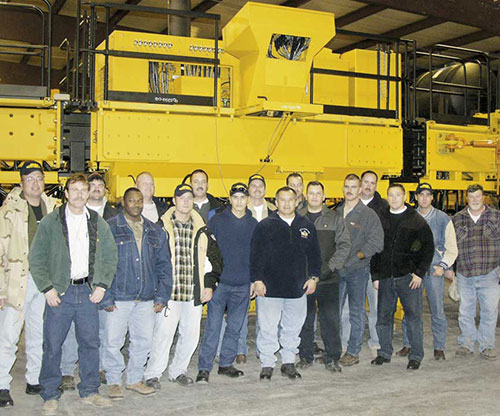 Attending the class were, front row from left, GOMACO Serviceman Ken Tippie, TSgt. Ralph Evans, SSgt. Jeremy Isaac, A1C Tony Moreno, TSgt. George Yepes, SSgt. Cresenciano Silva, TSgt. Jerry Girvan, TSgt. Steven Stanford, SrA Justin Hoessel and GOMACO Serviceman Ric Moser. Back row from left, MSgt. Thomas Mattingly, TSgt. William Lipscomb, SSgt. Eric Sexton, TSgt. Michael Maccarone, SMSgt. Ron Westerfield, TSgt. Jason Baker, and TSgt. Dale Coleman.
Volunteering for the Mission
Word spread quickly around GOMACO Corporation... the Air Force was buying two of our paving trains for a classified project in the deserts of Oman. The RED HORSE Squadron would be doing the slipforming and their experience was very limited. The GOMACO Service Department would have to send two of their men to the desert to train and work hands-on with the Squadron for the first month of paving.
Two servicemen stepped forward and volunteered for duty, Ric Moser and Ken Tippie. Ric even had the opportunity to escort the first paving train shipment and flew aboard the Antonov with its all Russian crew.
"There was a lot to learn and with Ric and Ken there to teach us the entire spectrum, it went very well," SMSgt. Westerfield said. "Ric and Ken were the best. There would have been no way that we could have completed this project without their expertise."
Subscribe to Receive GOMACO World Magazine